Practice makes perfect is arguably the familiar mantra that many hand therapists live by regarding their abilities and expertise for fabricating our patients' orthosis or splints. Experience and understanding of the involved anatomy are also a large part of the specialized skill of orthoses fabrication. Often, there is not a playbook that meets the unique needs of a patient's recovery. There are several factors a therapist may work through to provide the most individualized, evidenced-based care.
Timing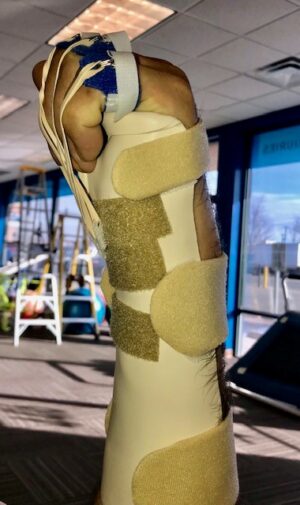 Deciding to include an orthosis into a treatment program can be very time sensitive. For example, after surgery, an orthosis can be an early part of the treatment plan to protect or immobilize specific structures like bones, tendons, etc. Yet, there are times when a patient might be weeks into their recovery and still need a custom splint that offers aide with stretching or moving specific structures that have since changed from the time of initial injury. But when is best? Good communication with the medical provider(s) and the patient are critical to putting plans into action. Also, proactively planning and educating to capitalize on that magic window of time.
Determining the Needs
Hand therapy can be such a personal experience between the therapist and patient. Yet, the profession strives to provide the highest level of evidence-based care. Objective information is the best place to start to determine the needs of a patient's treatment plan. There is no difference when deciding how, and maybe even more importantly, when, to fabricate an orthosis. A therapist can use measurements like the degrees of motion of specific joints to determine when and what type of device would serve the patient best. They may refer to evidence regarding healing timelines for bones or wounds to guide their splint planning. Additionally, looking to the evidence for design options is also best practice. But does one size fit all?1
Challenges
One of the greatest challenges many therapists face is the amount of experience with fabricating specific, custom designs of orthoses. Many splints are custom-made, with evidence-based principles applied, yet some splints might be more common than others depending on the type of conditions a therapist treats. So, what should therapists do if they want to fabricate something they have never made before? My advice would be to start with what you know and then apply the evidence. A second thought should be to consider the goals for use of the splint. In practice, this might look like using a pattern of a splint that said therapist has mastered and combining it with other components (strapping, rubber bands, finger loops, Velcro) to create a custom device that meets specific requirements. It is also good to recommend your orthosis plan to the medical team to get input to help shape your orthoses.
A second real world-challenge might be supply inventory. Sometimes, splints are scheduled ahead of time, but other times they are created the day of; this all depends on the application of objective information that will best meet the patient's needs. A therapist may want to create a device that will stretch the fingers, to be used as part of the patient's home program. However, maybe their clinic does not have the needed attachments on that day. This is when clinical reasoning and applied evidence come into play. What can the therapist use instead? What will get the principles and goals applied best? Often, it is just a matter of referring to the purposes of the splint and working with the material used previously in a new way. The logic argued here is that if a therapist has previously used material A and material B, but would now like to use them conjointly, then applying the goal of the device to the material can help talk a therapist through how to apply the materials as tools to work towards their advantage. If this concept of thinking is unfamiliar, there are Continuing Education Courses a therapist can take to support their practice.
Successes
It is not uncommon to ask the patient, "How does that feel now that you have worn your splint for several minutes," multiple times before sending the patient home with their new masterpiece. Therapists want to know and feel confident that their work is only being used efficiently and not causing disruption in recovery. It might behoove the therapist to document with photographs to show colleagues and the medical team that their device accomplishes their goals and make sure the patient is well-aware of the use/schedule for their new device. Feel proud, take a breath, and wipe the sweat from your brow, and be happy that you have provided quality individualized care for your patient. Soak in the fruits of your labor and get ready to check and adjust as needed; custom treatment plans are dynamic and interactive even after a patient's discharge from care.
The Athletico blog is an educational resource written by Athletico employees. Athletico bloggers are licensed professionals who abide by the code of ethics outlined by their respective professional associations. The content published in blog posts represents the opinion of the individual author based on their expertise and experience. The content provided in this blog is for informational purposes only, does not constitute medical advice and should not be relied on for making personal health decisions.