Athletico Earns 2012 Practice of the Year Honors
Posted on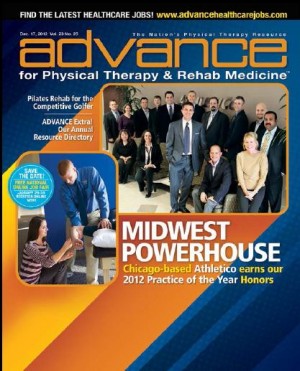 Athletico Physical Therapy is pleased to announce that it has been named the 2012 Practice of the Year from ADVANCE for Physical Therapy and Rehab Medicine magazine.
According to the cover story featured in the December 17 edition of the magazine, continuing to grow with real diversification, while balancing patient care and physical therapist job satisfaction are some of the attributes that landed Athletico with the top honors. Other key differentiators discussed are customer service, the company's relationships with professional organizations such as all of Chicago's major league sports teams, U.S. Soccer and the Joffrey Ballet, and Athletico's partnership with Focus on Therapeutic Outcomes, which measures patient outcomes and satisfaction.
Athletico president and founder, Mark Kaufman, sees the award as a tribute to how the company differentiates itself, as well as how they continue to show strong growth while navigating the business in an agile, small-company way.
"I am so proud of our staff; they deserve to be recognized," says Kaufman, who opened Athletico's first facility in Chicago's Gold Coast in 1991. "This award honors so many clinicians and administrative team members who have been with us a majority of the 21 years we have been in operation."
Read the full article.
Find an Athletico.