Athletico Physical Therapy Opens Facility in Lake Zurich
Posted on
Athletico opens its newest physical therapy clinic in the Lake Zurich community to offer residents relief from pain, injuries, accidents, and everyday aches. Athletico Lake Zurich is located at 546 N. Rand Road just southeast of Kohl's. This clinic has state of the art rehabilitation equipment and clear line of sight to improve the patient experience. The services offered at Athletico Lake Zurich include physical therapy, post-operative rehabilitation, gymnastics and cheerleading rehabilitation, sports medicine, performing arts rehabilitation, pediatric physical therapy, Graston technique® , and complimentary injury screens. For patients who require assistance traveling to their appointment, transportation services are available.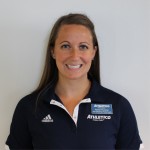 Rachel Quick, PT, DPT, OCS serves as the facility manager and treating physical therapist at the Lake Zurich facility. Rachel is from Northeast Indiana where she attended Purdue University and graduated with a degree in Movement and Sport Science. Quick made her way to the Chicagoland area to obtain a Doctorate of Physical Therapy from Northwestern University. For the past four years Rachel has called Athletico Palatine 'home' and is excited to move to the Lake Zurich community as Facility Manager. "Lake Zurich is a wonderful community that has a great reputation for academics and athletics," says Quick.
Rachel's specialties as a physical therapist lie within orthopedic rehabilitation, manual therapy, gymnastics and cheerleading rehabilitation, performing arts rehabilitation, and pediatric physical therapy. Rachel became interested in the profession when she was a patient during her childhood, as physical therapy helped her get back to competitive gymnastics. "I am able to combine my passion for gymnastics, desire to help others, and relationship building to get my patients back to the activities they love," explains Rachel. Quick is also involved in Athletico's Gymnastics and Cheerleading Program, specializing in rehabilitation of injuries specific to this population.
Athletico Lake Zurich provides the community quality care and convenience through the following means:
Patient outcomes reporting using a third-party outcomes system to provide measurable data on a patient's progression that is discussed throughout the course of treatment
Patient satisfaction reporting throughout treatment in order to better understand and respond to patient needs while they are still receiving rehabilitation services, rather than after a patient is discharged
Convenient hours including early mornings, evenings, and Saturdays
Prompt scheduling of each initial evaluation within 24-48 hours of the patient's phone call
Ongoing patient education on diagnosis, treatment plans, and prescribed home-exercise programs
Clear, consistent communication between therapist, physician, and patient regarding progress
To learn more about the Athletico Lake Zurich clinic or to schedule a complimentary injury screening, call Rachel Quick at (847) 438-6624 or email her at rquick@athletico.com.
Athletico Lake Zurich
546 N. Rand Road
Lake Zurich, IL 60047
Phone:   (847) 438-6624 / Fax: (847) 438-6623
Web: www.athletico.com/lakezurich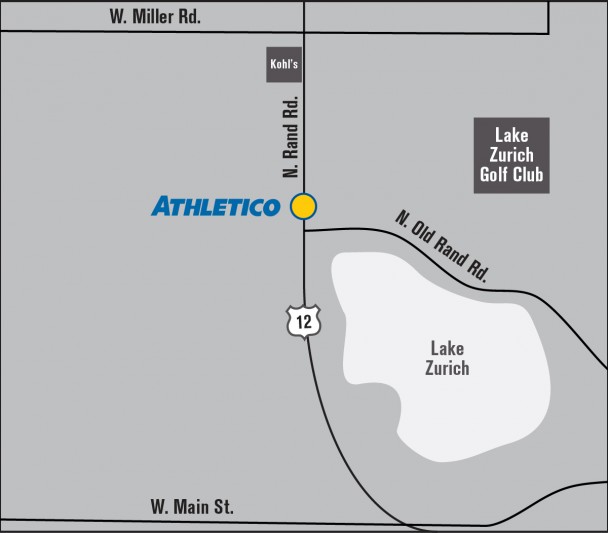 Find an Athletico.