Athletico Physical Therapy Opens Fourth Facility in Chicago Loop
Posted on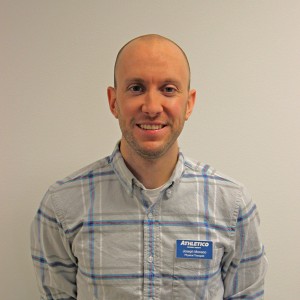 Athletico opens its newest physical therapy clinic in the heart of Chicago's Business District at 223 W. Jackson Avenue in suite 225. This facility, managed by Joe Monaco, PT, DPT, is committed to offering Chicago commuters and residents relief from pain, injuries, accidents, and everyday aches. Athletico's Loop: Jackson and Franklin is in the Brooks Building which is kitty corner from the Willis Tower and directly above the McDonalds. This location is easily accessible via public transportation, further providing patients with excellent, friendly, and patient centered care.  The services offered at the Athletico Loop: Jackson and Franklin include physical therapy, orthopedic rehabilitation, post-operative rehabilitation, sports medicine, work rehabilitation, work conditioning, Graston Technique, custom foot-orthotics, and complimentary injury screens. Transportation service is available upon request.   
Joe Monaco, PT, DPT serves as the facility manager and treating physical therapist at the Loop: Jackson and Franklin facility.  "I love that I get to help individuals achieve their functional, activity related, and sport specific goals," shared Joe.  His professional development comes from obtaining his undergraduate degree from University of Michigan, Doctorate in Physical Therapy from Midwestern University, and working as a licensed physical therapist at Athletico's Skokie clinic for two and a half years.  Joe is excited to provide convenient appointments for working professionals of Chicago. Athletico the Loop: Jackson and Franklin is "a perfect location for commuters to receive their treatment on break, or on their way home from or into the office," shared Joe.
Joe's specialties as a physical therapist include Graston Technique (Instrument Assisted Soft Tissue Mobilization) and he is currently working on his certification for Applied Functional Science through the Gray Institute. Being inspired and influenced by his father, Joe was able to decide on physical therapy as a profession.  "My father's career as an Orthopedic Surgeon exposed me to the field of Outpatient Orthopedic Physical Therapy.  That exposure, along with my love for sports and desire to utilize my interpersonal skills to enhance a person's quality of life led me to a career in Physical Therapy," expressed Joe.
Athletico Loop: Jackson and Franklin provides the surrounding community with quality care and convenience through the following means:
Patient outcomes reporting using a third-party outcomes system to provide measurable data on a patient's progression that is discussed throughout the course of treatment.
Patient satisfaction reporting throughout treatment in order to better understand and respond to patient needs while they are still receiving rehabilitation services, rather than after a patient is discharged. Results show that 98% of our patients would recommend us to their friends and family.
Convenient hours including early mornings, evenings, and Saturdays.
Prompt scheduling of each initial evaluation within 24-48 hours of the patient's phone call.
Ongoing patient education on diagnosis, treatment plans, and prescribed home-exercise programs.
Clear, consistent communication between therapist, physician, and patient regarding progress.
Transportation is available upon request.
To learn more about the Athletico Loop: Jackson and Franklin clinic or to schedule a complimentary injury screening, call Joe Monaco at (312) 235-0700 or email him at jmonaco@athletico.com.
Read more.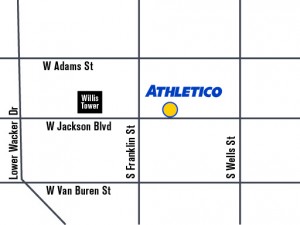 Athletico Loop: Jackson and Franklin
223 W. Jackson Blvd | Suite 225
Chicago, IL 60606
Phone: (312) 235-0700
Find an Athletico.