Athletico is now Offering Physical Therapy in Valparaiso, Indiana
Posted on
Valparaiso, IN — Athletico Physical Therapy expands boundaries beyond Chicagoland, opening its third location in Indiana. Conveniently located across the street from Cumberland Plaza, at 2904 Calumet Avenue, Athletico Valparaiso will offer services of physical therapy, work rehabilitation, complimentary injury screens, endurance rehabilitation, video gait analysis, Graston Technique, and golf rehabilitation. Transportation service is also available for patients upon request.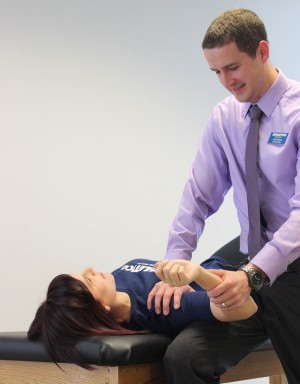 Scott Fogus, PT, DPT, and Athletico Valparaiso facility manager is excited to return to his home state and be a part of this vibrant and visionary community.  "As facility manager, I'm looking forward to bringing Chicago's top workplace to my home state and improving the quality of life and performance of those in Valparaiso and the city's surrounding communities," shared Fogus.  His professional development comes from an educational background in Kinesiology from Indiana University, where he also received his Doctorate in Physical Therapy in 2007. After graduating, Fogus began working for Athletico's Gold Coast location. Four years later, he returned to Indianapolis to be closer to his family.  With the opening of Athletico's Valparaiso location, Fogus is excited to continue to reside in his home state, as well as, return to Athletico Physical Therapy.
Fogus' specialties as a physical therapist focus on his passion for athletics, especially golf rehabilitation.  "There is nothing more humbling or gratifying than helping another individual return to doing what they love to do" shared Fogus.  Experience with video gait analysis, and Graston Technique® enhance Fogus' skill set, as he looks to serve golf as well as endurance athletes.  Overall, Fogus' expertise, service, and dedication to the best individual treatment options for patients will continue as he fulfills this new role as the facility manager of Athletico Valparaiso. Athletico Valparaiso provides patients with quality care and convenience through the following means:
Patient outcomes reporting using a third-party outcomes system to provide measurable data on a patient's progression that is discussed throughout the course of treatment.
Patient satisfaction reporting throughout treatment in order to better understand and respond to patient needs while they are still receiving rehabilitation services, rather than after a patient is discharged. Results show that 98% of our patients would recommend us to their friends and family.
Convenient hours including early mornings, evenings, and Saturdays.
Prompt scheduling of each initial evaluation within 24-48 hours of the patient's phone call.
Ongoing patient education on diagnosis, treatment plans, and prescribed home-exercise programs.
Clear, consistent communication between therapist, physician, and patient regarding progress.
To learn more about the Athletico Valparaiso facility or to schedule a complimentary injury screening, click here, call Scott Fogus at 219-462-1020 or email him at sfogus@athletico.com.
Find an Athletico.