Golf Rehabilitation
About
About
Our Performance Center
The Golf Performance Center is a year-round training facility with 3D technology, golf fitness equipment and golf biomechanics evaluations. Athletico's Golf Performance Center takes an expert and tested approach to helping you improve your golf game and well-being.
Since opening in 1991 Athletico has worked very hard at becoming the best provider of outpatient rehabilitation in Chicagoland. Our reputation for providing individualized care has lead to the expansion of rehabilitative services as well as fitness and performance programs to various professional, semiprofessional, college, club athletes and most importantly our patient population.
In the winter of 2004 Athletico opened the Golf Performance Center at their Oak Brook location. The golf performance center was built to have fitness and golf rehabilitation under one roof where a highly trained Teaching Professional and Golf Fitness Specialist/Physical Therapist and Strength & Conditioning Coach can work together to create the most efficient learning environment for our clients.
Check out our videos to help with golf rehab
Find a Golf Rehab Therapist Near You
*Contact us using the button above to sign up for promotional discounts on our Golf Simulator and other Golf Rehab Services
Services
Services
As golf continues to grow in popularity, golfers – professionals and amateurs alike – are becoming increasingly aware and understand the importance of golf fitness and conditioning and the impact it can have on their game. In response, Athletico continually strives to offer the most advanced and effective golf services to positively impact the golf community. Our staff utilizes their expertise in golf fitness and golf rehabilitation to attend to injured golfers, keep active players active, and work with all golfers on fitness and conditioning to prevent future injury. Athletico offers Golf Fitness Services with programs that can cater to each individual player regardless of playing experience or current fitness levels.
---
Package A
Biomechanical evaluation, 3D Swing Analysis and Customized Home Program
Biomechanical Evaluation
Includes a comprehensive physical examination to determine what faulty movement patterns may be affecting you golf swing. We will isolate any physical limitations that are holding back your swing technique, and prescribe a custom golf-specific conditioning and stretching program.
3D Swing Analysis
We combine K-vest technology with the expertise of a trained physical therapist that has over 15 years experience in the sport. The K-vest uses sensors to determine the sequence and speed of your hips, torso, and club, and sends this information to a computer which further analyzes your swing to determine possible sequencing and velocity issues that may be present in the golf swing. The golf fitness instructor then takes that data and creates a custom program that addresses your specific deficits and improves your particular swing.
This two-part process is the same process performed on some of the best players in the world at the exclusive Titleist Performance Center in Oceanside, CA. Top professionals such as Ernie Els, Luke Donald, Vijay Singh, and many more have all experienced the importance of integrating customized golf fitness and 3D swing analysis in order to determine the body's limitations that could potentially leading to swing faults and weaknesses in the golf game.
Includes:
TPI fitness evaluation
3-D analysis using the K-vest technology
Slow motion camera capture of golf swing and faults related to the body imbalances
Customized home exercise program
Time: 120 minutes
Price: $300
---
Package B
Biomechanical Evaluation & Customized Home Exercise Program
A Certified Golf Fitness Instructor will take you through a comprehensive physical evaluation to identify physical limitations that are holding back your swing technique. We will isolate any faulty movement patterns in your golf swing, and prescribe a custom golf-specific conditioning program. The instructor will lead you through your golf-specific conditioning program, designed specifically to your needs, provide educated answers and address any questions you may have regarding the exercises.
Time: 60 minutes
Price: $125
---
Package C
K-Vest Evaluation with Biofeedback Training
A Certified Golf Fitness instructor will perform a K-Vest 3D swing evaluation and explain movement positions and sequencing of your swing compared to an efficient swing. Following the swing evaluation, the instructor will take your swing through guided biofeedback training using the most updated K-Vest software to improve positions in your swing using real-time 3D image of your body segments. The client will learn valuable information about their swing and body positions in order to maximize their swing potential.
Time: 60 minutes
Price: $150
---
Golf Fitness Sessions
Individual personal training sessions with a Certified Golf Fitness Instructor (CGFI). Utilizing the initial findings from the biomechanical evaluation, you work with a CGFI on your individual deficits and weaknesses that could be inhibiting you golf swing and scoring abilities. We recommend undergoing Package A or B prior to beginning a fitness package to make your fitness program more individualized for your specific needs.
Each session consists of:
Dynamic Warm-Up
Various movements that mimic those in which you will be performing throughout your round. These exercises increase the mobility of muscles and joints by way of moving them throughout their functional range of motion.
Specific strength, balance, and mobilization exercises to help increase distance and accuracy in the golf swing.Focus of each session with be based on the core components of the golf swing: Flexibility; Strength; Stability (CORE & Base); Functional Movement Patterns; Mobility; Cardiovascular Endurance Recovery/Cool Down Corrective flexibility exercises that aid in the recovery of the areas worked, help restore the body to its resting heart rate levels, as well as help to alleviate further physical limitations.
Price:
$100/hour
3 sessions for $275
6 sessions for $500
---
| | |
| --- | --- |
| | TRUGOLF GOLF SIMULATOR |
---
Find a Golf Rehab Therapist Near You
*Contact us using the button above to sign up for promotional discounts on our Golf Simulator and other Golf Rehab Services
Team
Team
There are clinicians throughout our company and clinic locations available to help with your golfing concerns.
---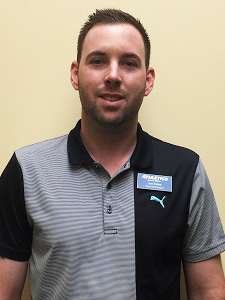 Joe Estes is a physical therapist and Certified Golf Fitness Instructor who oversees the golf performance services and golf rehabilitation at our Oak Brook facility. He began his current role in 2014. In this time, Joe has worked with golfers of all skill levels and ages, from PGA Tour players to beginners, and from kids to seniors. He has treated a variety of golf-related injuries in the physical therapy setting as well as performed numerous golf biomechanical evaluations and fitness sessions with clients looking to improved their game as well as their health.
Through Athletico's affiliation with the Chicago District Golf Association, Joe has conducted golf-specific lectures with renowned orthopedic physicians and teaching professionals, as well as performed pre-round stretching and injury screening at multiple local tournaments. You can also find articles in the Chicago District Golfer Magazine titled, "Fit for Golf" that Joe frequently writes regarding golf fitness and injury prevention.
Joe's passion is with keeping people on the golf course to enjoy the game they love. As an avid golfer himself, Joe understands a golfers mindset and the physical skills needed to play at a healthy and higher level. Here is a little more info on Joe's background:
Bachelor's of Science in Kinesiology from California State University of Fullerton in 2010
Doctorate in Physical Therapy from Western University of Health Sciences in 2013
Titleist Performance Institute (TPI) Certified Golf Fitness Instructor in 2014
Coordinator of Athletico's Golf Performance Center in Oak Brook since 2014
Appearances on ESPN Radio's Sports Medicine Weekly
Please contact Joe Estes at our Oak Brook location so he can assist in getting you set up with an expert closer to your location.
Tee Time
Tee Time
Request a Tee Time
Athletico Oak Brook is thrilled to open our very first Golf Simulator! Available to play exclusively at our Oak Brook Golf Performance Center for only $30 per 18 holes, or $15 for 9 holes, experience the breathtaking scenery of 60 world renowned courses including Pebble Beach, Bethpage Black and Pinehurst.
Open year round, our TruGolf Vista 12 simulator will allow you to sharpen your skill set on the world's most famous courses. Players of all ages and skill level are welcome! Driving range mode is also available at a rate of $10 per person for 30 minutes of playing time.
Call (630) 572-9700 or fill out the form below to schedule your tee time.
Hours
Hours
Clinic, fitness and golf simulator tee time hours:
| | |
| --- | --- |
| Monday | 6 a.m. – 8 p.m. |
| Tuesday | 6 a.m. – 8 p.m. |
| Wednesday | 6 a.m. – 8 p.m. |
| Thursday | 6 a.m. – 8 p.m. |
| Friday | 6 a.m. – 8 p.m. |
| Saturday | 7 a.m. – 12 p.m. |
Extended hours available upon request. Please contact our Oak Brook clinic for questions about availability: 630-572-9700
Find an Athletico.