Personal Training
PERSONAL TRAINING AND PERFORMANCE ENHANCEMENT SATISFACTION SURVEY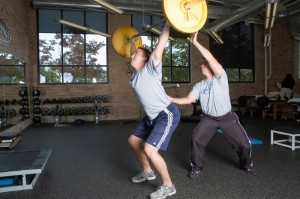 Athletico's fitness services began with the idea of a comfortable, safe and customized approach to post-rehabilitation personal training.  As the need and the connection between pre- and post-rehabilitative fitness grew, so did our program.
Athletico will safely design and implement personal training programs to help you improve your fitness, health or athletic skill level.  Whether you want to lose weight, increase your strength and endurance, or return to recreational or professional sports, we will monitor your progress, update your program, and motivate you in a safe and reassuring way.  Fitness specialists are available by appointment at many of our locations across Chicagoland.
For more information about personal training at Athletico, please contact Athletico, at 630.575.6200 or general@athletico.com.
Find an Athletico.