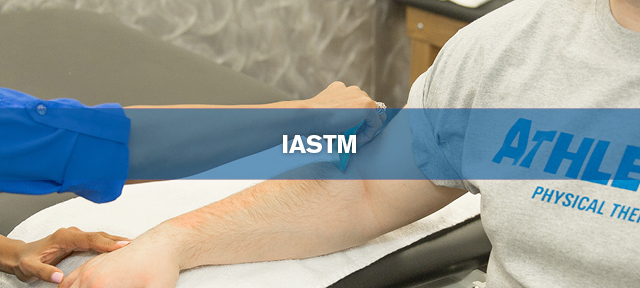 Do you have soft tissue restrictions that are causing pain with your everyday activities? Have you had a chronic condition that hasn't gotten better with previous rehabilitation methods? Did you know there are soft tissue mobilization techniques that may be able to help you get back to doing the things you love to do in less time?
Instrument Assisted Soft Tissue Mobilization, often referred to as IASTM, is a non-invasive technique utilizing ergonomically designed instruments to assess tissue dysfunction and treat areas of fibrosis, chronic inflammation or degeneration. Certified clinicians provide the appropriate amount of pressure to stimulate a healing response in localized tissue.
IASTM is used in conjunction with other manual therapy techniques, such as joint mobilization, and a stretching and exercise program specifically designed for you by your practitioner. IASTM techniques are intended to be part of a complete rehabilitation program and are complements to other therapy interventions.
At Athletico, over 450 of our clinicians utilize a variety of soft tissue mobilization techniques like Astym®, Graston Technique® and HawkGrips® to help you accomplish your goals of reducing swelling, reducing scar tissue formation, improving flexibility and returning to optimal function.
Our IASTM experts are trained to evaluate and treat various conditions, including:
Acute Tendinitis/Chronic Tendinosis (rotator cuff, biceps, medial/lateral epicondyle – also known as tennis elbow/golfers elbow, patellar, tibialis posterior, Achilles, plantar fascia)
Musculoskeletal Imbalances (postural dysfunctions, shin splints, patellofemoral pain syndrome, IT band syndrome, chronic ankle sprains)
Myofascial Pain (neck pain, headaches, shoulder pain, elbow/wrist pain, back pain, hip pain, knee pain, ankle pain, heel pain)
Bursitis/Capsulitis
Chronic Joint Swelling
Ligament Sprains
Muscle Strains
Carpal Tunnel Syndrome
DeQuervain's Sydnrome
Trigger Finger
Scars (surgical/traumatic)
Post-operative Joint Replacements
| | | |
| --- | --- | --- |
| | | |
| Find an ASTYM® clinic near you! | Find a Graston® clinic near you! | Find a HawkGrips® clinic near you! |
Find an Athletico.