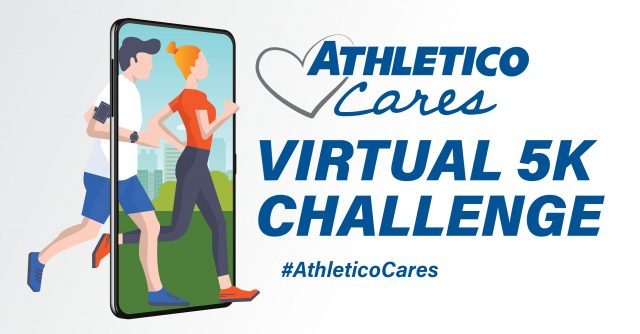 At Athletico, we believe in the power of movement and the incredible impact it can have on our communities. Join the #AthleticoCares Virtual 5k challenge and help us give back to the communities where we live and work. Donations will benefit Feeding America's COVID-19 Response Fund.
Challenge Dates: Monday, April 27 – Monday, May 11, 2020
Challenge: Run/Walk 5 – Donate 5 – Share with 5
---
How To Get Started:
Step 1: Run/Walk 5

Complete a 5k (3.1 miles) by running or walking. Please be mindful of social distancing.

Step 2: Donate $5

Step 3: Share with 5

Post a selfie completing the 5K using #AthleticoCares on Facebook, Instagram, LinkedIn or Twitter.
Encourage 5 of your friends to do the same to keep the challenge going.
Share the link: www.feedingamerica.org/athletico-covid in your post so your nominees know how to help give back!
Don't forget to print out your Athletico Cares Virtual 5K bib & write something on it! (your name, why you love running, a favorite quote) Be sure to wear it proudly in your selfie!
---
---
Find an Athletico.