My name is Sarah Pettit and I am the Assistant Athletic Trainer at Libertyville High School. Since Athletico is in the midst of celebrating National Athletic Training Month (#NATM2017), I wanted to help shed some light on the role athletic trainers (ATs) play in the organizations and teams they support. Read below to learn what a day in the life of an AT looks like.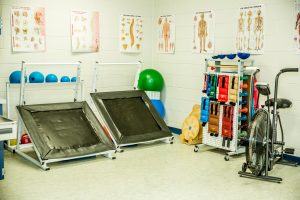 Typical Hours: In my role as an assistant athletic trainer, I come in every weekday after school and every Saturday. Depending on the day, I could be leaving around 6:30pm or as late as 10:00pm. I also have days where I work at Athletico's Libertyville Clinic for a few hours in the morning to assist our physical therapists and occupational therapist.
Fall Season: The fall was definitely my busy season, especially because I was just starting out as a Certified Athletic Trainer. The school's last bell rings at 2:50pm, so I get to school by 2:30pm every afternoon in order to get settled before the students are let out for the day.
Some of Libertyville High School's sporting events are hosted at off-campus locations. When there is an off-campus event taking place, the AT team gets to the site to set up water, first aid kits, treatments and evaluations. With going to the soccer complex and working football on Friday nights during the fall, I got a lot of practice driving a golf cart around!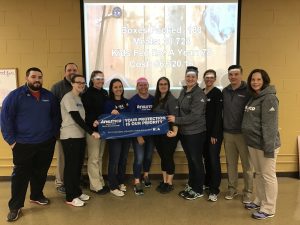 In my experience, Friday night football nights are the busiest. When there is a game, I get to the school around 2:30pm and generally won't leave until 10:00pm or later. I usually am on my feet the entire time unless I am driving the cart. If Libertyville is hosting the game, the AT team gets water coolers, water bottles, ice chests and first aid kits filled up before the start of the first game at 5:30pm. We also go through treatments, rehabs, tape the athletes who need it and conduct evaluations before kickoff. Keep in mind these duties are just for the football boys! We still have the rest of our fall sports to take care of, like soccer, tennis and golf.
Winter Season: Winter has been quieter for me at Libertyville. My days end a little earlier since there are no Friday night games that start at 7:00pm. That said, Libertyville hosted Regionals for wrestling at the beginning of February, which was a busy, action-filled day. I have also been lucky to cover our girls' basketball games. For these games, I am in charge of setting up the water, ice and first aid in both our Main Gym and West Gym.
Spring Season: The AT team is currently getting ready to start our spring sports at Libertyville. Since this will be my first spring season, I am looking forward to covering sports that I have not had to chance to yet, like water polo, lacrosse and badminton. I know that I will stay plenty busy during this season, as I already have more than one event scheduled each day in the month of April, including water polo invites, volleyball tournaments and baseball double headers.
Athlete Injuries: One of my biggest responsibilities as an AT is treating player injuries, which happen in all sports and seasons. When injuries happen, part of my job is to discuss the injury and treatment options with coaches and parents.
For instance, if an athlete sustains an injury, the AT team will contact the parent to provide information about the injury, answer questions and let them know that their son or daughter will be bringing home a symptom sheet to take with them if they are headed to a doctor appointment . In addition to communicating with parents, the AT team has an injury report that coaches can view to monitor the playing status of their athletes. Communication with athletes, parents and coaches is a very important aspect of my job, as it plays a vital role in the recovery process for the injured athlete.
Every Day is Different: All in all, my day as an AT is always different, which is one of the many reasons why I love my job. I don't have the same experience six days a week, and every season brings new responsibilities and athletes to work with.
If you would like to learn more about Athletico's Athletic Training program, click the button below.
The Athletico blog is an educational resource written by Athletico employees. Athletico bloggers are licensed professionals who abide by the code of ethics outlined by their respective professional associations. The content published in blog posts represents the opinion of the individual author based on their expertise and experience. The content provided in this blog is for informational purposes only, does not constitute medical advice and should not be relied on for making personal health decisions.