Occupational/Hand Therapy
Watch What To Expect From Athletico Occupational / Hand Therapy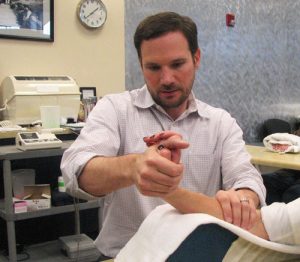 Athletico Physical Therapy prides ourselves on exceptional service, progressive treatment, and a wealth of knowledge to help our patients through the rehabilitation process. In order to be at the forefront of our profession, our occupational therapy clinicians belong to the American Society of Hand Therapists, have on average more than 18 years experience, and hold the highest level of training in the profession for treating the hand, wrist, elbow, and shoulder. Over 40% of our Hand Therapists are Certified Hand Therapists (CHTs) and each of our clinicians are committed to receiving the highest level of education.
Click to Start Your Treatment Today
Athletico provides the following Occupational Therapy / Hand Therapy services:

Activities of Daily Living Retraining

Custom Splinting

Edema Control

Exercise & Strengthening Programs
Injury Prevention

Joint Conservation Techniques

Joint Mobilization

Lymphedema Management

Modalities

Pain Management
Playing Casts
Pediatric Orthopedic Therapy

Scar Remodeling

Sensory Re-education

Work Station Evaluation/Modifications
Wound Care
Common diagnoses our Occupational Therapy / Hand Therapy specialists treat include, but are not limited to:
Arthritis
Amputations
Biceps and Triceps injuries
Burns
Carpal Tunnel Syndrome
Congenital Deformities
Cubital Tunnel
Cumulative Trauma Disorders
DeQuervains
Dupuytren's Disease
Ganglion Cyst
Lateral and Medial Epicondylitis
Nerve Entrapments
Pain
Sprains, Fractures, and Dislocations
Tendon Injuries (including replants and tendon transfers)
Tenolysis
Trigger Finger
Athletico Occupational/Hand Therapy Mentorship Program
The Athletico Mentorship Program for Occupational/Hand Therapy is a great way for OTs or PTs to continue their education and develop skills in the field of Hand and Upper Extremity therapy. The program continues to advance and promote active learning methods throughout Athletico.
---
Find a Location
Find an Athletico near you.