Dry Needling
3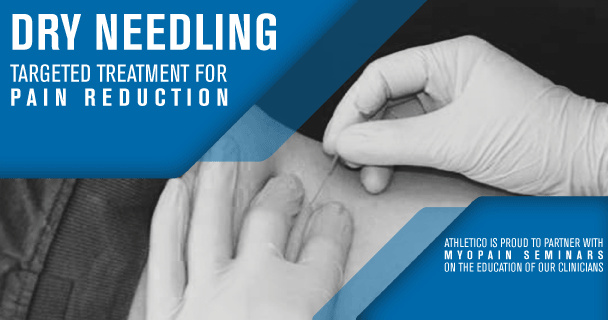 All patients with any kind of pain problem will benefit from dry needling. This innovative pain treatment can be used to treat a variety of diagnoses including:
Headaches / Migraines
Neck pain
Lateral and medial Epicondylitis (Tennis Elbow)
Shoulder impingement syndrome
Low back pain
ITB syndrome
Piriformis syndrome
Sciatica
Greater trochanteric bursitis
Hamstring strain
Groin strain
Ankle sprain Plantar Fasciitis
Carpal Tunnel
Fibromyalgia
Osteoarthritis
Dry needling is a skilled intervention that uses a thin filiform needle to penetrate the skin and release underlying myofascial trigger points, muscular, and connective tissues for the management of neuromusculoskeletal pain and movement impairments.  Dry needling (DN) is a technique used to treat dysfunctions in skeletal muscle, fascia, and connective tissue, and, diminish persistent peripheral nociceptive input, and reduce or restore impairments of body structure and function leading to improved activity and participation.
Precautions
Pregnancy.  We recommend to not use dry needling during the first trimester of pregnancy.
Bleeding disorders.  We recommend not to dry needle patients that have bleeding disorders.
Local infection.  We recommend not to use dry needling with patients that have local infection near or around the site.
Athletico is proud to partner with Myopain Seminars.

In 2011, the American Physical Therapy Association (APTA) invited Dr. Jan Dommerholt to participate in the APTA Dry Needling Workgroup along with several other physical therapists representing legislators, educators, insurance specialists, clinicians, and the APTA administrative staff. In January 2012, the APTA released Physical Therapists & the Performance of Dry Needling: An Educational Resource Paper (pdf).  In 2013, the APTA published a second educational resource guide about the scientific foundations of dry needling: Description of Dry Needling in Clinical Practice (pdf).  "When Athletico began its search around who was the leading authority in Dry Needling, it made perfect sense to partner with Dr. Dommerholt and Myopain Seminars.   He is the leading expert in Dry Needling.  We are excited to offer this specialized service line to our patients and provide yet another tool for our clinicians to provide unparalleled treatment and service for our patient's needs," says Grant Koster, Regional Manager, Athletico.
Trigger Point Dry Needling; An Evidence and Clinical-based Approach is now available. See http://www.myopainseminars.com/resources/books.html for details.
For more information on Dry Needling, please click here for some videos: http://www.myopainseminars.com/resources/video.html