Holidays are not only a time of joy, but they are also usually a time of overindulgence and stress. Around the holidays people have more than their fair share of cookies, chocolates, cocktails, and wine (my mouth is watering just thinking about it). So I propose that this year instead of going along with the status quo, we give gifts that will enhance the health of the recipients. Here are just a few ideas:
1.  Massage Gift Certificate
Almost any place that offers massage therapy will also sell gift cards. A massage can be a great gift for anyone in your life that might need a little pampering or stress relief. And don't forget your husband who has been complaining about his back pain since hauling all of the holiday storage boxes out of the attic.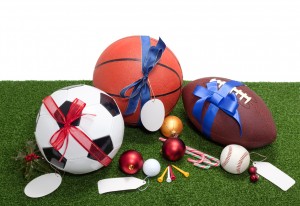 2.  Sports Equipment
There are so many great activities that you can do as long as you have the right equipment. I bet there are people on your shopping list that would love tennis rackets, roller blades, snow shoes, yoga mats, running accessories (there are thousands!), walking poles, etc. There is equipment out there for all ages, activities, and fitness levels.

3.  Sports/Activity Gift Certificates
Instead of getting someone a gift card for dinner and a movie (dinner with a pound of butter, followed by popcorn with a pound of butter), get them a gift certificate for something that will get them moving! You can find gift certificates for golf courses, bowling alleys, skiing, and much more.

4.  Personal Training Sessions or Gym Membership
Now I have to start off with a little warning here: This may not be the best choice for a wife who has not mentioned any desire to start a fitness program. If she is expecting diamond earrings, she will not be pleased with a gym membership. She might take it the wrong way. But, for others who have been meaning to start a workout plan and have not gotten around to it, this could be the jump start they need.
5.  Farm Boxes
I found out about these last summer. There are local, organic farms all over the Midwest that offer a weekly sampling of what is in season. You pay a fee and are able to pick up farm-fresh local produce every week. This is a great way to try new fruits and vegetables and to support your local farmers!
6.  Active Video Games
There are some options for exercise-based gaming. Instead of games where you sit for hours trying to get to the next level, try a game that involves dancing, tennis or track and field.

7.  Lessons and Classes
In my opinion, these are the best gifts!!! Not only are you giving someone a thoughtful gift that is good for them, but you are also providing them with a new skill and getting them out of a possible rut. Maybe this looks like golf lessons for your husband with an 18 handicap, or dance classes for your friends who are getting married this summer. Maybe you get cooking classes for your neighbor who gets delivery every night for her family (and when it's not delivery-it's Digiorno!). With a little bit of creativity you can be the MVP of gift giving!
With that said, this doesn't mean you can't enjoy a little wine here and there or indulge in your Grandma's world famous fudge. Let's just agree to try to give gifts this year that enhance each other's health and well being. Happy Holidays!