Coccygodynia: A Pain in the Butt
17 Comments
It's that time of the year! The snow is falling, it's getting colder and the sidewalks are a little slippery. A slip and fall onto your buttocks can result in a coccyx (tailbone) injury. If you see your physician about your pain, you could be diagnosed with coccygodynia, which is pain at the coccyx.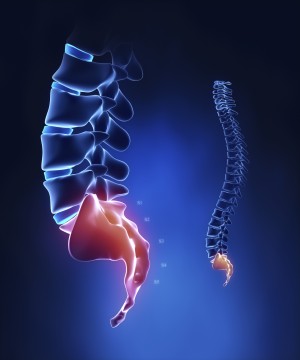 The coccyx is located at the very tip of your spine between your buttocks. Injury to the coccyx can lead to significant pain while performing many of your regular daily activities including sitting, walking, and changing positions. Symptoms can differ between people, but it's possible you could suffer from several of the following:
Pain when sitting on a soft surface
Pain increasing with the length of time that you are sitting
Feeling a deep ache around your coccyx
Coccyx sensitivity to touch
Pain shooting or traveling down one leg
Increased pain when changing positions from sitting to standing
Pain with defecation, menstruation, and intercourse
Feeling a sensation of sitting on something uncomfortable or sharp
Common ways of injuring your tailbone include a direct fall onto the coccyx, slipping, and childbirth. A number of sporting activities also can cause injury to the area. Even muscular imbalance in the pelvic region can create an indirect injury to the coccyx.
How can you get some relief?
It is important to sit up straight following this injury to allow your weight to distribute evenly through the buttocks. A slouched position can put more pressure onto the coccyx itself and allow the muscles around it to tighten. Many people utilize a donut cushion to decrease the pressure on the coccyx while sitting. This cushion will distribute the weight over the buttocks and keep the tip of the coccyx from coming in contact with the surface that you are sitting on. Ice can help to relieve the acute pain as well.  Using a bag of frozen peas works well as it can conform to the area.
Physical therapists can offer you a range of treatment options for coccygodynia, including:
Biofeedback
Ultrasound
Heat and/or ice
Manual therapy to the pelvic region including soft tissue work and possible manipulation of the coccyx
Exercises to include abdominal and pelvic floor strengthening as appropriate
Stretching
If you're concerned about your coccyx pain and would like to learn more, please contact one of Athletico's women's health experts.