Our 5th and final restorative stretch is called Reclined Cobblers Stretch.
It is one of my absolute favorites, and feels so relaxing and wonderful. I hope you give it a try! You will need a bolster and a folded blanket to perform this stretch.
If you have a history of low back conditions that prevent you from extending backwards or if you have trouble getting up and down from the floor please do not perform this stretch. As with beginning any exercise program, it is recommended to consult with your physician, physical or occupational therapist to determine which exercises are best for you.
Starting Position:
Place your folded blanket at the opposite end of the bolster. Sit in front of the bolster which is placed lengthwise behind you. Make sure there is a small distance between you and the bolster. Finally, position the soles of your feet together in front of you. See the top image labeled "starting position."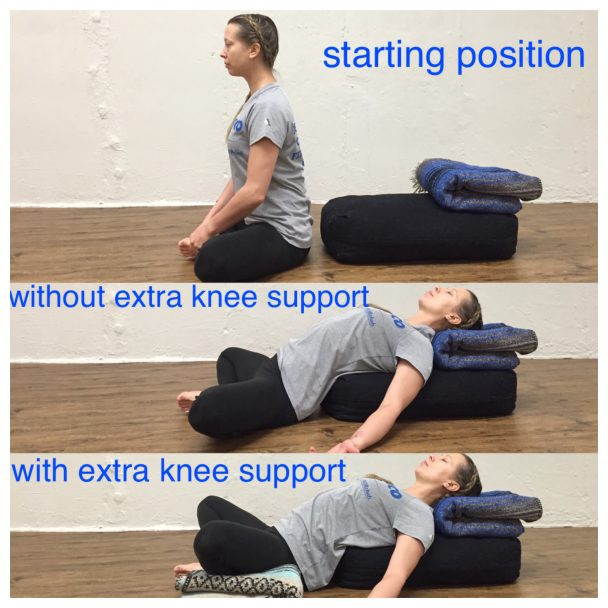 Performing Reclined Cobblers Stretch:
Carefully and slowly, using your hands behind you, lower your back to the bolster, and rest your head on the blanket. You should have a small space between your low back and the bolster. This position should feel very comfortable. If it doesn't, try moving backwards or forwards on the bolster to achieve a more comfortable position. The soles of your feet remain together. Rest your hands, palm up, on either side of the floor. See middle image labeled "without knee support."
If this stretch is too intense for your inner thighs or bothers your knees, place a blanket, block or pillow under each knee to provide support. See image labeled "with knee support." The soles of your feel should remain together.
Stay here for 5 minutes or more, depending on your comfort level. To return to the starting position, press both hands, palm down, into floor and leading with the chest, come up to a seated position.
I hope you enjoy my favorite stretch, and thank you for following along!
Questions? Email me at rachel.lackowski@athletico.com
The Athletico blog is an educational resource written by Athletico employees. Athletico bloggers are licensed professionals who abide by the code of ethics outlined by their respective professional associations. The content published in blog posts represents the opinion of the individual author based on their expertise and experience. The content provided in this blog is for informational purposes only, does not constitute medical advice and should not be relied on for making personal health decisions.