It is normal for questions to arise when an injured employee receives a prescription that orders work conditioning.
Not only is it common for the employee to ask what work conditioning is, but the best ways to be successful in this type of program. Read below to learn more about work conditioning programs, as well as to discover the answers for some of the most frequently asked questions.
What is a Work Conditioning Program?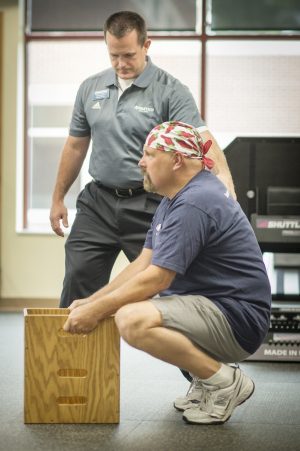 First and foremost, work conditioning is a comprehensive program that focuses on returning injured workers to safe and sustainable full duty employment. This is a great benefit to the employee as the treatment plan is designed around his or her needs and specific job requirements. The goal of these programs is to help the employee regain strength, flexibility, endurance, functional abilities and confidence through work specific tasks and general exercises.
Work conditioning is typically four to eight hours, however, the prescribing physician will indicate on the prescription any time restraints. For example, the prescription may be ordered to start at two hours and progress as tolerated up to eight hours. Each scenario will be addressed on a case-by-case basis.
The most important thing an injured employee can do is ask questions and provide updates at each appointment. An employee who is active in their program's process will be more successful and allow the program's therapist to better optimize the recovery plan.
What to Bring to the Initial Visit
In order for the therapist in charge of the program to develop a work-related treatment plan, the injured worker should bring specific information to the initial visit, including:
1) Company name and job title
2) A job description from the HR department (if available)
3) The ability to describe what a typical work week consists of, including the following information:
Weight of items that are lifted
Height of items being lifted
How much time is spent standing, walking, climbing stairs/ ladders, squatting, bending, kneeling, crawling, balancing, reaching, gripping and pinching
Weight of dollies, carts and pallets that are pushed and pulled
Specific equipment and tools that are used
Although this information will take time to review, it will allow the therapist and employee to develop several functional activities, such as strengthening and stretching exercises, which will help reintegrate the employee back to full duty work.
Discuss Hesitations
Injured employees should address fears and/or safety concerns with returning to work when starting a work conditioning program.
It is natural for an injured employee to have hesitation with return-to-work activities, especially ones that may have contributed to the injury. The program therapist must understand these concerns in order to safely attempt simulated activities to train the mind and body to be comfortable once the employee returns to work. The key for the worker is open communication and trusting the recovery process.
Be Committed to Success
It is important to note that the employee has a vital role in the success of his or her work conditioning program. The employee must put forth effort when exercising in the clinic as well as completing home exercise assignments. What's more, the employee must always remember there will be bumps along the road to recovery. This is why it is important to stay focused on the process as outlined by the therapist.
If you need assistance locating an Athletico clinic that provides work conditioning services, please contact your nearest clinic or email us at Work4U@Athletico.com.
Click to Request an Appointment Today