For the third time in a five year period, Athletico has been honored as one of Chicago Tribune's Top Workplaces.
This achievement wouldn't be possible without the hard work of Athletico's talented employees and leaders. The list for Chicago's Top Workplaces is determined exclusively on employee feedback gleaned from leading research firm Workplace Dynamics. Key qualities like company leadership, communication, career opportunities, working environment, managerial skills, pay and benefits are taken into consideration for the companies that are recognized for this achievement.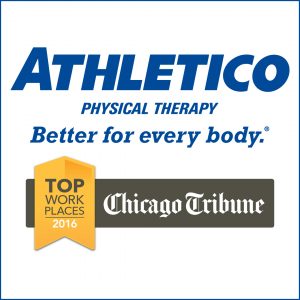 "Each year, the Chicago Tribune is proud to recognize the companies that are making a real difference in the lives of their employees," said Publisher and Editor-in-Chief Bruce Dold, who served as the host of the Top Workplaces 2016 event. "This year's lineup of progressive-minded businesses reflects those qualities that truly make Chicago the City That Works."
Why do Athletico employees love their job?
Each Athletico employee is equipped with a unique skillset that is valuable to our company. What the majority of Athletico employees have in common, however, is the passion they have for their careers and the physical therapy industry.
To showcase this passion, we asked our employees to share what they love about working at Athletico. Check out some of their responses below:
It's Rewarding
"It's so rewarding to be able to help patients of all walks of life have less pain and get back to doing what they love." – Katie Kuebel, PT, DPT, Facility Manager
Great Coworkers
"I love the people that I am surrounded with on a daily basis. The managed care team in the billing center has a great group that is dedicated to working hard but also has a versatile spectrum of personalities that mesh together greatly!" – Elizabeth Eggers, Managed Care A/R Representative
Watching Patient Progress
"Getting to see patients progress with their health and be back to their best, if not original, range of motion and to do activities of daily living (ADLs) with ease." – Giancarlo Regacho, Rehabilitation Aide
A "Work Family"
"I love working for this company because I get to see people get better. A lot of times you see patients walk in that are in a lot of pain. Most are frustrated because they can't do what they are normally used to doing. There's really no better feeling than watching them walk out the door 6-12 weeks later with a completely different attitude. I also love the people I work with. It's a very family feel environment. It's nice to know that your work family cares about you as much as your real family does. We also do all that we can to put the patient first and to make sure they're as comfortable as possible." – Kaitlyn Hineman, Office Coordinator
Serving Communities
"Athletico is a fantastic organization for healthcare professionals! Personally, it has provided me with a work family that I feel privileged to work daily shoulder-to-shoulder with while tackling challenges and creating opportunities. Great clinicians, skilled Athletic Trainers and a dedicated front office team serve thousands of our communities in nine states every day. There is no greater professional accomplishment than returning someone back to their full functional status and getting them back to the game of life!  This is demonstrated daily as our patients hug our clinicians when they are discharged and the countless e-mails, calls and letters I receive commending our skilled team on the care of their patients." – Grant R. Koster, PT, ATC, FACHE, VP Clinical Operations
Visit our Careers page to learn more about working at Athletico!