Since there are five weeks in March, I am providing you with a biceps self-massage technique for this last week!
You will need a flat utensil, such as a spoon, as well as lotion or oil that can be used for the skin to perform this technique. Do not perform this self-massage if you have any bruising, open sores or skin that easily breaks, anemia, loss of sensation, or are on any blood thinner medications.
How to perform:
Note before you begin: The bicep muscles cover the length of the front of the humerus bone (the part of the arm between shoulder and elbow joints). Because of the way it lays we will use a simple massage technique called "stripping the muscle." You will basically run the utensil up and down along the length of the muscle fibers.
You can sit or stand. Rub lotion or oil into the skin of the upper arm (biceps) that you will work on first. Then, place the handle of the spoon against the top of the arm where the bicep muscle starts near the shoulder joint, as shown in the top far left photo. Start towards the outside of the arm. Apply gentle pressure of the utensil into skin. It may feel a little tender but it should not hurt. Keep pressure consistent as you very slowly drag the handle down the outside of the arm as shown in the top three photos.
Once you reach the elbow joint, begin to bring the utensil back up with the same pressure and slowness applied above. Instead of the outside of the arm, bring it up the middle of the arm this time – over the belly of the bicep muscle, as shown in the bottom two left photos.
Once at the top of the arm bring the utensil back down on the inside of the arm as shown in the bottom right photo. Again keeping pressure consistent and within your tolerance.
Keep repeating this slow upward and downward motion, massaging up and down, from inside the arm to the outside and back again for up to 5 minutes. If you find an area that's much tighter or you feel needs a little more attention, then make more passes with the handle over that area. Don't forget the other arm!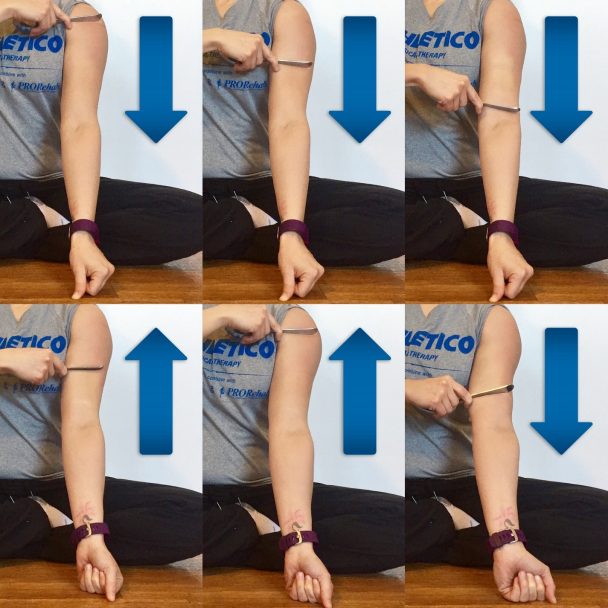 Interested in learning more? Email me at rachel.lackowski@athletico.com
The Athletico blog is an educational resource written by Athletico employees. Athletico bloggers are licensed professionals who abide by the code of ethics outlined by their respective professional associations. The content published in blog posts represents the opinion of the individual author based on their expertise and experience. The content provided in this blog is for informational purposes only, does not constitute medical advice and should not be relied on for making personal health decisions.