Every March Athletico celebrates with the National Athletic Trainers Association National Athletic Training Month to recognize the important work of athletic trainers throughout our communities.
To highlight the importance of these allied healthcare professionals, Athletico reached out to four of our athletic trainers for a Q&A that covers everything from injury prevention tips to the future of the profession. Discover their insights by checking out the Q&A below: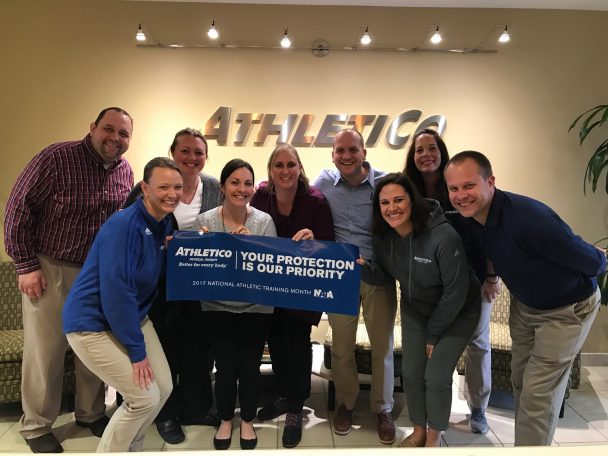 1. Why is it important for athletes to use the proper equipment?  
Haley Overton (HO), ATC: Proper equipment and proper fitting equipment are crucial for injury prevention and the ability to move efficiently. For example, if an athlete that has high arches uses running shoes that lack support it could lead to an injury down the road like plantar fasciitis.
Matthew Zalewski (MZ), ATC, PES: Sport specific equipment is designed and researched to assist in protecting the athlete. It is important because it keeps an athlete safe, such as how helmets protect from skull fractures and lacerations to the face.
2. What are the most common equipment mistakes you see made by athletes?
MZ: Common equipment mistakes include wearing equipment that doesn't fit correctly and not using equipment correctly. For example, chewing on a mouth guard instead of keeping the mouth guard in the proper position.
3. Can you share an injury prevention tip that many athletes overlook?
Kele Cioflec (KC), MS, ATC: Flexibility is a big component a lot of athletes overlook, especially at the high school level. Stretching "real quick" before practices/games is not enough. Stretching 3-4 times per day goes a long way to prevent a variety of injuries.
MZ: Playing through a minor injury significantly increases the chances it will turn into a major injury.
4. In your opinion, what is the biggest misconception about Athletic Training?
Bo Leonard (BL), MS, ATC, PES: I feel that biggest misconception regarding the athletic training profession is that it consists of filling water bottles and taping ankles. While these are a few of our responsibilities that the public sees, an athletic trainer is a behind-the-scenes presence that plays a vital role in the prevention of injury processes. From the initial injury assessment to the much anticipated return-to-play, an athletic trainer is involved in varying capacities every step of the way.  An athletic trainer directs care, leverages resources, facilitates physician referrals and physical therapy needs, provides support, all of which ensures a safe and efficient return to play.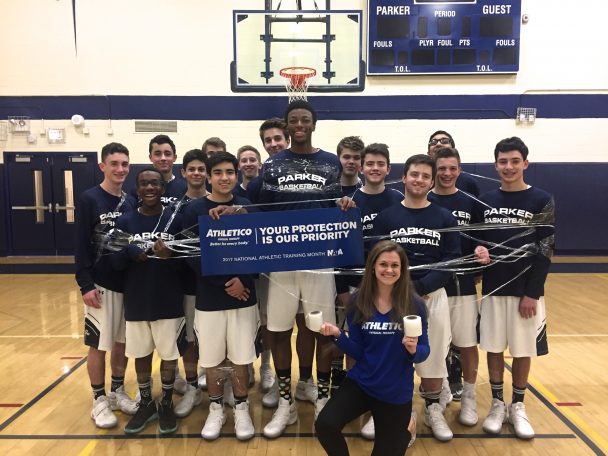 5. How do you see the Athletic Training profession progressing in the next five years?
MZ: I think the need for Athletic Trainer will increase as not only from the awareness of what we do but as organizations increase the requirement of our services. We are seeing athletic training services provided in settings outside of interscholastic athletics and I think this will only to continue to grow.

6. What advice would you give to someone who is interested in becoming an Athletic Trainer?
BL: I would encourage anyone interested in athletic training to explore the ins and outs of the career. As an athletic trainer your busy times are during the evenings and weekends. It takes someone that is truly dedicated to the field and has solid time management skills in order to be resilient and successful within the field of athletic training. The rewards are endless and athletic training has the potential to be a very fulfilling part of your life.
MZ: Do it because it is something you love. This job demands a lot, but also gives so much. You need to love what you do in order to truly feel the fulfillment it can give you.
7. What three qualities do you think every Athletic Trainer should have?
BL: In order to be a successful athletic trainer one should: Have the ability to communicate effectively and efficiently with all types of people in a multitude of settings; Have strong time management skills; Have confidence.
HO: Problem Solving Skills, Interpersonal Skills and Drive. Athletic trainers interact with athletes, parents, coaches, and staff on a daily, if not hourly basis. You have to know how to connect with people, how to help them understand your role and what you can do for them. You will also be challenged mentally on a daily basis and need to be able to think of solutions quickly. Lastly, when the days are long and hectic, you need passion to keep you going.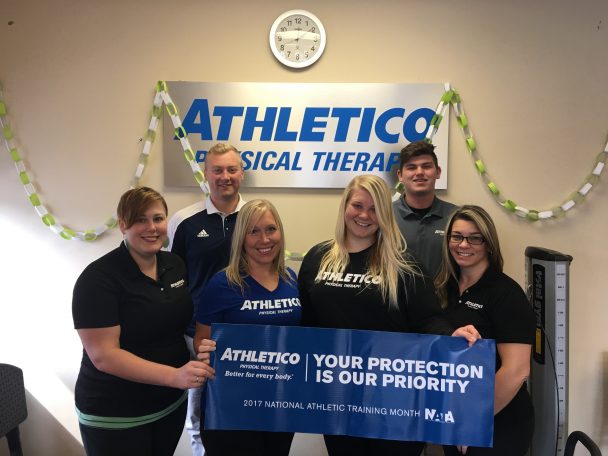 8. What is your favorite part about your job as an Athletic Trainer?  
BL: Regardless of age and sports, activity is an important part of many people's lives. Having the ability to be active, whether you are a member of a high school sports team or you simply want to play catch with your grandchild, and being physically able to do so safely is important for so many reasons. As an athletic trainer, I find great value in being able to help people stay active and healthy so that they may enjoy this part of their life. Within the last few years I have also had the opportunity to serve as a Coordinator of Athletic Training Services. This position allows me the freedom to continue the development of my on-field career while also playing an important role in the development of the field staff I am lucky enough to work with.
MZ: No two days are ever the same.
9. When and why did you decide to pursue an Athletic Training career?
KC: I decided to pursue Athletic Training my junior year of high school. I injured my neck playing tennis and saw everything my athletic trainer did to help me get back. I was lucky enough to take both of her classes and shadow her when I wasn't in season. To boil it down to two key components: Athletic Training is a perfect fit for me because I enjoy sports and have a passion for helping others.
MZ: I found Athletic Training in College and it was a natural fit. I knew I wasn't going to be a professional athlete so this allowed me to still be involved along with helping people at the same time.
10. Why did you decide to pursue your Athletic Training career with Athletico?
BL: I interviewed at Athletico because of the company's location. I was looking to relocate to the Chicagoland area and Athletico seemed pretty well represented in that area. Eleven years later I am very well aware of how lucky I was to be hired into the Athletico family. I have been able to experience a wide-array of opportunities from the high school to the professional levels and now within a leadership role. As my career has evolved I have found new energy around being a resource to others as they look to develop their careers within athletic training. Support from my peers has allowed me the opportunity to have a healthy balance of patient care and leadership responsibilities. I greatly value this support and reciprocate it in all of my interactions on a daily basis.
HO: Mark Kaufman and Mike Overturf both came and spoke at The University of Iowa while I was an Athletic Training Student. It was great to hear about someone from a small Iowa town like myself, who built an incredible company in Chicago that has helped so many people, and I wanted to be a part of that.
KC: Athletico allows me to explore a lot of the different skills and settings I can work in as an Athletic Trainer. They encourage professional development, continuing education and for you to grow as a professional and a person.
MZ: I have always strived to be the best at what I do. Working for Athletico means you work for the best. They understand Athletic Trainers and do everything they can to help support and push the profession to the highest levels of standards and athletes care.
To learn more about Athletico's Athletic Training Outreach, click the button below.
The Athletico blog is an educational resource written by Athletico employees. Athletico bloggers are licensed professionals who abide by the code of ethics outlined by their respective professional associations. The content published in blog posts represents the opinion of the individual author based on their expertise and experience. The content provided in this blog is for informational purposes only, does not constitute medical advice and should not be relied on for making personal health decisions.