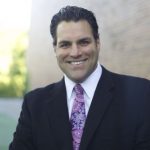 By Grant R. Koster, PT, ATC, FACHE
Senior Vice President – Athletico Physical Therapy
As the month of October comes to a close, we celebrate the end of National Physical Therapy Month by reflecting on why we got into this great profession in the first place.
I will never forget the first time I stepped into an outpatient physical therapy clinic as a patient. I was a senior in high school and I had my elbow surgically repaired from a traumatic basketball injury that ended my college football career only three short weeks after I committed to play at the next level. My whole identity was around football and sports. What was I to do now?!?! Like a lot of physical therapists I know, it was an injury that was the catalyst of exposure to the field of physical therapy. I was an impressionable 18 year-old young man, depressed about my injury and struggling to know what life after football would mean to me. I never thought in my wildest dreams that an injury in high school and the subsequent rehabilitation journey would take me so far. I remember seeing how much joy my physical therapists received by working with patients of all ages and abilities.
After spending hours upon hours and week after week rehabbing one of the worst elbow fractures that my orthopedic surgeon had ever seen, I realized very quickly why they were so happy. Patients came and went and I was able to track not only my own progress, but the progress of others on their journeys as well. Handshakes, fist bumps, hugs, tears, high-fives and the occasional swear word were everyday occurrences before, during and after my therapy sessions. I remember thinking to myself, "This is who I want to become. I want to be a Physical Therapist who can help people get back to doing the things they love." In retrospect, that elbow fracture was the best thing that ever happened to me.
The physical therapy profession has provided me with so many opportunities. I met my wife while in physical therapy school (she is an OB/GYN), have been blessed with two girls, and I have had the good fortune of being part of the Athletico Physical Therapy team since I graduated in 2001. My journey at Athletico has taken me around the world as the head physical therapist and athletic trainer for USA Rugby, as well as allowed me to work with countless athletes from recreational to professional and everybody in-between. I've opened new clinics, created innovative and disruptive strategies, formed lifelong friendships and grown into the man I knew I could one day become. The physical therapy profession is near and dear to my heart, as I bet it is to anyone who is reading this right now.
During National Physical Therapy Month, we get to reflect not only what the profession has given us, but what we have given to the profession. They say in charity work you can give your time, talent and treasure (money). For me, it is important to give back all three. For starters, volunteering your time to help the profession move forward. Whether you want to organize a local community give-back event or sit on the Board of Directors of a charity, find ways to give your time where it is most impactful and make sure you find joy in the way giving back makes you feel.
I give my time to the IPTA (Illinois Physical Therapy Association) in order to work on strategic initiatives that help move forward our profession, including dry needling, direct access, and term and title Protection – just to name a few. I also give my time to the Arthritis Foundation as a member of their Board of Directors. We all know how important physical therapists are to the 51,000,000 Americans that suffer from the leading cause of disability in the U.S. For me, my time is connected to my talents and I strive to be a 'value add' to any activity I am part of.
Lastly, treasure (or money).  At Athletico, we do a $5 jeans day for the first Friday of every month, which results in employees donating more than $4,000 to different charities each month. That is just one of many initiatives we have as a company to give back. From PT Day of Service to Global Medical Brigades, our clinicians and staff make an effort to give their time, talent and treasure to many important initiatives toward the physical therapy profession. Being a member of the APTA and your state association is a way to combine your voice with the voice of many. Just think, if every APTA member gave just $20 to the state or national PAC, we'd have over $2,000,000 to deploy much needed legislative awareness and profession enhancements. Be the change you want to see in the world. Get involved in our great profession, you won't regret it and you might even have some fun along the way!
In all, I am very proud of the physical therapy profession, Athletico and all of my colleagues. The infographic below highlights some of our collective accomplishments in 2017.