As an Athletico physical therapist, I have been supporting The Joffrey Ballet for more than five years. I usually work with the dancers while they are rehearsing and performing in Chicago, where my job is to triage, evaluate and treat issues that may arise from their rigorous rehearsal and performance schedule. Recently, my career with The Joffrey Ballet took me beyond Chicago, when I traveled with the company to three different cities across the country. We started in snowy, cold Minneapolis for two performances of a full length ballet called Anna Karenina, then off to Santa Barbara for two mixed repertory shows, and finished with one final performance in San Diego.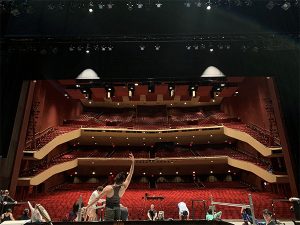 We all travel in one large group when traveling with the ballet, including the dancers and artistic staff, as well as company, stage and costume managers. Travel with such a big group is like a ballet itself, with every detail, down to reporting to the bus and seat assignments, carefully choreographed. Traveling on a bus or plane with a group of ballet dancers is always entertaining; you'll often see them stretching on the floor while waiting to board a plane, or sitting with their legs on top of the seat in front of them on the bus.
When we get to the theater, the physical therapy room is usually located in the backstage area. I travel with a crate that includes a table for treatment sessions, various types of tape, Graston Technique® tools, hot packs, foam rollers, bands, stretching boards and compression boots. I work with the dancers for a few hours during their dress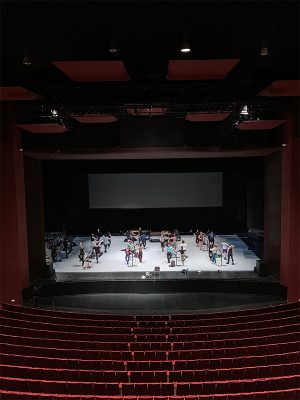 rehearsals before each show, and then I stay backstage during the show in case anyone needs help. It is fun to get to know the layout and history of the various theaters, as each one is unique and memorable in its own way.
The challenge of this tour was the variability of dance style in each performance. During the mixed repertory show, the entire company performed a piece where they all danced in high heels. Imagine having to dance in three inch pumps! Many of the dancers would come to physical therapy with reports of "stuck ankles," because the shoes changed their mechanics; this can often cause their ankles to feel like they are not moving properly. My job is to help them improve their ankle mobility, and teach them how to manage this throughout the tour. They also performed more classic and contemporary choreography, and the transition from one dance style to another can be challenging and fatiguing.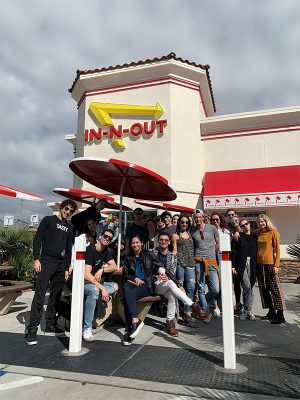 Traveling with The Joffrey Ballet has many great moments. It is an opportunity to explore new cities, check out restaurants and museums, and get to know the dancers and ballet staff a little better. The dancers will sometimes bring their dogs on tour, and they know that I am happy to "dog-sit" while they are performing (they remind me of my pooch back home!). Occasionally there will be receptions after the shows to get a chance to relax and have some fun, as well as meet some of the great fans we have all across this country. Being a traveling physical therapist with 46 dancers provides a new adventure every day, and is just another one of the reasons I love working with the ballet.
Athletico is the Official Provider of Physical Therapy to The Joffrey Ballet. To learn more about our performing arts rehabilitation services, request an appointment at an Athletico near you.
The Athletico blog is an educational resource written by Athletico employees. Athletico bloggers are licensed professionals who abide by the code of ethics outlined by their respective professional associations. The content published in blog posts represents the opinion of the individual author based on their expertise and experience. The content provided in this blog is for informational purposes only, does not constitute medical advice and should not be relied on for making personal health decisions.