We probably all know, or think we know, the basics of dealing with sharp objects, including carrying a knife or scissors with the pointed end down and never running with them! Despite these well-known safety tips, about 1,200 injuries occur daily in the United States from kitchen, pocket or utility knives.1
During Hand Therapy Week, the hand therapists at Athletico would like to give you with a few tips to keep you and your hands safe when using knives in the kitchen, including:
While it may seem counter intuitive, sharp knives are actually safer than dull knives. Sharp knives are more predictable, easier to control, require less cuts to do the same job, and require less pressure to slice an object. When one is applying more pressure than necessary with a dull knife, it is more likely to slip and lead to an injury.2,3
Do NOT use your hand as a cutting board! Always use a stable cutting board and do not hold objects in your hand that you are cutting. This will allow you to cut consistently and protect your hands in the process.2
Consider using a carrot peeler over a paring knife for peeling objects like apples, squash, cucumbers, potatoes, and of course…..carrots!
When cutting fruits and vegetables, first cut a flat side. Then, place the flat side on the cutting board. This will keep the item from rolling or slipping, making it much more stable and safe to cut.4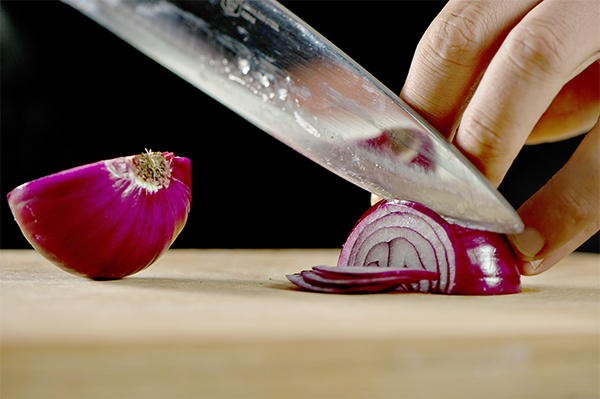 Place your guide hand into a claw position, curling fingers under and away from the blade, when cutting. Keep your fingers and thumb tucked under to avoid any mishaps.2,4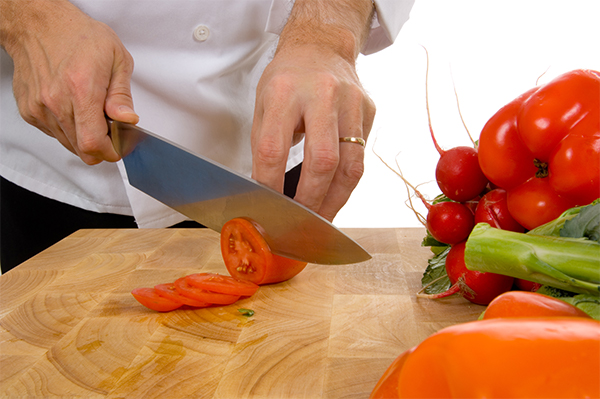 When mincing, keep the tip of your knife on the cutting board and pump the handle up and down, using a circular motion away from you.2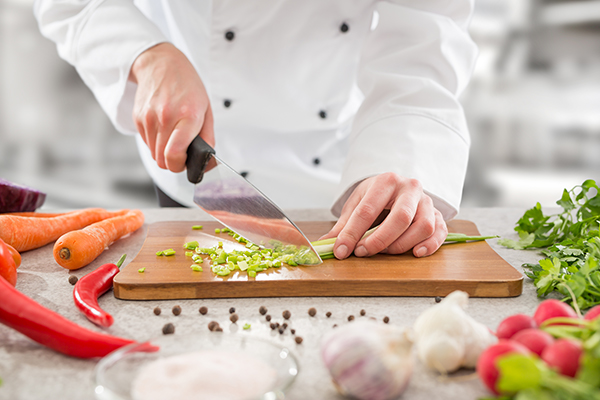 Don't place knives into dish water. This puts you at risk of blindly reaching into the water, possibly resulting in a laceration. Rather, place the knife on the back of the counter and wash at a later time. Wash blade facing away from your palm to decrease the likelihood of an injury.3,4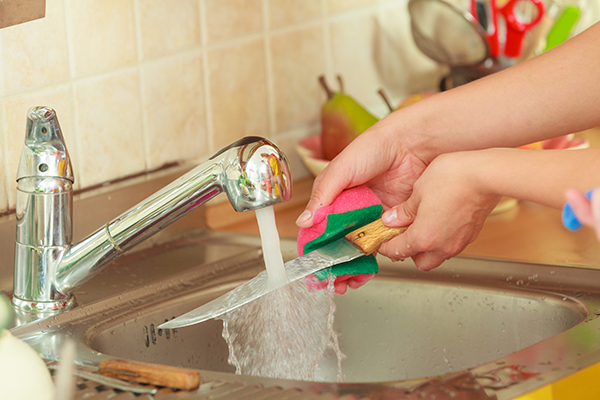 Make certain to place knife blades pointing down in the dishwasher, to avoid punctures and cuts. Check with the manufacturer to see if your knives are dishwasher safe; some knives may not be dishwasher safe and washing them in this manner could degrade the precise edge.3
When not in use, do no leave knives on the edge of your counter. Store them properly in a block, sturdy sheath or tray, where they cannot be easily grasped by children or knocked off the counter.4
Remember to use each knife for its intended purpose; a paring knife for cutting and slicing smaller objects, a cleaver for cutting squash or meat, a thin flexible knife for removing fish scales or skin, and a serrated knife for crusty bread, bagels or other item with a soft center.3
Lastly, always use a knife as it was intended. Using a knife as a can opener, screwdriver or box cutter, could not only damage your knife, but can also put your hands at risk of injury.3
Make Safety a Priority
Anytime you use a knife to prepare a meal, it is important to take your time and use these safety tips to minimize the risk of injury. If you have questions about hand injuries or other upper extremity conditions, schedule an appointment with an Athletico occupational therapist.
The Athletico blog is an educational resource written by Athletico employees. Athletico bloggers are licensed professionals who abide by the code of ethics outlined by their respective professional associations. The content published in blog posts represents the opinion of the individual author based on their expertise and experience. The content provided in this blog is for informational purposes only, does not constitute medical advice and should not be relied on for making personal health decisions.