If you are in your fourth or fifth decade of life, or beyond, and have begun experiencing pain in the base of your thumb and wrist, it could be a symptom of osteoarthritis of the CMC (carpo-meta-carpal) joint. This is also sometimes referred to as basal joint arthritis.
This type of arthritis is more common in females than males. This is likely due to having thinner cartilage and hormonal changes after menopause.1 The versatility of our thumb allows us to do various activities, however this joint can wear out before the rest of our bodies.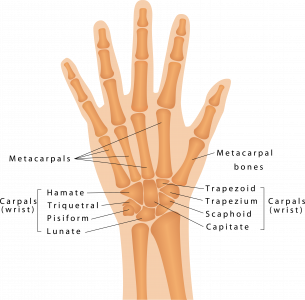 Our opposable and highly flexible human thumbs allow us to do many things more primitive species are unable to perform. This includes tool use, pinching, writing, grasping, lifting and of course, texting. Because of the mobility and increased forces going through this joint during pinching and grasping, it is more prone to wear and tear. For instance, when we pinch with 15 pounds of force to turn a key, about 125 pounds of force is placed at the base of the thumb! All of these forces over time cause the joint to slip slightly out of place and cause imbalance of the muscles around the thumb. This can lead to poor mechanics, which can cause further damage to the cartilage. When this cushion-like cartilage wears out, the thumb metacarpal bone starts to grind on the trapezium bone in the wrist, causing pain. Other factors such as overuse, genetics, and history of fractures or dislocations, can contribute to the condition as well.
What are the symptoms of CMC arthritis?
This type of arthritis can make simple, everyday tasks painful and challenging. Simple tasks such as pinching and gripping to turn a key, opening a door or jar, or writing may cause pain at the base of the thumb. Pain can also occur at night or at rest, with swelling sometimes visible at the base of the thumb. A loss of strength and mobility will also likely be noticed.
How is CMC arthritis treated?
You physician may order an x-ray as part of their exam to confirm this diagnosis. The initial conservative treatment for mild symptoms are rest and modifications of daily activities. Topical or over-the-counter medications are often recommended. Anti-inflammatory prescription medication or a cortisone injection may be recommended to decrease painful symptoms. Your physician may also refer you to a hand therapist.
What can a hand therapist do for my thumb?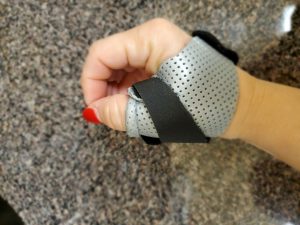 A hand therapist can provide patients education in adaptive equipment and techniques, including recommending gardening and kitchen tools or gadgets, as well as activity modifications to decrease the stress on the thumb joint during daily activities. Hand therapists can also recommend exercises to decrease pain and improve the stability of the thumb. This helps to improve mechanics and prevent deforming forces from causing further damage. A hand therapist can also provide a custom fabricated orthosis to facilitate proper alignment, stability and support so that the thumb joint can rest, while still allowing patients to complete daily activities.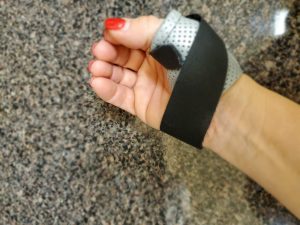 For more advanced stages, surgical intervention may be required to stabilize the joint and remove the structures causing pain. At this stage, a hand therapist can provide range of motion exercises and teach patients how to regain the function and strength of their hand.
If you are experiencing pain in your hand, wrist, elbow or shoulder, schedule a free assessment to speak with our experts so you can learn about treatment options available in-clinic or virtually through an online video chat.
The Athletico blog is an educational resource written by Athletico employees. Athletico bloggers are licensed professionals who abide by the code of ethics outlined by their respective professional associations. The content published in blog posts represents the opinion of the individual author based on their expertise and experience. The content provided in this blog is for informational purposes only, does not constitute medical advice and should not be relied on for making personal health decisions.