The COVID-19 pandemic has turned our worlds upside down, striking us with fear and uncertainty. However, the Athletico team has continued to care for our patients, making a difference in their lives and throughout our communities.
While we recognize the entire Athletico team and their efforts to offer superior care during these challenging times, here are a few clinicians we'd like to highlight for their work in-clinic, in-home or via telehealth virtual visits.
---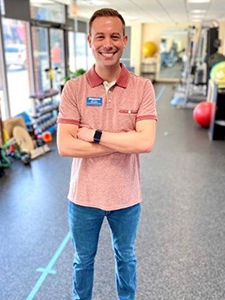 Name: Chris, Physical Therapist and Facility Manager from Athletico Bucktown
Healthcare Highlight: Chris continues to connect with patients to keep them active and on the road to recovery through telemedicine and in-clinic treatments.
---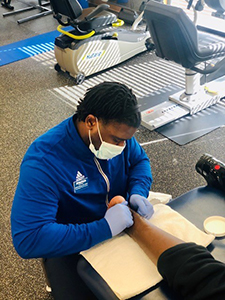 Name: Leython, Physical Therapist and Facility Manager from Athletico Royal Oak, MI
Healthcare Highlight: While taking the necessary precautions, Leython has structured his treatment plans to encourage independence with progressive home exercises and efficient in-clinic time for manual therapy. Manual therapy remains essential in its effectiveness in manipulating joints and soft tissue in effort to break up scar tissue, reduce pain, and improve functional movement.
---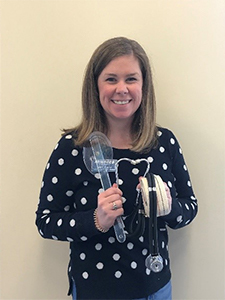 Name: Caitlin, Physical Therapist from Athletico South Loop
Healthcare Highlight: Caitlin has done a fantastic job of completing in-home visits for high-risk patients who need continued hands-on therapy but are unable to leave their homes right now.
---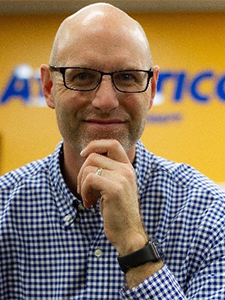 Name: Bryce, Physical Therapist and Facility Manager from Athletico Indianapolis-Castleton
Healthcare Highlight: Bryce, Physical Therapist and Facility Manager at our Castleton, IN clinic and team have been creating an experience that transcends the clinical practice, offering virtual hugs and high fives! Bryce and team have even provided care packages to the doorsteps of those that are alone and have been unable to get out, helping their recovery process with the delivery of appropriate equipment.
---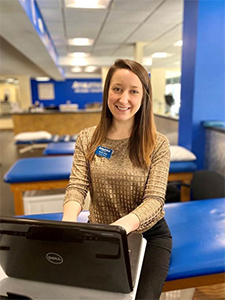 Name: Rachel, Physical Therapist from Athletico Bucktown
Healthcare Highlight: Rachel is leading the way in telemedicine. She spends one-on-one time with each patient, creating engaging and dynamic sessions to ensure each patient progress while staying safe at home.
---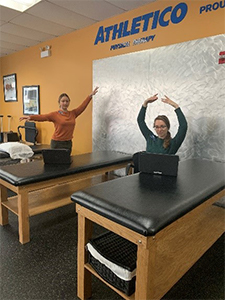 Names: Kelli and Aimee, Physical Therapists from Athletico Printers Row
Healthcare Highlight: Kelli and Aimee have been doing an incredible job of keeping dancers moving through telehealth despite many of them being displaced due to the COVID-19 pandemic.
---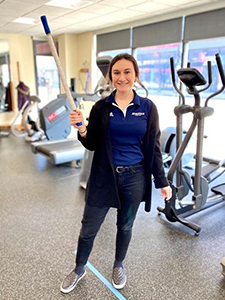 Name: Val, Certified Athletic Trainer
Healthcare Highlight: Val is assisting physical therapists in treatment of patients in clinic. She is bringing her passion for athletics to the Athletico-Bucktown clinic, and is also performing telephone screens to advise patients on best course of action for care.
---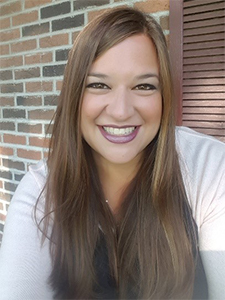 Name: Kate, Physical Therapist and Facility Manager from Athletico Mundelein
Healthcare Highlight: Kate, Physical Therapist and Facility Manager at our Mundelein, IL clinic has been a great leader treating patients in-clinic as well as virtually through telehealth. She is also proactively researching and preparing for how she can best help patients who have recovered from COVID-19 through breathing and exercise training via telehealth or in-clinic visits.
---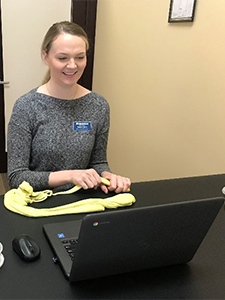 Name: Melissa, Occupational Therapist from Athletico Wrigleyville North
Healthcare Highlight: Melissa has been utilizing telehealth to continue to assist high risk patients not appropriate to be seen in the clinic under the current circumstances.
---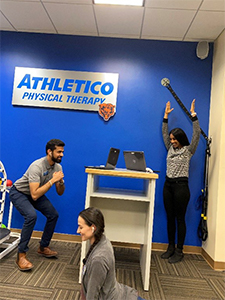 Name: Athletico Ogilvie
Healthcare Highlight: The Athletico Ogilvie team has embraced Telehealth into their practice to help commuters who are no longer commuting continue to receive world class care.
---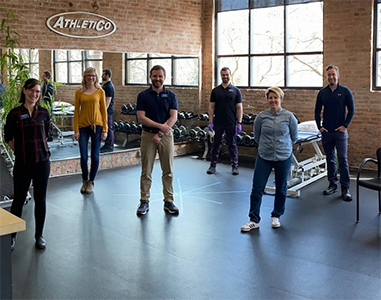 Name: Athletico Andersonville
Healthcare Highlight: The Athletico Andersonville team is being praised for their efforts around contacting friends, family, doctors, and current/former patients to educate people on the option of telemedicine treatment.
---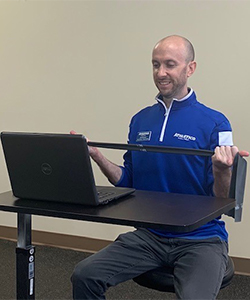 Name: Joe, Physical Therapist and Facility Manager from Athletico Loop-Jackson
Healthcare Highlight: Joe, physical therapist and facility manager at our Loop – Jackson clinic demonstrates exercises during his Telemedicine PT appointment with his patient.
---
Our experts are here for you. We remain open in-clinic and online through our telehealth service to deliver safe and effective treatment options. Our experts are passionate about helping you recover from pain or injury. To request an appointment, please click the button below.
The Athletico blog is an educational resource written by Athletico employees. Athletico bloggers are licensed professionals who abide by the code of ethics outlined by their respective professional associations. The content published in blog posts represents the opinion of the individual author based on their expertise and experience. The content provided in this blog is for informational purposes only, does not constitute medical advice and should not be relied on for making personal health decisions.