Are you getting back into exercise after a long time off? Or maybe you've never exercised before and aren't sure where to start. For some, the thought of lifting weights can be a little daunting. For others, getting to the gym can be tough due to the time commitment or schedule conflict. A research study performed in 2021, showed that body weight exercise improved cardiorespiratory fitness (CRF). CRF has a direct correlation with mortality and disease risk. Simply put, if someone has better CRF, their risk for disease should lower. These bodyweight exercises can be performed at home and will provide a nice starting point for beginners on their fitness journey.
1. Sit to stand
Start sitting in a sturdy chair with your knees bent to 90 degrees. Sit towards the front of the chair and then stand up. Use your hands if you need to but try standing up without using your hands for an additional challenge. After you've stood up, sit back down. Perform ten repetitions. If this feels too easy, make the exercise more challenging by performing two additional sets of ten repetitions.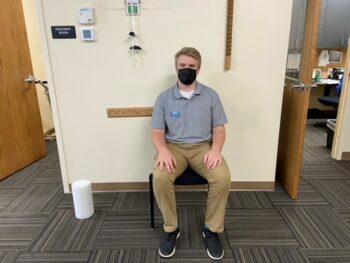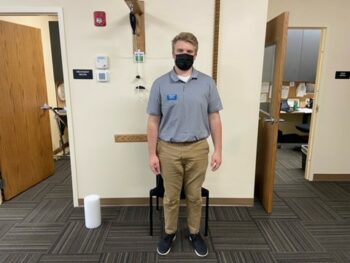 ---
2. Step-ups
Stand at the bottom of a staircase or step in/around your home. Step up onto the step using one of your legs and then follow with the opposite leg. Step back down to where you started leading with the same leg you did when you stepped up. Perform ten repetitions with your starting leg and then perform ten repetitions with the other leg. Advance exercise difficulty by performing three sets of ten repetitions on each leg.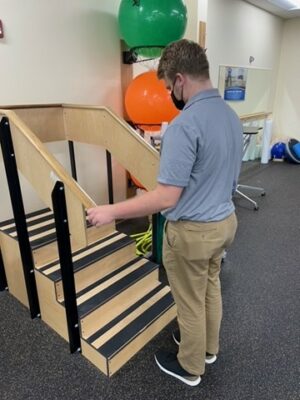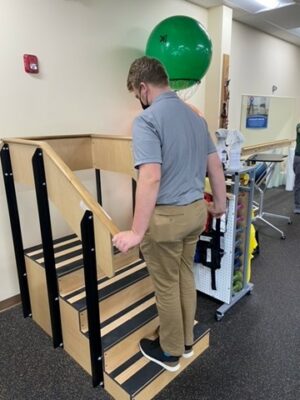 ---
3. Wall push up
Place your hands shoulder-width apart on a wall and position your feet approximately 18 inches away from the wall. Your feet should be approximately shoulder-width apart as well. Slowly lower your upper body towards the wall, making sure to control your descent using your arms. Once you lower your chest to the wall, return to the starting position by pushing away from the wall with your arms. Perform ten repetitions. Advance the difficulty of this exercise by performing three sets of ten repetitions.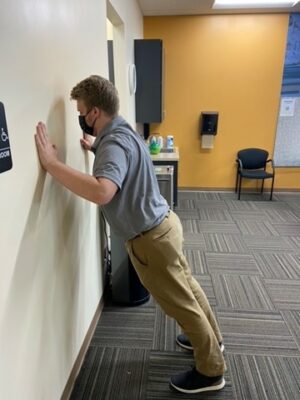 ---
4. Arm raises
Stand with your feet shoulder-width apart and your arms resting comfortably at your sides. Raise both arms simultaneously in front of you to shoulder height. Pause for one to two seconds, then lower your arms to the starting position. Perform ten repetitions. Increase the difficulty of this exercise by performing three sets of ten repetitions or repeating the exercise in different arm positions, e.g., 45-degree angle or straight out to the side.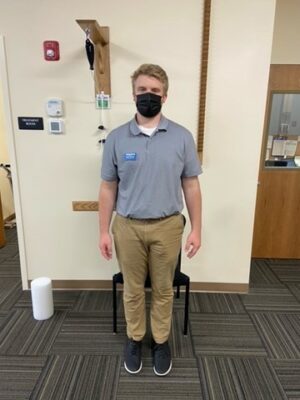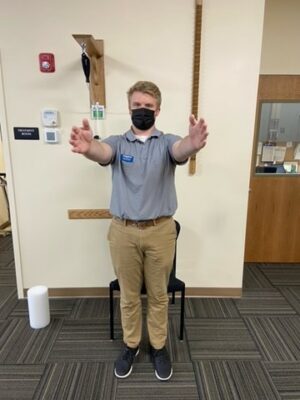 ---
5. Standing marches
Stand with your feet together and a stable surface at your side, e.g., a table, chair, or couch. Start by lifting one leg from the floor up to hip height and then return to the starting position; repeat with the other leg. Alternate marches of both legs for 30 seconds. Feel free to use the table, chair, or couch as a sturdy way to balance yourself if you feel unsteady. This exercise can be made more difficult by marching for a longer period or marching faster.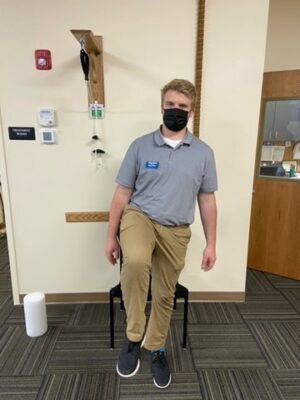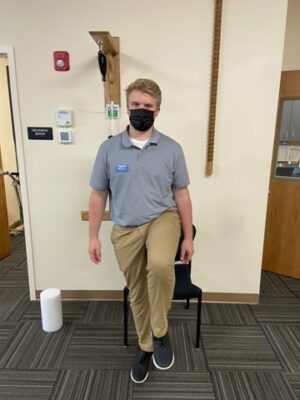 ---
Experiencing pain? Come see us!
Have you been avoiding exercise because you have pain? Are you afraid exercise might make your pain worse? Come into an Athletico clinic near you for a free injury assessment. During the assessment, one of our talented rehab professionals will help you determine the cause of your pain. Then they will provide you with information as to the next steps to resolve your pain and help you achieve your goals.
The Athletico blog is an educational resource written by Athletico employees. Athletico bloggers are licensed professionals who abide by the code of ethics outlined by their respective professional associations. The content published in blog posts represents the opinion of the individual author based on their expertise and experience. The content provided in this blog is for informational purposes only, does not constitute medical advice and should not be relied on for making personal health decisions.
References:
1. Archila LR, Bostad W, Joyner MJ, Gibala MJ. Simple Bodyweight Training Improves Cardiorespiratory Fitness with Minimal Time Commitment: A Contemporary Application of the 5BX Approach. Int J Exerc Sci. 2021;14(3):93-100. Published 2021 Apr 1.