Athletico Opens Fourth Physical Therapy Facility in Wisconsin
Posted on
Wauwatosa, WI — Athletico opens its newest physical therapy practice in Wauwatosa, Wisconsin. This facility, managed by Katie Zmolek, PT, DPT, is committed to offering Wauwatosa's active population relief from pain, injuries, accidents, and everyday aches. Athletico's fourth Wisconsin facility is steps from the Wauwatosa Anytime Fitness and located at 8837 W. North Avenue. Athletico Wauwatosa will offer services of physical therapy, sports medicine, work rehabilitation, orthopedic rehabilitation, video throwing analysis, functional capacity evaluations, and complimentary injury screens. Transportation service is available upon request.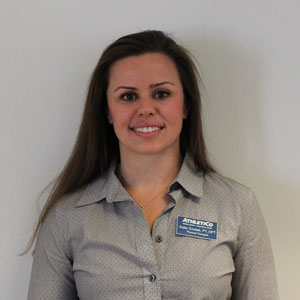 Katie Zmolek, PT, DPT serves as the facility manager and treating physical therapist at the Wauwatosa facility.  "I enjoy the frequency of patient/client contact involved in the field of physical therapy as this allows me to be a key player in assisting individuals with attaining their personal health and wellness goals," shared Katie.  Her professional development comes from an educational background at the University of Notre Dame, Doctorate in Physical Therapy from Marquette University, and working as a licensed physical therapist at Athletico's Milwaukee, Des Plaines and Diversey locations.  Katie is excited to return to where she grew up, and work with a community filled with local business and an entrepreneurial spirit.
Katie's specialties as a physical therapist focus on the overhead athlete. "From a breakdown of their throwing mechanics to sport specific training, I take a full body approach when working to return athletes to their desired level of competition," shared Katie.  With patient centered goals in mind, Katie is looking forward to providing Athletico's physical therapy services to the residents of Wauwatosa. Athletico Wauwatosa provides their patients with quality care and convenience through the following means:
Patient outcomes reporting using a third-party outcomes system to provide measurable data on a patient's progression that is discussed throughout the course of treatment.
Patient satisfaction reporting throughout treatment in order to better understand and respond to patient needs while they are still receiving rehabilitation services, rather than after a patient is discharged. Results show that 98% of our patients would recommend us to their friends and family.
Convenient hours including early mornings, evenings, and Saturdays.
Prompt scheduling of each initial evaluation within 24-48 hours of the patient's phone call.
Ongoing patient education on diagnosis, treatment plans, and prescribed home-exercise programs.
Clear, consistent communication between therapist, physician, and patient regarding progress.
To learn more about the Athletico Wauwatosa clinic or to schedule a complimentary injury screening, click here, call Katie Zmolek at 414-257-0300 or email her at wauwatosa@athletico.com.
Find an Athletico.