Video Throwing Analysis
Click to Request an Appointment Today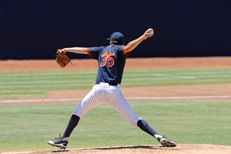 There's more to throwing than just the motion of your arm.  There's actually a whole science dedicated to it-and Athletico offers a comprehensive approach. Our team of physical therapists, occupational therapists, certified athletic trainers, and physical therapy assistants combine their expertise in throwing analysis with slow-motion video analysis to enhance performance and help prevent injuries.  Whether you are returning from an injury or simply working to refine mechanics, Athletico has skilled professionals to assist you in optimizing your form and preparing your body for the field of competition, bringing you one step closer to making your goals a reality.
For more information contact a Video Throwing Analysis Clinician by emailing  VTA@athletico.com. Click here for a list of locations offering this service.
Read our blog on Video Throwing Analysis.
Read testimonials of the Video Throwing Analysis.
Why Video Throwing Analysis Works
In addition to the expertise of a highly trained staff member, Athletico also uses software developed by industry leaders Dartfish and Kinovea to make assessments of your throwing style. Both Dartfish and Kinovea software highlight biomechanical patterns and angles, measurements, and drawing shapes for precise feedback.  This allows our staff to make a powerful and objective biomechanical analysis, which is easily communicated through high-quality video footage copied to customized report.
Dartfish and Kinovea software will provide the following for optimal throwing efficiency:
Slow-Motion Video Analysis
Frame-By-Frame Video Analysis
Joint Angle Analysis
Multi-Angle Video Throwing Analysis
In addition, Athletico also offers the following services that can benefit the overhead throwing athlete:
Physical Therapy
Performance Enhancement
Massage Therapy
Personal Training
Fitness Center Memberships
Testimonials
| | |
| --- | --- |
| | "I am excited about Athletico's Video Throwing Analysis service.  It is a great education piece through the incorporation of the Dartfish and Kinovea software programs to identify mechanical deficits throughout every phase of the throwing motion."- Herm Schneider, Head Athletic Trainer, Chicago White Sox |
| | "The use of Athletico's Video Throwing Analysis can be instrumental in helping coaches, parents, and athletic trainers identify defiits, and keep our kids, athletes, and professionals on the field where they belong." – Mark O'Neal, Director of Athletic Training/Head Athletic Trainer, Chicago Cubs |
Find an Athletico.