You are not the only one who noticed red circles on the backs of Olympic athletes in Rio. These circles are the result of an ancient therapy called "cupping."
What is Cupping?
According to WebMD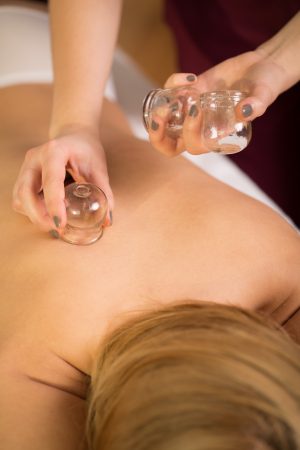 , cupping is an ancient form of alternative medicine in which special cups are placed on the skin to assist with pain, inflammation, blood flow, relaxation and well-being. Cupping typically requires a flammable substance inside of a special cup to be set on fire. As the fire goes out, the cup is placed upside down on the skin and the air creates a vacuum as it cools. This causes the skin to rise and redden as the blood vessels expand. That said, modern versions of cupping therapy typically use a rubber pump instead of a fire to create the Vacuum.
It is important to note that there are differences between the technique that physical therapists and athletic trainers use compared to the traditional Chinese treatment. For starters, therapists prefer to use the term mysofascial decompression (MFD) or cup therapy according to Athletico Physical Therapist Aimee Rozin. Therapists also focus on targeting specific joints and muscles where there is an imbalance, as well as use passive and active movement during the treatment to maximize results and re-educate the area of dysfunction.
"The goal of cup therapy is to decrease tissue restrictions between the layers of skin, fascia and muscle," said Rozin. "Tissue restrictions especially in the fascia can cause pain, decreased range of motion (ROM), impaired alignment, asymmetry and sub-optimal muscle performance. Often times I will see a significant improvement in ROM in one session, although these results are not guaranteed. The technique is essentially causing a local inflammatory response in the tissue that is theorized to help aide in recovery and stimulate the body's natural healing process."
Rozin also recommends that cup therapy always be combined with other therapies, like stretching, strengthening, neuro re-education and manual therapy.
Other Pain-Relieving Therapies
Although cup therapy was definitely trending in Rio, it is not the only option out there for athletes (or non-athletes) looking to find some pain relief. Check out the list featured below to learn about three alternative pain-relieving therapies offered at Athletico.
Dry needling is a pain treatment that can be used to treat a variety of diagnoses, from headaches and ITB syndrome to neck pain and Fibromyalgia.
The treatment is performed by a licensed physical therapist who uses a thin needle to penetrate the skin and muscle to release underlying muscle myofascial trigger points. This process can help loosen tight tissue and relieve muscle pain. What's more, the American Physical Therapy Association (APTA) reports that dry needling can reduce muscle tension, normalize biochemical and electrical dysfunction of motor endplates and facilitate an accelerated return to active rehabilitation.
Dry needling is recognized as being part of the physical therapy professional scope of practice and the treatment option is available at select Athletico Physical Therapy locations.
Astym is a non-invasive rehabilitation treatment that stimulates the body's regenerative healing process.
With Astym, therapists move specially-designed instruments firmly along the skin to identify areas of dysfunction. Through this process the therapist recognizes defective soft tissue and helps encourage the body's healing response.
A typical Astym course lasts four to six weeks, and the treatment can be used for conditions ranging from post-surgical scarring to plantar fasciitis.
The Graston Technique is a soft-tissue release therapy that can be used to treat a variety of acute and chronic conditions ranging from wrist pain to shin splints.
The technique uses six patented stainless steel instruments of different shapes and sizes. The instruments are used to detect and treat scar tissue and soft-tissue restrictions that can be causing pain and limiting a patient's ability to perform activities of daily living.
Graston Technique is used by healthcare providers, universities, companies, collegiate and professional sports teams. Its increase in use is due to the potential for improved diagnostic treatment of soft-tissue dysfunction in a shorter period of time.
If you are interested in any of our specialized techniques of physical therapy, or would like to schedule a free injury screen with Athletico, click the button below!
Click to Schedule a Complimentary Injury Screen
The Athletico blog is an educational resource written by Athletico employees. Athletico bloggers are licensed professionals who abide by the code of ethics outlined by their respective professional associations. The content published in blog posts represents the opinion of the individual author based on their expertise and experience. The content provided in this blog is for informational purposes only, does not constitute medical advice and should not be relied on for making personal health decisions.