From September 24th through October 2nd, Athletico Athletic Trainer Tyler Harris had the opportunity to travel with the U-17 Men's National Team (MNT) to Panama City for a couple of International Friendlies.
This trip was a great opportunity for Tyler and the team to get acclimated to the environment, since World Cup qualifying games will be hosted in Panama. What's more, the team had the chance to see the venues where they will be playing during qualifying.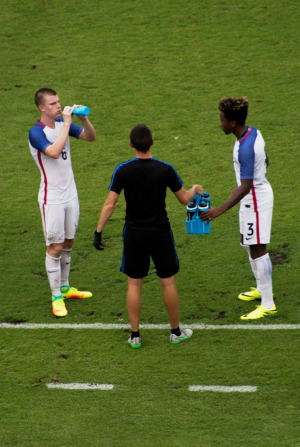 The first game during this trip was against Panama. The game started smoothly with the US going up 2-0 at halftime. Although Panama came out strong in the second half and pegged a goal to make the score 2-1, the US added another goal to win the game 3-1. After the win, the U-17 MNT had a day off before playing a local professional team. This proved to be a tough match against experienced players that ended with a score of 2-2. After another day of rest, the trip finished with a final game against Panama. Despite preparation, the US did not look ready from the opening whistle and lost by a score of 2-0.
Even though the team ended the trip with a loss, it was a good experience because it provided some insight into what the U-17 MNT will be facing when playing the World Cup qualifying games in April 2017.
Click here to read about other trips Athletico has taken with US Soccer!