To celebrate National Physical Therapy Month, Athletico is highlighting the positive impact that physical therapists have on people's lives.
From athletes trying to recover from injury to patients looking to regain mobility post-surgery, physical therapists are key members of the health care process. Not only do they provide patients with the information needed to make a recovery, but they oftentimes act as motivators throughout the process.
To highlight the effectiveness of physical therapy (PT), Athletico showcases an inspirational patient story each month via #MyAthleticoStory. Read below to learn about three of these patient success stories:
Patient: Demetrius Baker
Reason for PT: Knee Replacement and ACL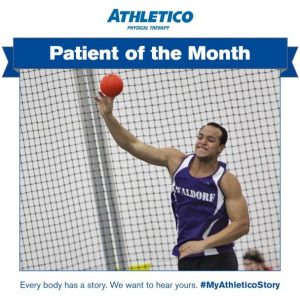 Demetrius was an athlete throughout high school and college until injury put him on the sidelines. After an MRI revealed that he would need full knee replacement surgery, Demetrius was left sitting back while his track teammates continued to run, jump, throw and compete.
Once Demetrius was able to start workouts again, he was motivated to recover not only by his coach, but also by Athletico Athletic Trainers at Waldorf University, Heidi and Dan. After successfully sticking to his rehab program, Demetrius says he is able to jump higher, run faster and lift more than ever before.
"All of Athletic Trainers at Waldorf University played a part, but Heidi and Dan stayed on me about rehabilitation and the little things such as proper posture and walking," said Demetrius.
Click here to read more about Demetrius's #MyAthleticoStory.
Patient: David Thomson
Reason for PT: Vertigo and BPPV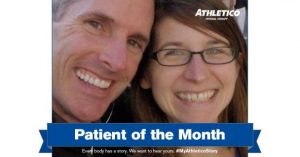 David Thomson suffered with Benign Paroxysmal Positional Vertigo (BPPV), which is one of the most common causes of dizziness. To combat the condition, David started physical therapy with David Kim, MSPT, at one of Athletico's Northbrook locations. An individual treatment plan was set up to help David overcome his vertigo and dizziness symptoms. After several sessions and trying different rehabilitation options, David is now back to his active routine.
"I have told many people about David's skill and will recommend him and Athletico to anyone I know who needs physical therapy, as well as the vestibular rehabilitation that Athletico offered to me," said David Thomson.
Click here to read more about David's #MyAthleticoStory.
Patient: Deborah Feffer
Reason for PT: Post-Back Surgery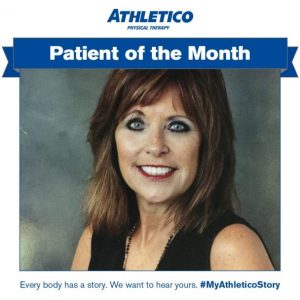 Deborah started physical therapy after having a microdiscectomy for two back herniations. Prior to the surgery, Deborah lost the strength in her legs and feet, as well as suffered from pain in her lower back, right hip, ankle and foot.
On Deborah's first day at Athletico's Buffalo Grove North location, her Physical Therapist Leython started her on a program of stretching, light exercises and home exercises. Although Deborah was upset because she realized how impaired she was after surgery, Leython comforted and motivated her throughout her treatment. Deborah is now getting back to do the things she loves, including driving and working again.
"Many times, I cried during my sessions because I was so upset, not at Leython, but at what I couldn't do. He was always so comforting and positive. He would say that he was on 'Team Debbie' and that I would get better. Little by little, I was improving, physically and emotionally. I cannot say enough about Leython. Not only was he a physical therapist he also restored my confidence," said Deborah.
Click here to read more about Deborah's #MyAthleticoStory.
Could Physical Therapy Help You?
The stories above provide some insight into the variety of conditions physical therapy can help treat. If you think physical therapy may help with a condition you are dealing with, click below to request an appointment for a complimentary injury screen at your nearest Athletico location.
Schedule a Complimentary Injury Screen