Patient Success Stories
Athletico Physical Therapy is dedicated to providing outstanding patient care and personalized service on a daily basis. Patients tell their story best and we wanted to share their successful experiences with everyone.
For your chance to be featured on our Success Stories page submit your comeback story!
This Month's Featured Patient: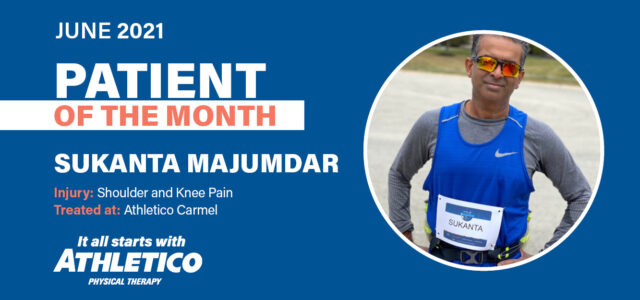 I've gone to Athletico Carmel twice. First time after reaching my half marathon goal. As I started running longer I started having pain on my neck and upper shoulder on the right side. Athletico helped me solve that problem and I could continue to run my very first Marathon!
During my Marathon run somehow I hurt my left leg and outer side of my knee down to the heel. I am currently going to Athletico for the second time so that I can get back to running and so far it is improving. Hopefully I will be back to full-fledged running soon!
---
2021 Patient Stories:
2020 Patient Stories:
2019 Patient Stories:
2018 Patient Stories:
2017 Patient Stories:
Amy Bishop
Back Surgery
Elk Grove Village, IL

Billy Pirie
Back Pain
Third Lake, IL
Grace Langston
ACL Tear
Wentzville, MO
Past Patient Stories:
Greg Metzler
Bicycle Accident
North Loop (Chicago)

Laura Doherty
Bunions
St. Charles, IL

Paul Koenig
Marathon Runner
Wheaton, IL

Randy Venahaus
Elbow Pain
Collinsville, IL

Deborah Feffer
Back Surgery
Buffalo Grove, IL

Donald Wilson
Knee Replacement
Tinley Park, IL

David Thomson
Vertigo/BPPV
Northbrook, IL

Demetrius Baker
Knee Replacement
Forest City, IA

Danielle Doucette
Ankle Injury
Milwaukee, WI

Glenn Kubek
Baseball Injury
Bridgeport (Chicago)

Maike Fink
Shoulder Injury
Munster, IN

Anna May Miller
Atrial Fibrillation
Iowa City, IA

Valerie Banister
Work Injury
Monument Circle (Indianapolis)

Carrie Matczynski
Hip Injury
South Elgin, IL

Gina Biernacki
Knee Pain
Mich. Ave. (Chicago)

Tom Maag
Parkinsons
Barrington, IL

James Strempel
ACL Surgery
Palatine, IL

Brooke Bloedorn
Hip Pain
Milwaukee, WI
Find an Athletico.