Patient Success Stories
Athletico Physical Therapy is dedicated to providing outstanding patient care and personalized service on a daily basis. Patients tell their story best and we wanted to share their successful experiences with everyone.
For your chance to be featured on our Success Stories page submit your comeback story!
This Month's Featured Patient: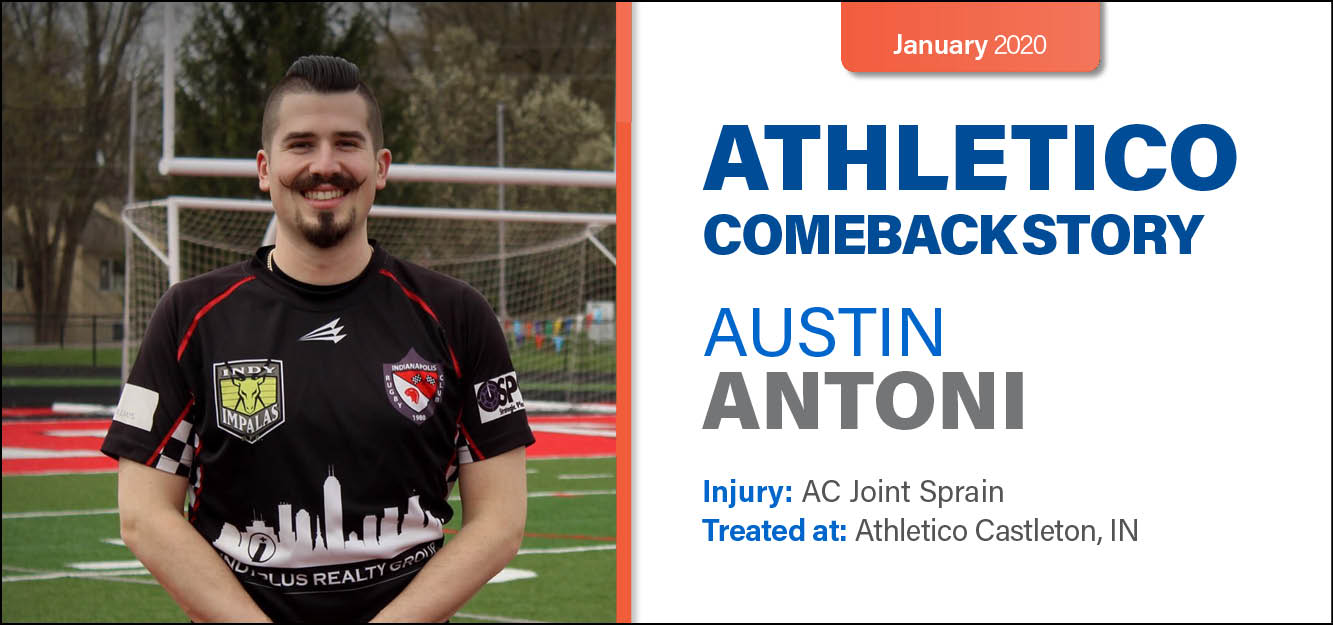 I am a local rugby player for the Indianapolis Impalas RFC. In late September, I injured my left shoulder after being tackling during a practice and was immediately concerned that was my Fall season was prematurely over. Luckily, one of my teammates is an Athletico physical therapist and quickly assessed my injury to determine if I needed immediate medical attention. After evaluating my shoulder, he recommended that I schedule an appointment with my local Athletico Indianapolis-Castleton clinic to receive a complimentary full assessment to further diagnose my injury.
The first sign that my experience with Athletico was going to be outstanding began with the initial call from the office coordinator Suzanne who quickly helped me book an assessment appointment with physical therapist Bryce Taylor. More importantly, she also calmly and politely answered the many questions my anxious mind had dwelled on immediately after the injury. Once I arrived there, Suzanne welcomed me, and Bryce began the assessment shortly after. After thoroughly explaining how the injury occurred, Bryce walked me through several actions and ultimately it was determined that I had suffered an AC Joint Sprain with an additional minor sprain within my rotator cuff. With this in mind, Bryce then proceeded to reassure me that I could successfully recover, and we then worked out the roadmap to recovery and how I could restore my shoulder to be ready for contact again.
Over the next several weeks, Bryce provided incredible aid with real and visible results appearing after each visit. Each exercise I performed was well thought out and truly made me focus my recovery on the injured area. I sweated and smiled through the work with Bryce guiding me through each obstacle, especially when I was afraid that I would not have the strength in my shoulder to do it. By the end of my time there, I was not only confident that Bryce had helped me restore my shoulder to full strength but also my full confidence in my shoulder. Once Bryce cleared me to return to rugby, I was able to rejoin my team just in time for the Fall playoffs where we made it all the way to Midwest Semi-Finals.
I extend my deepest gratitude to Bryce and Suzanne for helping me feel welcome, confident and empowered in my recovery! Athletico has helped me restore the strength and functionality in my shoulder while giving me the confidence to play the sport I love with no second thoughts!
---
2019 Patient Stories:
2018 Patient Stories:
2017 Patient Stories:
Amy Bishop
Back Surgery
Elk Grove Village, IL

Billy Pirie
Back Pain
Third Lake, IL
Grace Langston
ACL Tear
Wentzville, MO
Past Patient Stories:
Greg Metzler
Bicycle Accident
North Loop (Chicago)

Laura Doherty
Bunions
St. Charles, IL

Paul Koenig
Marathon Runner
Wheaton, IL

Randy Venahaus
Elbow Pain
Collinsville, IL

Deborah Feffer
Back Surgery
Buffalo Grove, IL

Donald Wilson
Knee Replacement
Tinley Park, IL

David Thomson
Vertigo/BPPV
Northbrook, IL

Demetrius Baker
Knee Replacement
Forest City, IA

Danielle Doucette
Ankle Injury
Milwaukee, WI

Glenn Kubek
Baseball Injury
Bridgeport (Chicago)

Maike Fink
Shoulder Injury
Munster, IN

Anna May Miller
Atrial Fibrillation
Iowa City, IA

Valerie Banister
Work Injury
Monument Circle (Indianapolis)

Carrie Matczynski
Hip Injury
South Elgin, IL

Gina Biernacki
Knee Pain
Mich. Ave. (Chicago)

Tom Maag
Parkinsons
Barrington, IL

James Strempel
ACL Surgery
Palatine, IL

Brooke Bloedorn
Hip Pain
Milwaukee, WI
Find an Athletico.