Patient Success Stories
Athletico Physical Therapy is dedicated to providing outstanding patient care and personalized service on a daily basis. Patients tell their story best and we wanted to share their successful experiences with everyone.
For your chance to be featured on our Success Stories page submit your comeback story!
This Month's Featured Patient: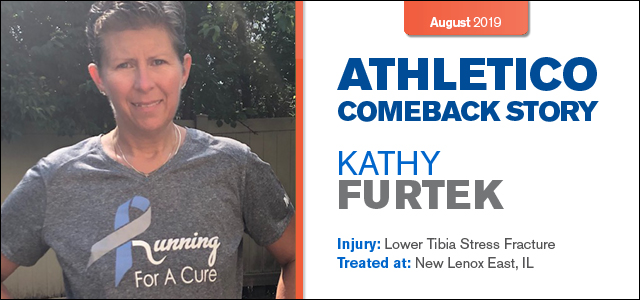 Running for a cure was what my sister and I and our kids decided to do last October of 2018. We were raising money for the American Diabetes Association which our Dad had been dealing with for over 65 years. Running a half marathon was something I thought I could never do and running that many miles over a three month training period was very rigorous.
The aches and pains were something I was used to having since I have Lupus and RA. However, one particular pain in my lower left leg kept bothering me. I was on such a high from finishing my first half marathon that I chose to ignore it. This proved to be not a wise decision on my part. In February 2019 at my orthopedic doctor's appointment I was diagnosed with a lower tibia stress fracture. This was devastating news having to be in a walking boot for 8 weeks or more. After a long period of not running and resting my leg, I was sent for physical therapy at Athletico New Lenox East and was back with the most amazing therapist, Mike W. I thought I would never be able to get back into running again. Many days I was so frustrated with the slow healing process and if all the work was worth doing. With Mike's skills and encouragement during the seemingly endless amount of PT sessions, I am happy to say that I am running again!
What a great place to do therapy and with such awesome therapists, thank you!
---
More Patient Stories:
Paul Koenig
Marathon Runner
Wheaton, IL

Randy Venahaus
Elbow Pain
Collinsville, IL
Deborah Feffer
Back Surgery
Buffalo Grove, IL
Donald Wilson
Knee Replacement
Tinley Park, IL

David Thomson
Vertigo/BPPV
Northbrook, IL
Demetrius Baker
Knee Replacement
Forest City, IA
Danielle Doucette
Ankle Injury
Milwaukee, WI

Glenn Kubek
Baseball Injury
Bridgeport (Chicago)
Maike Fink
Shoulder Injury
Munster, IN
Find an Athletico.