Patient Success Stories
Athletico Physical Therapy is dedicated to providing outstanding patient care and personalized service on a daily basis. Patients tell their story best and we wanted to share their successful experiences with everyone.
For your chance to be featured on our Success Stories page submit your comeback story!
This Month's Featured Patient: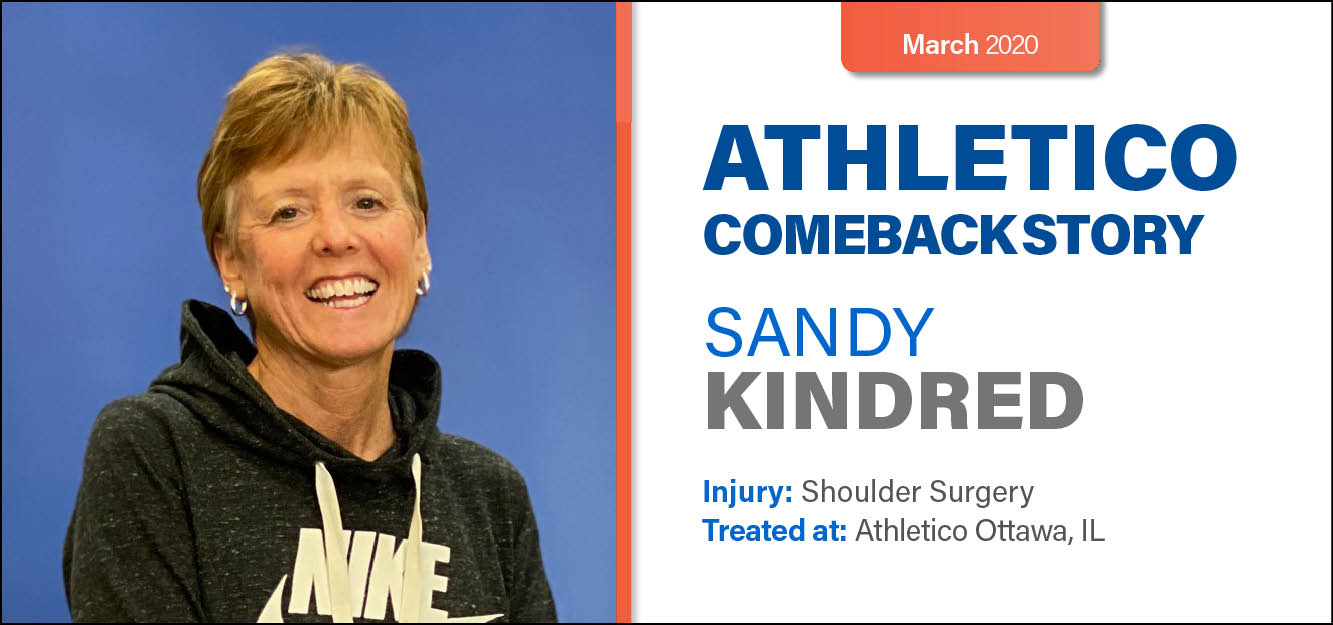 My doctor recommended Athletico in Ottawa after my shoulder surgery in January 2019. As an active 54 year old female, I was scared that my workouts and kettlebell days were behind me. From day one the physical therapist at Athletico assured me that she would do EVERYTHING she could to get me back to where I was before surgery (as long as I put in the work.) What I noticed from the moment I walked into Athletico was I instantly felt welcomed by everyone. The receptionist who scheduled my appointments is very friendly and did an awesome job and tried to get the appointment times I needed. The physical therapist did a great job pushing me to the point that I didn't think I could do it but when I would walk out with a sense of accomplishment after every appointment. This is due mainly because the physical therapist is always researching the latest procedures and techniques. One procedure the physical therapist recommended was dry needling. I was apprehensive but she assured me it would speed up my healing process. As always she was correct and it did help immensely! Another great thing about my physical therapist was she was constantly challenging me, giving me new exercises to try during therapy as well as to try at home to make sure I didn't get bored with my workouts. When I went back to my doctor for a follow-up appointment he was very pleased with my progress and released me early from therapy. It has been almost a year since my surgery and I have been doing kettlebell and lifting weights for six months. I am extremely happy with how strong I am and the progress I have made thanks to the outstanding care I received at Athletico in Ottawa!
---
2020 Patient Stories:
2019 Patient Stories:
2018 Patient Stories:
2017 Patient Stories:
Amy Bishop
Back Surgery
Elk Grove Village, IL

Billy Pirie
Back Pain
Third Lake, IL
Grace Langston
ACL Tear
Wentzville, MO
Past Patient Stories:
Greg Metzler
Bicycle Accident
North Loop (Chicago)

Laura Doherty
Bunions
St. Charles, IL

Paul Koenig
Marathon Runner
Wheaton, IL

Randy Venahaus
Elbow Pain
Collinsville, IL

Deborah Feffer
Back Surgery
Buffalo Grove, IL

Donald Wilson
Knee Replacement
Tinley Park, IL

David Thomson
Vertigo/BPPV
Northbrook, IL

Demetrius Baker
Knee Replacement
Forest City, IA

Danielle Doucette
Ankle Injury
Milwaukee, WI

Glenn Kubek
Baseball Injury
Bridgeport (Chicago)

Maike Fink
Shoulder Injury
Munster, IN

Anna May Miller
Atrial Fibrillation
Iowa City, IA

Valerie Banister
Work Injury
Monument Circle (Indianapolis)

Carrie Matczynski
Hip Injury
South Elgin, IL

Gina Biernacki
Knee Pain
Mich. Ave. (Chicago)

Tom Maag
Parkinsons
Barrington, IL

James Strempel
ACL Surgery
Palatine, IL

Brooke Bloedorn
Hip Pain
Milwaukee, WI
Find an Athletico.