Patient Success Stories
Athletico Physical Therapy is dedicated to providing outstanding patient care and personalized service on a daily basis. Patients tell their story best and we wanted to share their successful experiences with everyone. For your chance to be featured on our Patient Stories page submit your comeback story!
---
This Month's Featured Patient: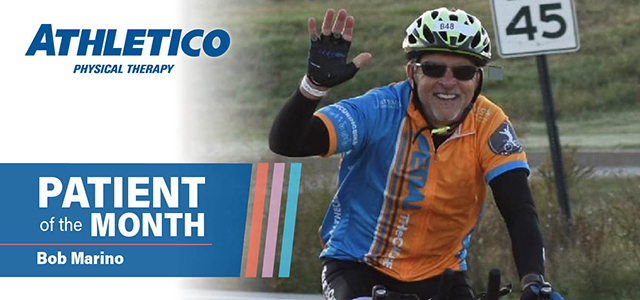 I don't know how to express how appreciative I am for Bryan Lind and the team at Athletico – Fenton, MO for bringing me back from total knee replacement surgery. My Athletico journey began in May '21 when I was three months post-op. As an avid road cyclist, my mission was to get back on the bike and in shape for a 60+ mile fund raising ride scheduled for late September. Starting with limited flexibility and about 40% of the strength of the good leg, I could barely crank the pedals on the stationary bike without pain.
Fast forward to Sep 26 at the starting line for the ride and, while anxious and excited about the challenge I faced, I knew I was physically and mentally prepared! Five hours later, though physically exhausted, I crossed the finish line clocking 68.4 miles pain free and exhilarated at the accomplishment. One of my riding buddies said it all when he commented along the ride "…it's great to have you back!" And my reply – "…it's great to be back!".
One thing I know for sure is that I would have never gotten there without Bryan's expertise, skill, dedication, perseverance, and commitment to my rehab. He worked diligently for months pushing me to work harder and keep going despite the pain, soreness and set-backs. I learned a ton from Bryan about training – both physically and mentally – and about rebuilding muscle. Now life skills, I will continue to use these as my personal training and cycling continues.
I walk away from this PT with something that I've not had for over 25 years (dating back to my first knee surgery) that being equilibrium in size and strength of both my legs. And amongst all the sweat and tears over the past 9 months, a huge bonus is that I gained a friend and someone that I trust which is just as important as my recovery.
Bryan has a poster above one of his tables that states, "Don't quit when you're tired, quit when you're done!". As a central theme of my rehab, I take this forward in all future rides and fitness activities. In pedaling up those big inclines or pushing the flats with the wicked headwinds, keep going despite the pain and fatigue, until you cross the finish line.
I extend my sincere "Thank you" to Bryan and the team at Athletico for everything you did to bring me back. I will miss our visits, our conversations, and our joking around; but know that you have a client and friend for life.
---
2022 Patient Stories:
2021 Patient Stories:
Laura Jarvis
General Pain
Hamburg, MI

Adam White
Dislocated Shoulder & Fractured Pelvis/Hand
Vernon Hills, IL

Alina Barnett
Total Knee Replacement & Kidney Transplant
McKinley Park (Chicago), IL
2020 Patient Stories:
2019 Patient Stories:
2018 Patient Stories:
2017 Patient Stories:
Amy Bishop
Back Surgery
Elk Grove Village, IL

Billy Pirie
Back Pain
Third Lake, IL
Grace Langston
ACL Tear
Wentzville, MO
Past Patient Stories:
Greg Metzler
Bicycle Accident
North Loop (Chicago)

Laura Doherty
Bunions
St. Charles, IL

Paul Koenig
Marathon Runner
Wheaton, IL

Randy Venahaus
Elbow Pain
Collinsville, IL

Deborah Feffer
Back Surgery
Buffalo Grove, IL

Donald Wilson
Knee Replacement
Tinley Park, IL

David Thomson Vertigo/BPPV Northbrook, IL

Demetrius Baker Knee Replacement Forest City, IA

Danielle Doucette Ankle Injury Milwaukee, WI

Glenn Kubek Baseball Injury Bridgeport (Chicago)

Maike Fink Shoulder Injury Munster, IN

Anna May Miller Atrial Fibrillation Iowa City, IA

Valerie Banister Work Injury Monument Circle (Indianapolis)

Carrie Matczynski Hip Injury South Elgin, IL

Gina Biernacki Knee Pain Mich. Ave. (Chicago)

Tom Maag Parkinsons Barrington, IL

James Strempel ACL Surgery Palatine, IL

Brooke Bloedorn Hip Pain Milwaukee, WI
Find an Athletico.