Patient Success Stories
Athletico Physical Therapy is dedicated to providing outstanding patient care and personalized service on a daily basis. Patients tell their story best and we wanted to share their successful experiences with everyone.
For your chance to be featured on our Success Stories page submit your comeback story!
This Month's Featured Patient: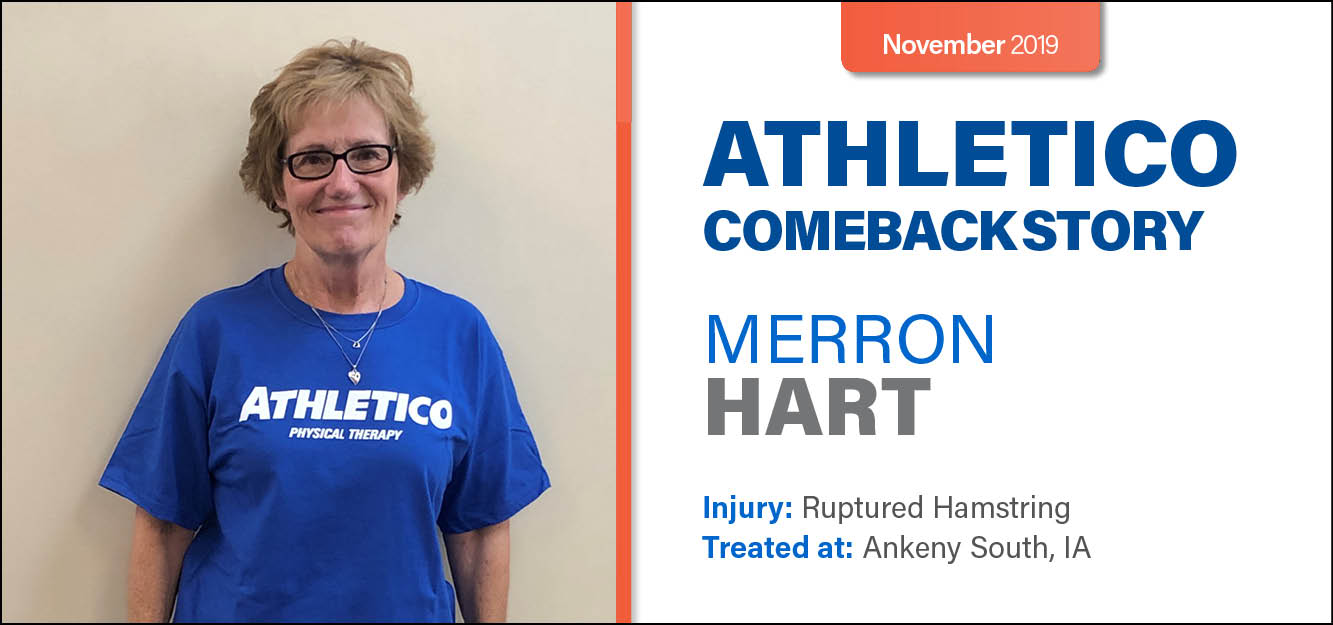 My name is Merron Hart, 68 year old retired physical education instructor from Ankeny Community Schools. On August 4th, I was trying to be 13 again by jumping rope…slipped coming out…heard a pop…down I went. A few days later I found out that I didn't pull my hamstring but I ruptured it! I couldn't put any weight on my right foot and basically couldn't do anything for myself. I am very fortunate to have a loving husband that took over everything around the house as well as taking care of me. We are very active seniors enjoying walking, hiking, kayaking, gardening, cross country skiing, etc. Exercising is my love and hobby. So it is very important to me to get back to being active. Iowa Ortho, did not recommend surgery but to do physical therapy. My family doctor recommended me to go to Athletico Ankeny South and work with the PT, Kiel Houston. I highly recommend this company. Kiel, Lizzie, and John take time to get to know me, laugh with me, encourage me, and keep me improving safely. Kiel actually has gone to my orthopedic appointments to make sure I am complying with the doctor's orders. At this point in my recovery I have been doing therapy 3 days a week plus at home exercise. I am walking without crutches 1-3 miles a day, and driving short distances. My goal is to get back to all the activities I love doing without any re-injuries but know that it is still an on-going process.
---
More Patient Stories:
Grace Langston
ACL Tear
Wentzville, MO

Greg Metzler
Bicycle Accident
North Loop (Chicago)
Laura Doherty
Bunions
St. Charles, IL
Paul Koenig
Marathon Runner
Wheaton, IL

Randy Venahaus
Elbow Pain
Collinsville, IL
Deborah Feffer
Back Surgery
Buffalo Grove, IL
Donald Wilson
Knee Replacement
Tinley Park, IL

David Thomson
Vertigo/BPPV
Northbrook, IL
Demetrius Baker
Knee Replacement
Forest City, IA
Find an Athletico.