Patient Success Stories
Athletico Physical Therapy is dedicated to providing outstanding patient care and personalized service on a daily basis. Patients tell their story best and we wanted to share their successful experiences with everyone.
For your chance to be featured on our Success Stories page submit your comeback story!
This Month's Featured Patient: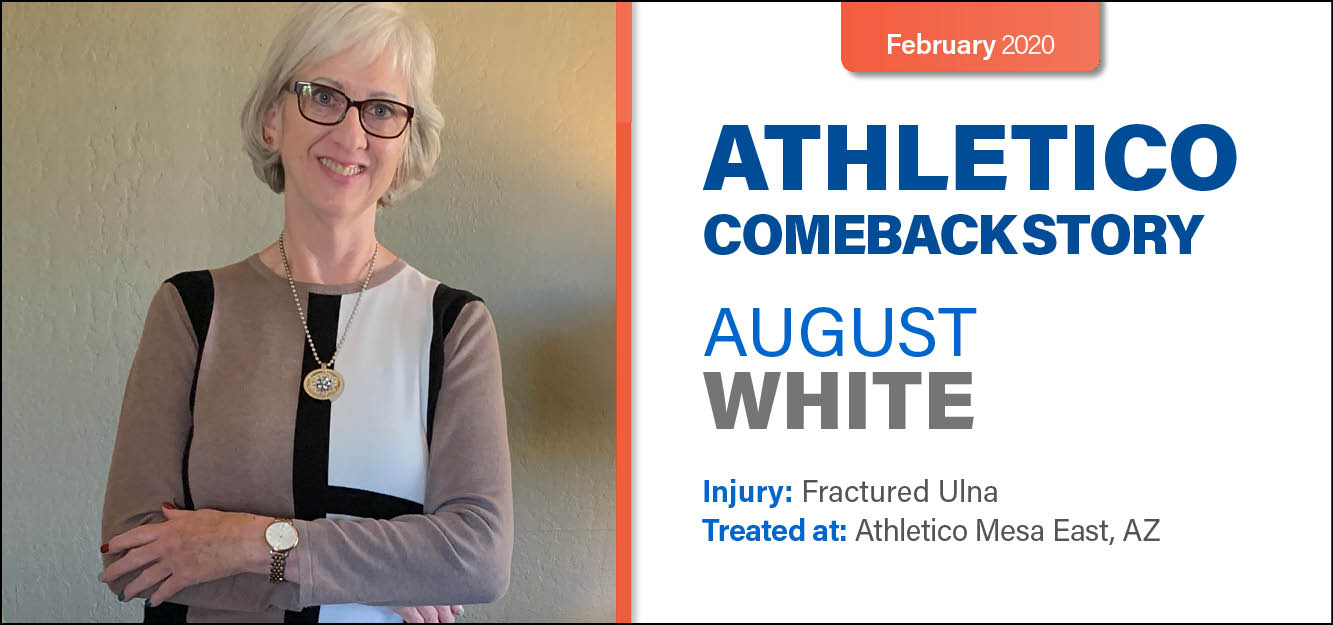 After sustaining a fractured Ulna from an accidental fall, I was emotionally shaken, fearful, and in severe pain. I was referred to Athletico from my PCP, and I read reviews online which gave the Mesa East facility 5 stars. Valerie was my primary therapist. After each visit, I gained more mobility with my arm, gained encouragement, and slowly overcame the fear to just walk. Valerie has a cheerful and compassionate personality. I never felt pained by treatment, as some people warned. I looked forward to every physical therapy appointment and felt improvement after each treatment.
Athletico has helped my ability to straighten and bend my elbow to full range; the ability to strengthen my wrist and straighten my wrist; an understanding of results from my injury and how tissue shortens when immobile; and the courage to build muscle strength.
---
2020 Patient Stories:
2019 Patient Stories:
2018 Patient Stories:
2017 Patient Stories:
Amy Bishop
Back Surgery
Elk Grove Village, IL

Billy Pirie
Back Pain
Third Lake, IL
Grace Langston
ACL Tear
Wentzville, MO
Past Patient Stories:
Greg Metzler
Bicycle Accident
North Loop (Chicago)

Laura Doherty
Bunions
St. Charles, IL

Paul Koenig
Marathon Runner
Wheaton, IL

Randy Venahaus
Elbow Pain
Collinsville, IL

Deborah Feffer
Back Surgery
Buffalo Grove, IL

Donald Wilson
Knee Replacement
Tinley Park, IL

David Thomson
Vertigo/BPPV
Northbrook, IL

Demetrius Baker
Knee Replacement
Forest City, IA

Danielle Doucette
Ankle Injury
Milwaukee, WI

Glenn Kubek
Baseball Injury
Bridgeport (Chicago)

Maike Fink
Shoulder Injury
Munster, IN

Anna May Miller
Atrial Fibrillation
Iowa City, IA

Valerie Banister
Work Injury
Monument Circle (Indianapolis)

Carrie Matczynski
Hip Injury
South Elgin, IL

Gina Biernacki
Knee Pain
Mich. Ave. (Chicago)

Tom Maag
Parkinsons
Barrington, IL

James Strempel
ACL Surgery
Palatine, IL

Brooke Bloedorn
Hip Pain
Milwaukee, WI
Find an Athletico.