Patient Success Stories
Athletico Physical Therapy is dedicated to providing outstanding patient care and personalized service on a daily basis. Patients tell their story best and we wanted to share their successful experiences with everyone.
For your chance to be featured on our Success Stories page submit your comeback story!
This Month's Featured Patient: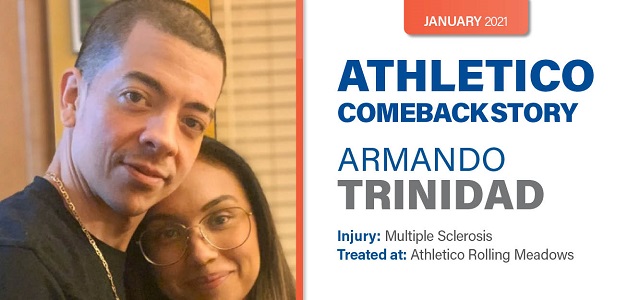 I suffer from Multiple Sclerosis and due to illness, I became wheelchair/scooter bound. My story in a nutshell; I got diagnosed with MS in Oct. '14. I was able to walk but on crutches at that time. In Jan. '17, I suffered a grand mal seizure that lasted a complete 45 minutes due to medication I was taking to treat my MS. That completely took all the little strength I had.
I started my therapy at Athletico Rolling Meadows, IL with Ron. With hard work and dedication, I started to gain my strength back and even started walking better and properly bend my knees when took steps because both my knees were really hyperextend. In Oct. '18 I suffered 3rd degree burns on both of my legs. That's when I became wheelchair/scooter bound. 4 months inpatient, 7 surgeries, I never thought I would be able to walk again because I thought my legs would not be able to carry my weight due to all the surgeries and skin grafts. But guess what mi gente, I'm walking! I overcame a lot of obstacles but I'm a warrior and never gave up! Thank you Ron, thank you Athletico for having such an essential member of your company.
---
2020 Patient Stories:
2019 Patient Stories:
2018 Patient Stories:
2017 Patient Stories:
Amy Bishop
Back Surgery
Elk Grove Village, IL

Billy Pirie
Back Pain
Third Lake, IL
Grace Langston
ACL Tear
Wentzville, MO
Past Patient Stories:
Greg Metzler
Bicycle Accident
North Loop (Chicago)

Laura Doherty
Bunions
St. Charles, IL

Paul Koenig
Marathon Runner
Wheaton, IL

Randy Venahaus
Elbow Pain
Collinsville, IL

Deborah Feffer
Back Surgery
Buffalo Grove, IL

Donald Wilson
Knee Replacement
Tinley Park, IL

David Thomson
Vertigo/BPPV
Northbrook, IL

Demetrius Baker
Knee Replacement
Forest City, IA

Danielle Doucette
Ankle Injury
Milwaukee, WI

Glenn Kubek
Baseball Injury
Bridgeport (Chicago)

Maike Fink
Shoulder Injury
Munster, IN

Anna May Miller
Atrial Fibrillation
Iowa City, IA

Valerie Banister
Work Injury
Monument Circle (Indianapolis)

Carrie Matczynski
Hip Injury
South Elgin, IL

Gina Biernacki
Knee Pain
Mich. Ave. (Chicago)

Tom Maag
Parkinsons
Barrington, IL

James Strempel
ACL Surgery
Palatine, IL

Brooke Bloedorn
Hip Pain
Milwaukee, WI
Find an Athletico.