Patient Success Stories
Athletico Physical Therapy is dedicated to providing outstanding patient care and personalized service on a daily basis. Patients tell their story best and we wanted to share their successful experiences with everyone.
For your chance to be featured on our Patient Stories page submit your comeback story!
---
This Month's Featured Patient: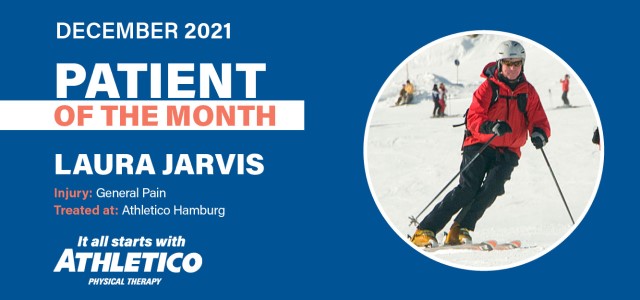 I'm a 61-year-old woman. To some of you this will sound like an old woman. I was a Title IX girl and participated in any sport I was allowed to participate in and some I had to fight to do so. I ran cross country on the boy's team because there wasn't a girl's team, I ran track and then was recruited for the first University of Michigan Women's track team as a walk on because there only very limited scholarships allowed. Then I had babies and relegated my sports to jogging for exercise, an occasional 5k, 10k. Then in my forties I started running marathons, in my 50s I started swimming a mile every other day, did a few triathlons. Those old bones and muscles started aching. Badly. Debilitating, loss of sleep and range of motion. I was feeling every one of those training miles from 61 years.
I did PT at other places and felt like I was being treated like an old woman no matter how much I told them I was still an athlete. Finally, I told my shoulder surgeon I'd like to try PT once more before going under the knife, but I wanted a referral to a place that would work with me one on one for my entire appointment and would not treat me like an old person but would listen to my history and understand where I wanted to be. I found that in Mike P. at Athletico Hamburg. He helped me through back and shoulder issues, pushed me when he could tell I was skating and set me up for success. So much so that I am now participating in CrossFit and continue to do daily PT exercises suggested by Mike. I am so grateful and every time I drive by an Athletico shop I think of Mike and my renewed lease on athletic fun and success.
---
2021 Patient Stories:
Adam White
Dislocated Shoulder & Fractured Pelvis/Hand
Vernon Hills, IL

Alina Barnett
Total Knee Replacement & Kidney Transplant
McKinley Park (Chicago), IL

Madison Steskal
Torn Labrum & Fractured Tibia
Elgin, IL
2020 Patient Stories:
2019 Patient Stories:
2018 Patient Stories:
2017 Patient Stories:
Amy Bishop
Back Surgery
Elk Grove Village, IL

Billy Pirie
Back Pain
Third Lake, IL
Grace Langston
ACL Tear
Wentzville, MO
Past Patient Stories:
Greg Metzler
Bicycle Accident
North Loop (Chicago)

Laura Doherty
Bunions
St. Charles, IL

Paul Koenig
Marathon Runner
Wheaton, IL

Randy Venahaus
Elbow Pain
Collinsville, IL

Deborah Feffer
Back Surgery
Buffalo Grove, IL

Donald Wilson
Knee Replacement
Tinley Park, IL

David Thomson
Vertigo/BPPV
Northbrook, IL

Demetrius Baker
Knee Replacement
Forest City, IA

Danielle Doucette
Ankle Injury
Milwaukee, WI

Glenn Kubek
Baseball Injury
Bridgeport (Chicago)

Maike Fink
Shoulder Injury
Munster, IN

Anna May Miller
Atrial Fibrillation
Iowa City, IA

Valerie Banister
Work Injury
Monument Circle (Indianapolis)

Carrie Matczynski
Hip Injury
South Elgin, IL

Gina Biernacki
Knee Pain
Mich. Ave. (Chicago)

Tom Maag
Parkinsons
Barrington, IL

James Strempel
ACL Surgery
Palatine, IL

Brooke Bloedorn
Hip Pain
Milwaukee, WI
Find an Athletico.