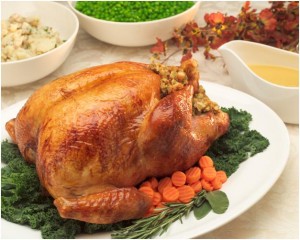 It is that time of year again, the cold is creeping in and the holidays are upon us. The holidays are such a joyous time of year, but they can also be stressful and a time when people over-do themselves. With all the demands of shopping for food and gifts, hanging decorations around the house, making meals and hosting parties, many people find themselves with more aches and fatigue in their muscles. Here are some tips for minimizing the aches and pains that can occur during the holidays.
Take Care of your Feet
For many people, the holidays are spent preparing large elaborate meals for your family. This usually includes prolonged times standing around cooking and doing the dishes, as well as lifting those heavy turkeys out of the oven. Standing around for hours on a hard kitchen floor can be very taxing on the feet and knees. Try wearing some supportive shoes/slippers, or purchase a gel pad to stand on so your feet don't feel so fatigued at the end of the day.
Lifting Heavy Pots and Dishes
Cooking can also be hard on your arms and neck. Think of all those heavy pots that you have to lift from the fridge to the stove or oven then onto the table. If you must fill a large pot with water, consider leaving it on the stove and using a smaller container to transfer water from the sink. It is a few extra steps, but it will be better for you than trying to lift a too-heavy pot of water. If you must lift a heavy pot, try to hold it as close to your body as you can, without burning yourself of course! Holding a heavy item away from you will overuse your arm and neck muscles and put more stress on your lower back.
Take Breaks
If your lower back begins to bother you while in the kitchen, putting one foot up on a small stool can place your back in a more neutral position and lessen the stress placed on your muscles and joints. Even though you are always moving around in the kitchen, doing this for a few minutes will feel relieving to your body. And always remember to use good body mechanics when bending down to put something in the oven. Bend down with your knees and not from your back. Tightening your stomach, without holding your breath, will also help to give your back some more stability to lift that turkey!
Shopping Trip Tips
For many people, holiday shopping trips can result in carrying tons of heavy bags at one time. If you are going to make one big trip to the mall, consider getting a folding shopping cart to help carry the load of all the bags. It will be much easier to push the cart around the mall than carry all the bags on your shoulders. If you must carry the bags, use both arms to carry the weight evenly and don't try to load up one arm. If you carry a purse, consider emptying out your purse beforehand and bringing only the essentials with you to minimize the weight on your shoulders.
When you are done shopping and back home, don't carry every package from the car into your home at once. Even though it may take a bit longer, making a few trips will lessen the stress on your muscles, especially your low back. And again, remember to use good body mechanics when taking groceries or gifts out of your car. Don't bend from your lower back, instead keep your back straight and bend at the waist to reach into your trunk or back seat.
Use these tips to help ease your muscles and joints this holiday season. At the end of a long day cooking or shopping, grab a glass of eggnog, put your feet up by the fire and relax. Happy Holidays!