Athletico's Jake Bronowski has scored won of the most sought after positions in the massage world: he is the team massage therapist for the Chicago Fire of Major League Soccer. He is a highly skilled and experienced massage therapist and is well-deserving of this role. Working so closely with these elite athletes is a fun and rewarding experience for Jake, and he states that developing relationships with everyone involved in the Fire organization is the best part!
Jake was kind enough to answer my questions about what it is like to work with this very special population.
Describe your role within Athletico and within the Chicago Fire organization.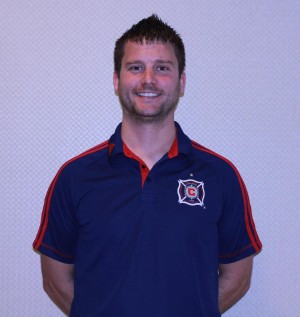 Over the past three years I have had the unique opportunity to provide massage therapy for the Chicago Fire Soccer Club, as well as work within Athletico's Andersonville location. The partnership with the Fire is an added bonus afforded to me as an employee of Athletico. My role with the club allows me to utilize my massage training and kinesiology background for a very special population. Working with professional athletes has long been a dream of mine and one I feel very privileged to have. Each day brings its own welcomed challenges and rewards.
What is it like to work with professional athletes?
Professional athletes have a lot of body-awareness and are great at communicating where they are having pain and/or dysfunction. Massage therapy is integrated into the treatment protocol for all athletes and the purpose varies based on the schedule and each player's needs. Massage helps the athletes prepare for competition, recover from game day, rehabilitate from injury, and for some, just an escape from the pressure.
Describe the type of massage you use with this population?
Techniques vary widely, but I incorporate elements of trigger point therapy, neural muscular therapy, thai massage, and even general effleurage and petrissage (aka a "flush"). The type of massage therapy used is based on what each individual athlete needs at that time.
How has working with professional athletes helped you work with our normal patient population at Athletico?
The experience with the Fire allows me the ability to think on my feet and makes problem solving for my clients in the clinic that much more efficient. Also, whether you are a professional athlete, a weekend warrior, or someone a little less active, we all are susceptible to injury, and there is a lot of cross-over between what I see in the clinic and on the field.
Please explain how the medical team all works together to keep the athletes on the field.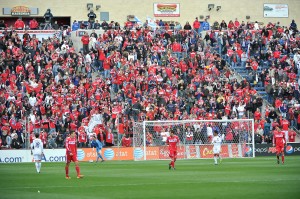 Working along side other clinical specialties provides a one-of-a-kind collaboration for state-of-the-art care. The Fire medical staff is spearheaded by two of the most hard-working members of the organization, Bo Leonard and Matt Zalewski, the athletic trainers, who are also employees of Athletico. In addition to the athletic trainers, the medical staff consists of a physical therapist, chiropractor, orthopedic surgeon, general practitioner, strength and conditioning coach, podiatrist, acupuncturist, sports scientist, and even neuropsychologist. This truly is a complete care team, working toward a common goal.
What is the best part about working with professional athletes?
Building relationships, not just with members of the medical staff, but also with the players and other members of the Chicago Fire organization, is what keeps me smiling each day. Experiencing the season together creates a unique bond that is unlike any other I have experienced professionally. Being with the same people day in and day out from the months of January to November builds a solid foundation for friendships, and to me it is the biggest perk of the job.
Do you think that there will be a growing number of opportunities for massage therapists in professional sports in the coming years?
Looking ahead it is hard to predict how the job market for massage therapists in professional sports will be. What I can say is that in this league specifically I see it as a service that is sought after and valued.  Massage therapy is a skill set that is vital to many clubs and their players. As Major League Soccer (MLS) continues to grow and become a larger part of the sports culture in America, more investors will be brought to the table and clubs, I hope, will have the opportunity to staff massage therapists.