You have been having hip pain for years and you have decided to have your hip replaced.  Prior to surgery, your doctor sends you to a physical therapist for "pre-hab."  If you are unfamiliar with physical therapy, you may be wondering why is "pre-hab" necessary? What is "pre-hab" and what are the benefits?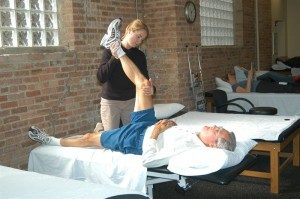 "Pre-hab" physical therapy is a great tool to prepare and strengthen your body before the hip replacement.  Due to possible post-surgical restrictions issued by your doctor, "pre-hab" gives you the opportunity to learn how to dress, pick things up off the floor, and learn how to use any assistive stability devices, such as crutches, walkers, or canes.  Your Athletico physical therapist will also work with to ensure your home is properly prepared to accommodate your needs after the hip replacement.
"Pre-hab" also consists of a comprehensive strengthening program to work on any weak muscles to improve your outcomes after surgery.  Typically, range of motion will be included to keep the muscles flexible. Treatment may also include massage to assist with pain relief.  If you have any questions for your physical therapist, be sure to ask! Your physical therapist will be able to answer any questions about the rehabilitation process to make it as simple as possible
Following your surgery, post-operative physical therapy will take place. The main focus of this is to get your strength and range of motion back to return you to all of your prior activities. Be sure your Athletico physical therapist is aware of your goals and every day activities.  Your treatment, routine and program will be tailored to your individual patient goals.
Right after hip replacement, there may be post-surgical precautions or restrictions to follow. Your therapist will help you develop strategies to increase daily activity and prevent injury or complications. As these precautions are lifted, strengthening into your full range of motion will begin to ensure you gain the strength necessary to safely return to all of your daily activities.
As your body and motion continue to improve, functional strengthening will begin. This will work your muscles in ways required for functional activities such as stairs and squatting.
Your therapist may determine that manual therapy may be a beneficial component to your hip replacement recovery. Manual therapy may be utilized to decrease swelling and promote healing.   The therapist may incorporate scar massage to improve mobility and prevent any adhesions from forming. Your Athletico Physical therapist will address any restrictions that are present and work on them to ensure appropriate recovery.
From "pre-hab" to post hip replacement, your physical therapist will continue to update your home exercise program.  These are the exercises that should be done routinely at home. Your physical therapist will prescribe appropriate frequency and repetitions that ensure certain muscles are not overworked. Once physical therapy is completed, a comprehensive home exercise program is created in order to maintain gains, overall progress, and strength.
Your Athletico physical therapist is here to help!  If you have any questions before or after you receive hip replacement surgery contact us at hip@athletico.com
You can also request an appointment with your local Athletico physical therapy clinic to learn more about hip replacement physical therapy.
Click to Request an Appointment Today
The Athletico blog is an educational resource written by Athletico employees. Athletico bloggers are licensed professionals who abide by the code of ethics outlined by their respective professional associations. The content published in blog posts represents the opinion of the individual author based on their expertise and experience. The content provided in this blog is for informational purposes only, does not constitute medical advice and should not be relied on for making personal health decisions.