Debut Marathoner: Avoiding Red Lights in Your Marathon Training
Leave a Comment

Many marathon runners will experience injuries due to things such as overtraining, poor footwear and muscle imbalance. In fact, data shows that running-related injuries to the lower extremity can occur in 19.4 percent to 79.3 percent of runners each year – with marathon runners averaging 58 percent.(1,2)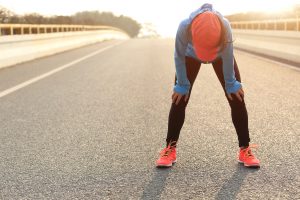 Overuse injuries typically develop from errors in training, which can include increasing mileage too rapidly, sudden increase in intensity, and poor footwear selection.(2.3) Intrinsic factors such as weakness (especially in the hips and core), poor flexibility, previous injuries and biomechanical faults can also contribute toward overuse injuries.(2,4,5,6) While this might be a daunting number, not all running injuries are created equal. Throughout training, runners are bound to have a few aches and pains. These small pains that last only a few minutes or go away the next day and don't affect your running form are insignificant most of the time. If pain doesn't go away and begins to affect your training and day to day activities, this is a sign that the injury may be more serious.
One way to look at the different levels of running injuries is as a stop light: mild aches and pains that disappear the next day and don't affect training are like green lights, while severe injuries that require time off (such as stress fractures) are like red lights. What becomes more complicated is that area in between – the yellow light. Many runners will continue to push themselves through the yellow light, which can result in overuse injuries. Overuse injuries account for 80 percent of running-related injuries.7 These injuries typically occur as a result of overloading the musculoskeletal system by repetitive loading over an extended period of time.(3,7)
The fear of taking time off during marathon training due to an injury can cause runners a lot of stress.  However, ignoring warning signs from your body during the yellow light phase can force you to take additional time off in the future. Knowing what to do when confronted with an injury can go a long way to getting you ready for race day. When you first start to feel an injury, consider taking the following steps:
Alter your training program as needed. There might be a time during marathon training where you are just too sore or too tired to complete your run. It is actually okay to miss a workout or adjust your training schedule in order to decrease the load on your musculoskeletal system. It may be helpful to decrease your mileage and/or reduce the intensity/speed of your run. Make sure that you take advantage of rest days and avoid back to back running days to give your body time to recover during training.(1,2,3,7)
Utilize cross training methods such as cycling, elliptical and swimming in order to decrease impact on your body and as a means to maintain your fitness.(8)
Performing a regular stretching/strengthening program can help with prevention and management of injuries.(6,8,9,10)
There are so many different types of running shoes out there that it can be difficult to choose a pair. While there isn't a "perfect" shoe that works for everyone, getting fitted properly before purchasing a shoe can go a long way. Also remember to replace your shoes before they get too worn down.(1,3,6,7)
Consult a medical professional at the first sign of injury. Early medical intervention during injury can limit the chance of making the injury worse,(2) which typically increases the recovery time. Physical therapy can be beneficial in the management of musculoskeletal conditions, many of which are due to muscular imbalances.(3,6,8,9)
Listen to your body and be flexible with your training schedule. If you take a little time off early on, you may actually avoid taking a lot of time off closer to race day. If you have questions about unusual aches and pains, click the button below to schedule a complimentary injury screen at your nearest Athletico location.
Schedule a Complimentary Injury Screen
The Athletico blog is an educational resource written by Athletico employees. Athletico bloggers are licensed professionals who abide by the code of ethics outlined by their respective professional associations. The content published in blog posts represents the opinion of the individual author based on their expertise and experience. The content provided in this blog is for informational purposes only, does not constitute medical advice and should not be relied on for making personal health decisions.
Van Gent, R.N., et al. "Incidence and determinants of lower extremity running injuries in long distance runners: a systematic review." British Journal of Sports Medicine 2007; 41: 469-480.
Jakobsen, B.W., et al. "Preventing injuries in long-distance runners." Knee Surgery, Sports Traumatology, Arthroscopy (1994) 2: 245-249.
Dias Lopes, et al. "What are the main running-related musculoskeletal injuries?" Sports Medicine 42.10 (2012): 891-905.
Fredericson MD, Michael., and Tamara Moore, PT. "Muscular Balance, Core Stability, and Injury Prevention for Middle- and Long-Distance Runner." Physical Medicine Rehabilitation Clinics of North America 2005; 16: 669-689.
Satterthwaite, Peter, et al. "Risk factors for injuries and other health problems sustained in a marathon." British Journal of Sports Medicine 1999; 33:22-26.
Azevedo, L. B. et al. "Biomechanical variables associated with Achilles tendinopathy in runners." British Journal of Sports Medicine 2009; 43 (4): 288-292.
van der Worp, et al. "Injuries in runners: a systematic review on risk factors and sex differences." PLOS ONE. Public Library of Science, n.d. Web. 16 July 2017.
Dixit MD, Sameer, et al. "Management of patellofemoral pain syndrome." American Family Physician 2007: 75 (2): 194-202.
Martin, Robroy L., et al. Heel pain-plantar fasciitis: revision 2014: Clinical practice guidelines linked to the international classifician of functioning, disability and health from the orthopaedic section of the American Physical Therapy Association. Journal of Orthopaedic Sports Physical Therapy 2014: 44 (11): A1-A23.
Aderem, Jodi, and Quinette A. Louw. "Biomechanical Risk Factors Associated with Iliotibial Band Syndrome in Runners: A Systematic Review." BMC Musculoskeletal Disorders16.1 (2015): n. pag. Web.