Baseball season is in full swing, but some of the hottest and most humid days of the year are still to come. With that in mind, here are some tips to make sure that you can enjoy the game and don't suffer any ill effects afterward.
1. Stay Hydrated
In the summer months, most people need to increase their water intake to stay hydrated. Sensation of thirst usually means that you are already suffering mild dehydration. Although 64 ounces of water a day is typically suggested, more will be needed on hotter days to combat dehydration. In addition to drinking a lot of water, it is smart to limit alcoholic drinks, salty foods and caffeinated drinks, which can further add to the effects of dehydration. Learn more about staying properly hydrated by reading Athletico's "Hydrating for Performance and Health" blog.
2. Protect Yourself from the Sun
Baseball players aren't the only ones in the sun! Remember that even if your seats are in the shade at the beginning of the game, they might be in direct sunlight by the 7th or 8th inning.  Make sure to apply sunscreen to exposed skin throughout the day as well as consider wearing a baseball cap, to protect your face from direct UV rays.
3. Get Up and Move
With the length of a typical MLB game lasting more than three hours, it is important to get up and move throughout the game. After all, prolonged sitting can have health side effects including altered posture, an increased risk for Diabetes and decreased cardiovascular health. Keep yourself moving during the game by walking the concourse to view different areas of the ballpark or getting some steps in during TV timeouts.
4. Stretch!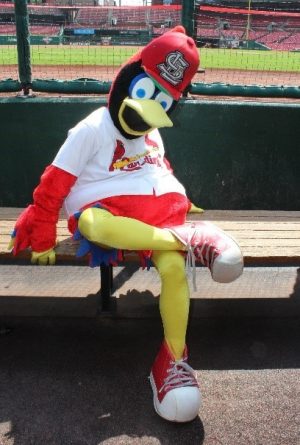 In addition to getting up and moving, try stretching during the game. The Piriformis Stretch, for example, can be performed at the game (if there is enough leg room at your seat) or when watching from home. Simply cross your right leg over your left leg, as shown by Fredbird. For an extra stretch, try leaning forward from the waist. Repeat these steps with the opposite leg. For maximum effectiveness, this stretch should be held for 30 seconds and repeated three times, twice daily.
Check out Athletico's "6 Stretches to Help Cardinals Fans Keep Cheering" for step-by-step instructions on how to perform additional stretches that will keep you limber throughout the remainder of baseball season.
5. Pay Attention
Not only is it important to pay attention to the game so that you don't miss a great play, but it is also important for your health! A recent study from Deloitte found that the average American checks his/her phone 46 times per day,1 and it's not a surprise to see someone texting at a baseball game. However, smartphone use can increase the risk of joint and tendon problems, including thumb pain, text neck and DeQuervains Tenosynovitis. It is also important to be alert during the game to minimize the risk of injuries that could occur from foul balls and/or broken bats that can unpredictably enter the stands.
Stay Healthy All Season Long
If you end up experiencing muscle aches or pains after heading home from the ballpark, make sure to take advantage of Athletico's free assessments. Click the link below to schedule an appointment with one of our licensed therapists at an Athletico Clinic near you.
The Athletico blog is an educational resource written by Athletico employees. Athletico bloggers are licensed professionals who abide by the code of ethics outlined by their respective professional associations. The content published in blog posts represents the opinion of the individual author based on their expertise and experience. The content provided in this blog is for informational purposes only, does not constitute medical advice and should not be relied on for making personal health decisions.