This is Us has been quite the conversation generator in my clinic lately.  Since Season 2 launched this fall on Tuesday nights, it is all patients want to talk about on Wednesdays! Last week's episode, "Still There," was the first time that our discussions of the show could actually correlate with physical therapy. Kevin Pearson (played by Justin Hartley) had arthroscopic surgery to take care of a meniscus injury.  Based on his pre-operative conversation with the orthopedic surgeon, he probably had a meniscectomy, a procedure to remove the damaged part of the meniscus.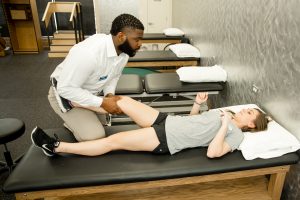 You can learn more about the function of the meniscus and treatment options for meniscal tears in Athletico's "Are Meniscal Injuries the New ACL Injury?" blog. However, some of the most pressing questions/discussions that came up in the clinic, include:
1. "Should Kevin have been walking on the treadmill day of surgery?"
Absolutely not! Especially with the compensatory patterns he was demonstrating! I teach my patients to walk around the house the day of surgery with a slow but over-exaggerated normal gait pattern. For example, over-emphasizing that their knee is straight at heel strike and throughout stance. Relative rest, icing, and low level exercises would have been much more appropriate to minimize swelling and restore quad firing.
2. "Why was Kevin in a brace? I didn't get one after my meniscectomy."
Most patients who undergo a meniscectomy (arthroscopic procedure to remove the damaged part of the meniscus) do not get a brace unless they are functionally unstable or have other co-morbidities. Meniscal repairs (stitching of the damaged part of the meniscus) often get braced to protect the repair, depending on location of tear, post-operative restrictions and physician training.
3. "Kevin said, 'No pain, no gain.' Should I be pushing myself more?"
This is NOT a motto physical therapists use. Although there may be some soreness that comes with rehabilitation, patients should not be in pain.
4. What exactly was Kevin's previous injury?
I don't know! It's killing me. All I know is that he was in a long leg cast. I look forward to learning more about his high school injury later this season, his mechanism of injury (was it football or not), and how there may have been an underlying meniscal injury from that.
5. Did Kevin have or will he have an addiction to pain medication?
I saw him taking what I presumed to be prescription pain pills after his acute injury from the movie scene, but then he was adamant about not taking any pain medication post-operatively. This initiates good conversations with patients about the opioid epidemic and the "Choose PT First" campaign that has been sweeping the nation.
I cannot wait for this week's episode to learn more about Kevin's current recovery and past history. Do you have anything to add to the discussion or questions about meniscus tears? Feel free to leave them in the comment section below or reach out to your nearest Athletico clinic.
The Athletico blog is an educational resource written by Athletico employees. Athletico bloggers are licensed professionals who abide by the code of ethics outlined by their respective professional associations. The content published in blog posts represents the opinion of the individual author based on their expertise and experience. The content provided in this blog is for informational purposes only, does not constitute medical advice and should not be relied on for making personal health decisions.