As we celebrate the athletic training profession, National Athletic Training Month is a good time to reflect on the impact athletic trainers have on the communities where they live and work.
At Athletico, we support the National Athletic Trainer Association's (NATA) "Own Your Impact" campaign, which encourages athletic trainers to share their stories of how they have impacted the profession. Read below for a few stories from some of our Athletico athletic trainers:
Keith, ATC, EMT-P
AT Impact Story: My name is Keith and I am currently in my fifth year with the Crete Fire Department as an engineer/paramedic. Throughout my time here I have taken on an interesting role due to my background in athletic training. I have used my role as an athletic trainer to develop new training programs for our staff, ranging from safe equipment removal for athletic injuries, CPR/public education and injury prevention. I have given presentations not only to my department, but to area fire science/EMT/paramedic classes and the public. I have used my various roles to network and reach areas of the community that would otherwise not know what an athletic trainer is and can do. I use my role and relationships with area healthcare providers to help coworkers, their families, and the public navigate the difficult world of healthcare for injuries. This position has given me many opportunities to make a difference for those that make a difference for us every day.
---
Kennedy, LAT, ATC
AT Impact Story: I believe the best way to have an impact on your athletes is to check on them both physically and mentally. When my athletes come in to my room, I am sure to how there injury is as well as how their life outside of sport is going. My goal is to treat my athletes as a whole rather than just the current injury they are suffering from. I believe that creates a safe space in my room for a line of open communication, giving my athletes a more successful return to activities.
---
Caitlin, MS, LAT, ATC, CES
AT Impact Story: March 15 is a day as an athletic trainer that I will never forget. On that day three years ago, a lacrosse player took a hit to the abdomen area during the first half of a game. He felt good, vitals were normal, and he said he felt like he just got hit in the stomach. He sat out for the rest of the half and actually felt better after some time. After the game was over, I had him come in to the athletic training room for another evaluation. Vitals were still normal, but I felt uncomfortable about the soreness and discomfort he was complaining about in his stomach. I called home and talked to his parents and suggested that if anything worsened or he started vomiting, that they should go to the emergency room. Once the athlete got home, he began to vomit and symptoms were not improving. His parents took my advice and got him to the emergency room. After being bounced to three different hospitals, the athlete was diagnosed with a lacerated pancreas. He had emergency surgery the next morning that saved his life. The morning of surgery, the Mom texted me and said, "Thanks for the prayers. And thanks for the heads up last night. We might not have taken his symptoms as seriously if you had not called! That was huge on your part. Thank you! Thank you! Thank you! Doctor said timing was critical." To this day, the athlete comes to visit Grayslake North to see me. We remember each year on that day. I am forever grateful that he is healthy and doing well today and that we will always have a special bond.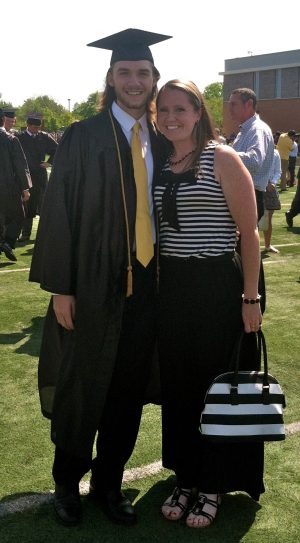 The athlete also asked to include a few sentences of how Caitlin had an impact on him:
"March 15th was one of the scariest days of my life but it could've gone much worse if it wasn't for my athletic trainer. I had been hit in a lacrosse game and had lacerated my pancreas which was unknown at the time. After speaking with Caitlin, my athletic trainer, about my symptoms, she was uneasy and nervous and had told me that if symptoms don't disappear soon that I would need to go to the emergency room. Although I am stubborn, I listened to Caitlin and had gone to the emergency room that night without knowing the severity of the injury. I was transported to the city of Chicago where I had emergency surgery early next morning. To this day, I am now very healthy, currently playing college football, and have a lifelong friend in my amazing former athletic trainer, Caitlin."
---
Eliza, ATC
AT Impact Story: One of the great ways I have impacted my community is through concussion education. At the beginning of the sports seasons I give presentations about the signs and symptoms, red flags and treatment options for concussions. I also discuss returning to play after concussion. As an athletic trainer I am there for athletes who sustain concussions. In addition to evaluating the athlete, I educate parents about concussions and other injuries which helps prevent unnecessary and costly trips to the emergency room. I also support the athlete every day until they are able to return to their sport. #OwnYourImpact
---
Jackee, MSc, LAT, ATC
AT Impact Story: Over the last couple years I have had the opportunity to work with several athletes who have endured injury during their sport season. One of these athletes is Seventh, who I have evaluated and treated for injuries throughout the tenure of his high school sports career. This athlete has come very far in his rehabilitation process. He has realized the importance of trusting his athletic trainer and following his rehab regimen. His parents have been supportive and it has been a rewarding experience to see this athlete return to his sport.
---
To learn more about our Athletic Training services, please click the link below.
The Athletico blog is an educational resource written by Athletico employees. Athletico bloggers are licensed professionals who abide by the code of ethics outlined by their respective professional associations. The content published in blog posts represents the opinion of the individual author based on their expertise and experience. The content provided in this blog is for informational purposes only, does not constitute medical advice and should not be relied on for making personal health decisions.