October 2019 has been a very special month at Athletico Physical Therapy. Not only did we have the opportunity to honor our wonderful clinicians in recognition of National Physical Therapy Month, but we are also celebrating a milestone – reaching 500 clinics!
Our 500th clinic opened on October 14th in the neighborhood of Westport in Kansas City, MO. This milestone was the result of hard work from all of our team members, as the entire Athletico staff has contributed to the company's continued growth and success. To help us celebrate this accomplishment, we reached out to a handful of team members and asked them to answer the question, "What does 500 clinics mean to you?" See their answers below:
---
Jeff S., PT, MSPT
"In 2001 my final clinical rotation landed me at Athletico. I feel fortunate by how it positively impacted my career in ways I could have never anticipated. It has been a privilege to be a part of the Athletico team. I am very excited that our 500th clinic will be in my hometown of Kansas City!"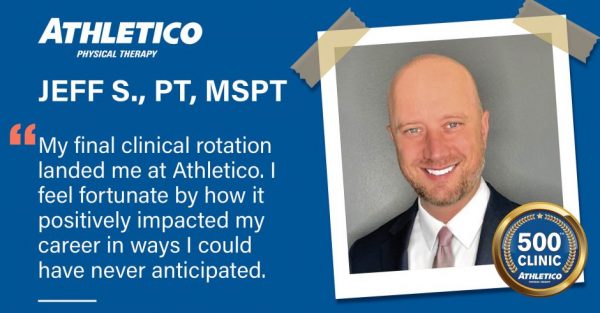 ---
Molly R., PT, DPT, COMT
"To me, 500 clinics means 500 opportunities to offer exceptional patient care. At least 500 opportunities to invest in our employees, and 500 opportunities to help patients and employees achieve their goals and live their best lives."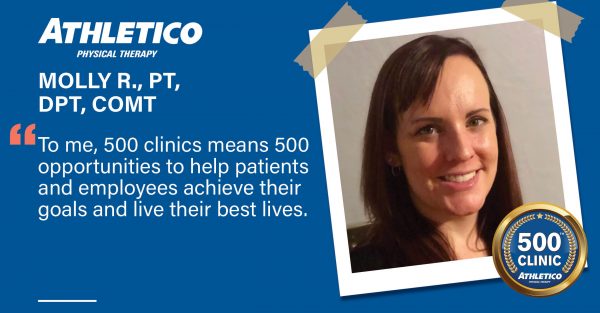 ---
Anne B., PT, DPT, SCS, CMTPT, Astym-cert
"I have been with the company since 2005, and have witnessed exponential growth! I'm most excited about scaling our clinical programs across the platform – they have been a huge differentiator for Athletico as a company and for me personally, building my caseload of hip and knee athletes. I have a dream of clinicians from all 500 locations engaging with their communities – teaching prevention programs and dynamic warm-up programs to decrease the epidemic of ACL injuries. "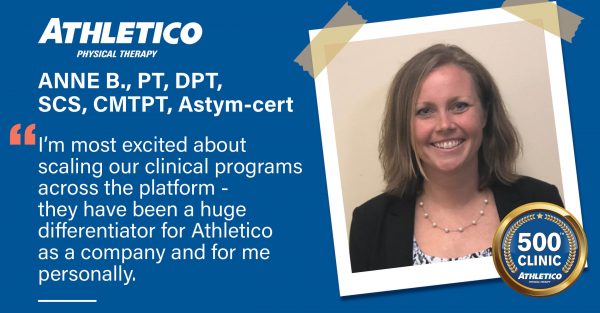 ---
Anne B., Director of Billing Systems
"500 Clinics means 'Wow!' When I started Athletico was just opening clinic number two. It's hard to believe 498 clinics have opened since then. Athletico is like a second family to me, I've worked here over half of my life and still love coming to work – there is never a dull day. I truly enjoy my companywide coworkers – whether the interactions are in person, on the phone or via email. It's fun to look back and see how far we've come, how many patients we've served and the growth we've experienced. I'm excited about the future and what it holds!"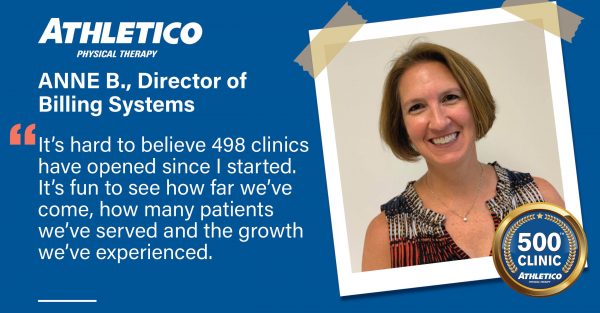 ---
Brandon B., PT, DPT, Astym-cert.
"In my career with Athletico I have seen the company grow and expand to new regions, new states and new patients. Athletico goes above and beyond to provide all patients with the 'blue carpet experience' to help them achieve both functional and personal goals. Five hundred clinics gives our organization more opportunity to positively impact the lives of our patients. Congratulations, Athletico — looking forward to the next 500 clinics!"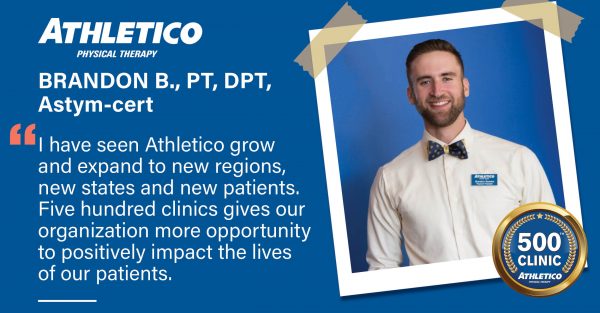 ---
Kelli S., PT, DPT, OCS
"To me, 500 clinics represents building an even stronger network of engaged employees who are willing to go the extra mile for each patient and truly make a positive difference in the world. I'm excited to continue becoming an integral part of the neighborhood in which our clinic lives by providing optimal patient care and sharing with the community what we can do to improve their daily function."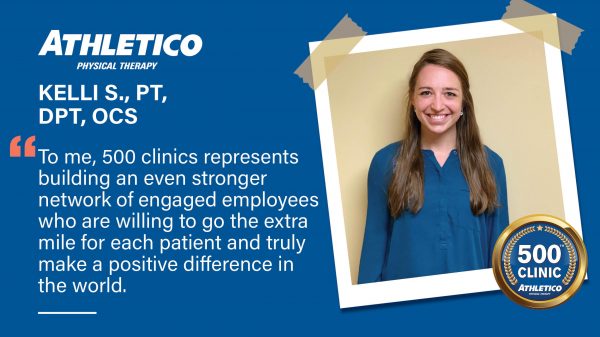 ---
Kathy D., OTR/L, CHT
"Expansion gives us the opportunity to bring our quality and expertise into new markets. I enjoy collaborating with new hand therapists on the team and building our service line!"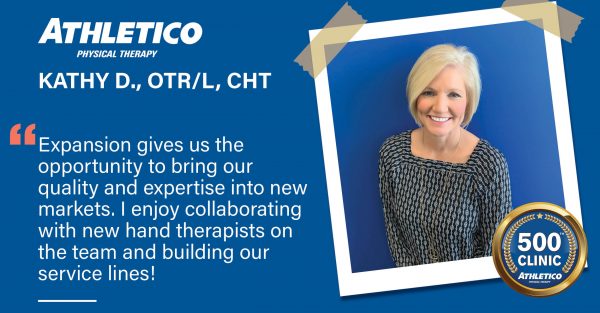 ---
Brad K., ATC, PES, CKTP, GTS
"I have been with Athletico since May of 2000 when the number of the clinics was just reaching the teens. It has been great to be a part of Athletico's growth, which has happened through the hard work from all employees, excellence in patient care we pride ourselves on, and the development of relationships in the communities that we serve. Five hundred clinics is a good milestone, but we're not done yet!"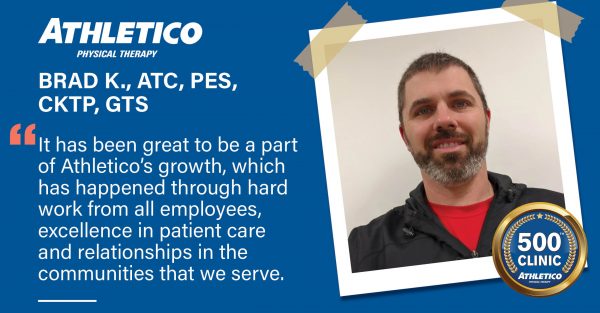 ---
Mark K., Founder and Executive Chairman
"It seems like a very short time ago that Athletico Physical Therapy opened for business on August 24, 1991. As these 28 years have blown by, I cannot help but think back to when we started and really having no idea of what was in store for us for the years to come. Having been with the company each day of its existence, it does not seem that unnatural on how we have evolved. To take what we have done lightly would be a mistake. It has happened secondary to the effort of so many people, past and present (and future). That is what I appreciate the most, the work and the people I get to work with each day. I am thankful for the personal relationships I have made with our team members, our patients, our healthcare colleagues and so many other relationships important to our services and our business. It has been the most valuable part of this journey for me. There have been so many successes for us over the years, and certainly our fair share of challenges, but the thing that gets to the core of me as a person is the smile that comes to my face when I think of the opportunity I have had to work with each of you. I have learned so much from our work, communication, and interactions. I know we are not done yet and believe we are poised for an even more important period of growth and development for Athletico. I am energized for what lies ahead."
---
Ron R., President and CEO
"Five hundred clinics is truly a milestone for Athletico and the team. To reach this level of clinics providing care to so many is a representation of the commitment and hard work of the entire organization. Congratulations to everyone at Athletico, and I look forward to announcing more milestones in the very near future."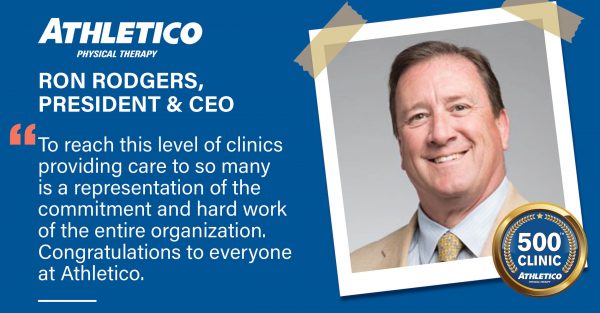 ---