Have You Performed the Chair Challenge?
Leave a Comment
New social media challenges arise every day, and one of the latest ones taking the internet by storm is called the chair challenge.
What is it?
This challenge, which has gained popularity on social app TikTok, requires the person performing it to stand facing a wall (with a chair nearby). They take 2- 3 steps backward, one foot right behind the other. Then they lean forward at a 90 degree angle with their head touching the wall. At this point, the nearby chair should be placed in front of them by someone else. Once the chair is in place, the person performing the challenge must lift the chair toward their chest while still bent over. The challenge is then to stand upright while still holding the chair.
This challenge has taken the internet by storm in recent weeks with many celebrities posting their attempts. What's more, many people have found that the challenge is easier for women to perform compared to men.
Men vs. Women
There are several theories as to why the challenge seems to be more difficult for men, including bigger foot size. Ultimately, the trick to performing this challenge is where you have your center of gravity. To be able to stand up with the chair, your center of gravity needs to be in your heels to prevent you from doing a faceplant into the wall.
How to prepare for The Chair Challenge
Stretch your hamstrings: Being bent over to a 90 degree angle can be a big hamstring stretch for many people, so having your hamstrings warmed up prior to trying the challenge can minimize the risk of strain.
For a dynamic stretch option, try standing and then kick your leg forward while reaching for your toes with the opposite arm.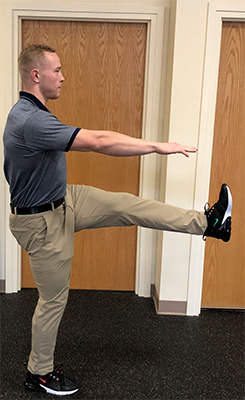 For a static stretch option, try bending forward to touch your toes and until you gently feel a stretch.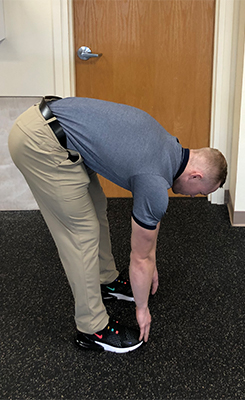 Practice doing a hip hinge exercise: The base of this challenge is being able to perform a hip hinge- standing up from a 90 degree angle with your legs and back straight. You can practice this movement prior to lifting the chair.
Try bending forward, keeping your spine neutral, and shift your weight back toward your heels rather than your toes to prevent you from falling forward.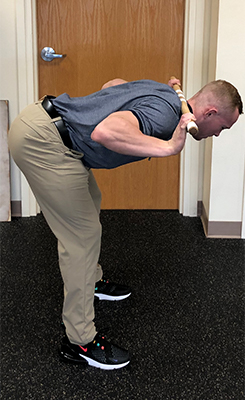 Use Caution!
Challenging yourself when it comes to your health and fitness goals is a good thing, but don't get discouraged if you can't perform this (or a different) internet challenge! It is better to work toward a goal rather than pushing yourself too far, which can lead to injuries. With that being said, make sure to use caution when performing new exercises, activities or internet challenges. If you experience any aches or pains during or after performing this challenge, schedule a free assessment at a nearby Athletico. Our team will take a look at your condition and provide recommendations for treatment.
Free assessments are available in-clinic or virtually through our telehealth service.
The Athletico blog is an educational resource written by Athletico employees. Athletico bloggers are licensed professionals who abide by the code of ethics outlined by their respective professional associations. The content published in blog posts represents the opinion of the individual author based on their expertise and experience. The content provided in this blog is for informational purposes only, does not constitute medical advice and should not be relied on for making personal health decisions.