Co Authors: Team USA's Laura Zeng and Evita Griskenas
With continued shelter in place orders across the country, many athletes are having to alter training and competition schedules including Team USA's Rhythmic Gymnasts. Unable to attend practice as they normally would, their competition season has been interrupted along with the delay of the Tokyo Olympics. Laura Zeng and Evita Griskenas, two of Team USA's top rhythmic gymnasts, give us insight into what they are doing at home to stay active and prevent injury as well as tips for other rhythmic gymnasts.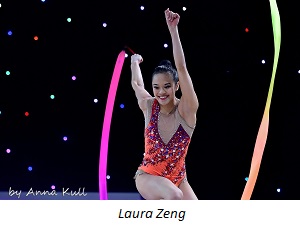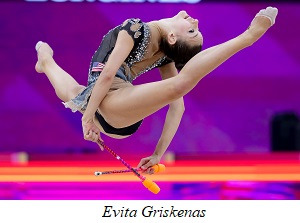 Rhythmic gymnasts require a carpet as well as a large area and tall ceiling for their sport. They use various equipment including balls, ribbons, hoops, clubs, and rope as they perform acrobatic and dance routines. Rhythmic gymnasts can compete individually or in a group of 5.
1. Continue to Practice
Laura and Evita are both trying to practice as much as they can at home. Their sport requires a large space and they note this is the main limitation as they practice at home. However, using your outdoor space as a way to practice large tosses and catches can be effective. Always remember to take care on uneven surfaces and be mindful of the wind which may alter trajectory and speed. This is a great time to refine and focus on small handling skills with a ball, clubs, or hoop.
Like many other teams, Laura and Evita attend Zoom practices throughout the week. To help hold you accountable and to stick to a schedule, they also suggest practicing virtually with a friend which can make practice more fun!
This is also a great time to focus on foundational work and technique according to Laura and Evita. They are incorporating ballet training, strength and conditioning, dance, and HIIT workouts in their day-to-day routines. You can follow the USA rhythmic gymnastics Instagram account as they share tips to stay active, stretching exercises, and workouts from home.
2. Switch Up Your Training Location
Even athletes know that motivation at home can sometimes be the biggest barrier to practicing. Laura suggests going outside to practice as weather allows. Little things like breathing fresh air while doing stretches can have a huge impact on your mindset. "Most of my life has been spent inside a school or gym, so when the weather works out in my favor, it helps motivate me to do something, rather than lean into doing nothing" explains Laura. Both Laura and Evita suggest trying to create a schedule and sticking to it and also mention to not get discouraged if your schedule changes.
3. Focus on Areas of Weakness or Injury
During this slowed down time, it is a good moment to focus on areas of weakness or to help an injured area. "It's a prolonged moment of reflection for every athlete to figure out their weaknesses and try to address them via cross-training, rather than the usual push-and-go" Laura reflects. Rhythmic gymnastics has an extremely long season with minimal "off time" so overuse injuries are common due to repetition and minimal rest time. According to Evita, "Having the time to focus on something like foot strengthening or flexibility is very beneficial and will help tremendously once we get back into the usual groove of work."
4. Focus on One or Two Goals
Even though now might seem like a good time to reach all your fitness goals, too many goals can be overwhelming. Try to focus on one or two main goals such as a specific skill or increased flexibility. It will be easier to track your progress and feel encouraged rather than discouraged if you are not able to reach all your goals. You can always modify these goals as you reach new milestones.
Athletico provides rehabilitation services in-clinic and via telehealth to gymnasts at all levels and abilities. Our goal is to evaluate, treat, and educate athletes in the prevention of practice and competition-related injuries. Technical evaluations can be performed to improve postural awareness and maximize the function of each athlete. We have physical therapists and athletic trainers, including former gymnasts and cheerleaders at the high school, collegiate and Olympic levels, involved with our Gymnastics and Cheerleading Program. Our clinicians understand the demands of the sport and use their personal and professional experience to effectively address the physical and psychological needs of each athlete.
For more information contact a Gymnastics and Cheerleading Rehabilitation Clinician by emailing Gymcheer@athletico.com.
The Athletico blog is an educational resource written by Athletico employees. Athletico bloggers are licensed professionals who abide by the code of ethics outlined by their respective professional associations. The content published in blog posts represents the opinion of the individual author based on their expertise and experience. The content provided in this blog is for informational purposes only, does not constitute medical advice and should not be relied on for making personal health decisions.