Physical Therapy at Every Age: Can Babies Go to Physical Therapy?
Leave a Comment
The simple answer is "yes." Babies can go to physical therapy. Babies of all ages can benefit from skilled physical therapy for various reasons. To break it down, we'll look at the who, what, where, and why our little ones can share the gym with the average population!
Who can benefit from physical therapy?
The pediatric population includes newborns to 21-year-olds. Newborns and older can come in for orthopedic injuries, just as adults do, or work on gross motor skills and reaching milestones!
What do our therapists focus on?
When treating a baby, physical therapists focus less on orthopedic goals and more on motor milestones to help establish goals. Motor milestones are developmental achievements correlating with a specific age range. All babies are different, so these are guidelines, and variability is normal, but too much of a delay can impact how the baby grows and experiences their surroundings. Examples include holding their head up, rolling over, sitting, crawling, and walking. The CDC has detailed information on when these milestones should be met. A physician or physical therapist can help identify when children or infants are delayed in reaching these milestones. Physical therapists can help with the treatment and education on how to work towards these milestones.
Milestones are not only important for the development of babies physically, but also to improve how they interact with their surroundings. If a baby cannot sit up at an age-appropriate time, they can't interact socially, eat in a highchair, or learn to reach across their body to grab a toy, among many other things. Motor milestones are vital in child development in many aspects of the child's life.
Where would they get treatment?
Babies would receive treatment in the therapy gym setting. By utilizing age-appropriate play-based therapy, babies have no idea they're doing therapy, but rather they're just playing with toys and their environment with an overall goal in mind. With toys, blankets, and sometimes special equipment, the therapist can turn a normal physical therapy gym into a fun and exciting learning environment for babies. Although the therapy sessions are important, the most important "where" of physical therapy for babies includes the baby's home. Physical therapy for the infant will include a lot of education for parents or guardians. Working this play-based therapy into the child's daily routine at home will help them reach their goals even faster!
Why should babies get physical therapy?
Babies can come to therapy for various reasons ranging from meeting milestones, as noted above, to having common congenital problems that may lead to the need for physical therapy. Even if you have questions about how to help your baby reach milestones or if they're on track developmentally, physical therapists can help find the answers. Call your local Athletico Physical Therapy to find out which therapists specialize in pediatrics in your area!
Tummy time (& a cute baby picture to catch your attention)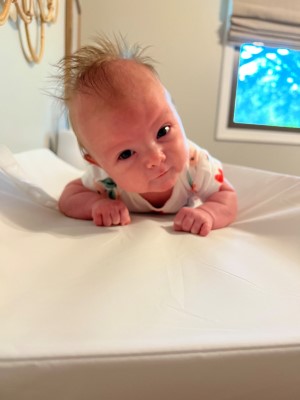 You can use towel rolls or blanket rolls under the arms to assist with propping while still working on head strength and control. This is a great way to make the little one's tummy time a little more tolerable!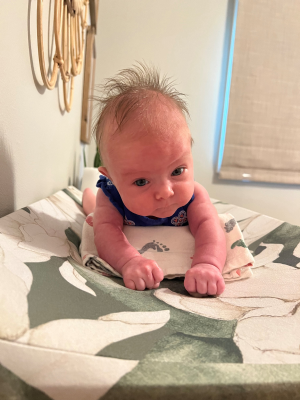 Ask your physical therapist or physician about what toys are most age appropriate. For example, high-contrast toys are best when your baby's eyesight isn't fully developed. You can also use pillows or towels to assist with positioning, such as side lying.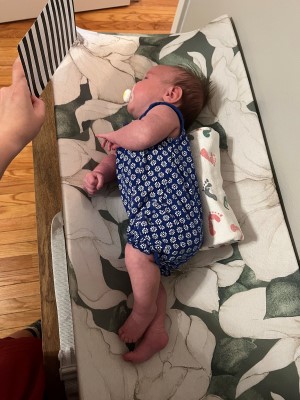 Find a Pediatric Therapist Near You
The Athletico blog is an educational resource written by Athletico employees. Athletico bloggers are licensed professionals who abide by the code of ethics outlined by their respective professional associations. The content published in blog posts represents the opinion of the individual author based on their expertise and experience. The content provided in this blog is for informational purposes only, does not constitute medical advice and should not be relied on for making personal health decisions.