Some of the greatest comeback stories never show up in the sport's section. At Athletico, our physical therapists help people overcome pain and discomfort so they can get back to doing the things they love.
To celebrate the success of Athletico's patients and staff, we are highlighting a few patient stories from our monthly #MyAthleticoStory series. From athletes trying to recover from injury to patients looking to regain mobility post-surgery, physical therapists are key members of the health care process. Not only do they provide patients with the information needed to make a recovery, but they oftentimes act as motivators throughout the process. Read below to learn about three of our recent patient success stories:
Grace Langston – ACL Tear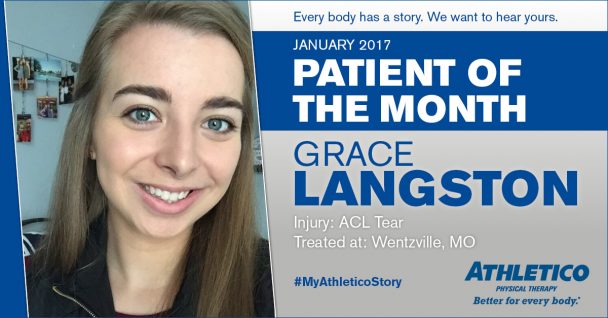 Grace tore her left ACL while playing in a JV basketball game. After surgery, she chose to keep her head up high and focus on rehab. When she suffered another ACL injury in the same year – this time a tear to her right ACL – she still did not give up. Grace's athletic trainer and the staff at Athletico Wentzville were able to help her through the rehab process, and she was finally able to start a varsity game without pain.

"To some, spending nearly ten months combined in physical therapy would be discouraging and maybe even debilitating. However, I was able to overcome adversary, hold myself accountable, and not let my knees get in the way of what I want from my life and from basketball," said Grace.
Click here to read more about Grace's #MyAthleticoStory.
---
Billy Pirie – Back Pain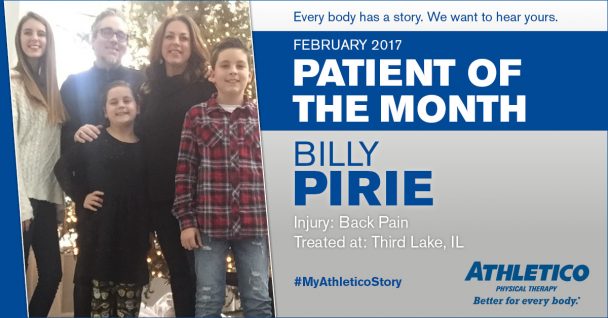 After a back injury, Billy's doctor strongly suggested physical therapy to avoid surgery in the future. At this point, Billy sought out the services of Athletico Third Lake and Physical Therapist Leonid (Leon) Cherbukhovsky. After about a month into rehab, Billy started to feel some relief and his pain level gradually began coming down. Billy committed to physical therapy, not only attending most of his sessions but also sticking to his assigned at-home exercises. Leon also used Dry Needling to help Billy's problem area, and soon Billy began moving around again and getting back to his day-to-day.
"From there everything changed for the better. I could get around again. It was easier to get out of bed, walk, sit down, hug my kids, drive, etc. I started going back to work downtown on the Metra and walking 1.4 miles to my office – SLOWLY… I've regained my day-to-day and can confidently get around. I'm not cured and still hurt from time to time, however, I can say with confidence that I CAN do life without worrying about being in 'that' pain anymore," said Billy.
Click here to read more about Billy's #MyAthleticoStory.
---
Amy Bishop – Post Back Surgery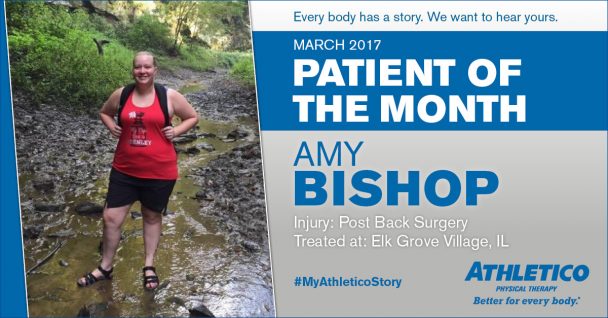 After receiving a spinal fusion, Amy was left in constant back pain and was told she may never be able to practice ballet or dance again. Three years after surgery, Amy went to Athletico Elk Grove Village for strengthening exercises to help with her pain. The physical therapy helped, but Amy also ended up needing a spinal cord stimulator.
"After having the spinal cord stimulator put in and working with Athletico's physical therapist to strengthen my back, I was able to start working out again with zero pain. This also meant that I could get back to dancing, as well as doing other things that I love, such as hiking Matthiessen State Park without any back pain," said Amy.
Click here to read more about Amy's #MyAthleticoStory
---
Could Physical Therapy Help You?
The stories above provide some insight into the variety of conditions physical therapy can help treat. If you think physical therapy may help with a condition you are dealing with, click the link below to request an appointment for a complimentary injury screen at your nearest Athletico location.
Schedule a Complimentary Injury Screen
The Athletico blog is an educational resource written by Athletico employees. Athletico bloggers are licensed professionals who abide by the code of ethics outlined by their respective professional associations. The content published in blog posts represents the opinion of the individual author based on their expertise and experience. The content provided in this blog is for informational purposes only, does not constitute medical advice and should not be relied on for making personal health decisions.