Athletico Athletic Trainers Tyler Harris and Barrett Jones recently had an amazing opportunity to join the U-17 Men's National Soccer Team (MNT) on their journey to the World Cup in India. It was the culmination of two years of work with incredible young players and an amazing staff.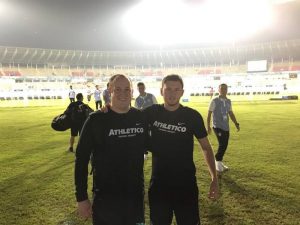 The team began with a week-long preparation camp in Dubai, UAE from September 24th through the 31st. While there, players and staff acclimated to the extremely high temperatures and prepared to face the group opponents in the first round of the World Cup.
On October 1st the team moved on to New Delhi, India where everyone spent the next ten days training and playing the first two games. The U-17 MNT began the tournament against the host country of India in front of 46,000 fans. It was a great atmosphere and the U.S. prevailed 3-0 to start off on a strong note. After two days of rest, Ghana was the next opponent. It was an intense physical battle, but in the end a late goal helped the U-17 team get a tough earned 1-0 victory, which put them atop the group.
The third and final group match against Colombia took place in the crowded city of Mumbai. The humidity was overwhelming the first few days, and the team ended up falling 3-1. This put them in position to move onto the round of 16, where they would face a very good Paraguay squad after four days of rest. The U-17 team returned to New Delhi and put up one of the most lopsided victories of the tournament in a 5-0 win. It was the first time the U-17 MNT moved on to the quarterfinals since 1999.
Winning against Paraguay set the team up for a quarterfinal matchup against England, which was one of the best teams coming into the tournament. On a humid day in Goa, the U-17 MNT couldn't find the back of the net until and ended up losing 4-1 to the eventual champions of the tournament.
This ended a great run for the team. The staff was happy that the U-17 team was able to have a good showing. Overall, it was an incredible experience for all involved and will help to prepare these young players for the future.
Click here to read other Athletico experiences with U.S. Soccer.