Athletico Physical Therapy Announces 4th Annual Coach of the Year Award Winner
Posted on
Oak Brook, IL — Athletico Physical Therapy is proud to announce Tim Thornton, Peoria High School Head Football Coach, as the winner of the 4th annual Athletico Coach of the Year Award. In addition to receiving a commemorative plaque, Coach Thornton received four tickets to the Big Ten Football Championship game held on December 3, 2016 at Lucas Oil Stadium in Indianapolis. The Athletico Coach of the Year Award was created to recognize coaches for all they do to serve their local communities, including sportsmanship, coaching success and classroom involvement.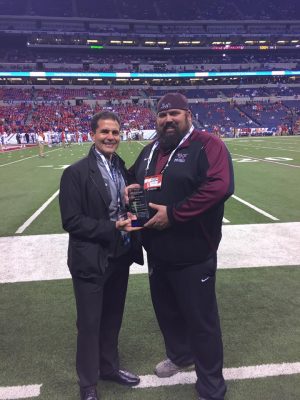 "We were pleased to honor Coach Thornton with this award. While there are many great nominations each year, we felt Tim really embodied the true meaning of the Athletico Coach of the Year Award," said Jason Bannack, Vice President of Outreach Services at Athletico. "Tim's emphasis on academics and his student-athletes involvement within the community can be seen throughout the year. We are proud to be affiliated with Peoria High School and want to congratulate Tim on winning this award and for bringing home the Class 5A State Championship this season."
Nominated by multiple individuals within Peoria High School and the community, Coach Thornton has shown high levels of excellence within his role. The Lions capped off the 2016 season with their first state championship in school history and a 13-1 record, also the best in program history.
In addition to his success on the field, it was Coach Thornton's focus on high academic standards and community involvement that lead to his selection. Coach Thornton has instilled a program where success is not just calculated by wins and losses, but rather by the number of players graduating high school and attending college. Thornton's program also pushes the student-athletes to be positive role models within the student population and the community.
"Peoria High School is very proud of our Coach Tim Thornton for being named the Athletico Coach of the Year," said Brien Dunphy, Peoria Athletic Director. "Coach Thornton and the entire Lion football coaching staff work hard every day to help boys become better men. What an accomplishment for the Lions who are the 2016 champions of Class 5A football in Illinois. Thank you to Athletico for recognizing Coach Thornton and the Peoria Lion football coaching staff who are champions every day."
The Coach of the Year Award was open to any junior high or high school level coach within the states of Arizona, Illinois, Indiana, Iowa, Michigan, Missouri, Ohio, South Dakota or Wisconsin. Nominations were open to the public and submitted via an online entry form. Nominators were required to explain why their coach should be recognized. A selection committee within Athletico reviewed the nominations before selecting Coach Thornton as the winner. Nominations for the 2017 award will be accepted next fall. 
ABOUT ATHLETICO
Athletico Physical Therapy provides the highest quality orthopedic rehabilitation services to communities, employers and athletes in over 350 locations throughout nine states with more than 4000 employees. Athletico is committed to our patients and referring physicians through our patient-centric focus, positive work environment, attention to quality and high standard of care. Athletico measures patient outcomes and satisfaction and is dedicated to continuous improvement. Athletico was named #1 Workplace in Chicago, "Best Physical Therapy Practice in the Nation" by ADVANCE magazine, Top Workplace in the Nation, and has been recognized as a leader in employee volunteering and charitable giving. Our services include physical and occupational/hand therapy, workers' compensation, women's health therapy, concussion management and athletic training. For more information, or to schedule a free injury screening, please visit www.athletico.com and follow us on Twitter at @Athletico.

Find an Athletico.