Editor's Note: Today's entry is written by Jenny Short, PT, DPT, ATC, Athletico Endurance Program member and participant in this year's Bank of America Chicago Marathon.
With the 2013 Bank of America Chicago Marathon quickly approaching, chances are you know someone who will be running or walking in it. We are lucky to have one of the World Major Marathons in our own backyard (Boston, New York, Berlin, London, Tokyo, and Chicago). Elite runners come from all over the world to run in the Chicago Marathon and enjoy the Windy City. They have logged hundreds of miles and prepared all summer but there is one critical component left…you the spectator! Having run Chicago the past two years, I cannot emphasize enough the impact the crowd has played in my Marathon performance. The energy of the crowd, the signs, and the support throughout the full 26.2 miles has kept me motivated and helped me finish strong. Friends and family have come out to support me and have had a blast watching the race. This is a compilation of tips from me, my friends, and family on the best way to view the marathon!
The race has a two wave start: 1st wave starts at 7:30 am and the 2nd wave starts at 8 am. But don't worry…you don't have to wake up early to see the race. Going somewhere farther down the course will allow you to sleep in and still see your favorite runner. Plus, the Chicago Marathon is one of the most spectator friendly marathons. You can hop on the L and see many different parts of the course easily.
Tip #1: Know your runner.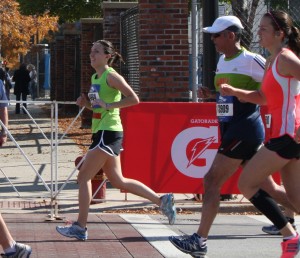 Make sure you ask what your favorite runner is wearing. There are 45,000 other runners out there, and knowing what colors and clothes to look for will help out big time. Get their bib number. A couple days before the race there will be a link for Runner Tracking on the Chicago Marathon website. You can receive text alerts so you have a better idea where your runner is along the course.
Tip #2: Have a race plan.
Tell your runner where you plan on being and what side of the road you will be on (right side or left from the runner's point of view). That way they can position themselves on the course and look for you, too.
Tip #3: Make a sign!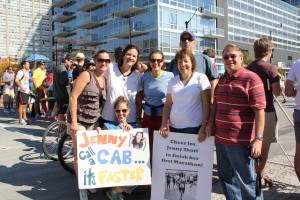 You can make a poster that is personal for your friend or general for everyone. My friends and family had signs and it helped me spot them from the course. My favorite sign I saw along the course would have to be "Worst Parade Ever!" I saw the guy a couple times and it made me smile each time. At the Chicago Marathon Expo, Athletico has a booth where you can create posters for your favorite runner – check it out! It is a great way to get kids involved, too.
Tip #4: Get a group and travel together.
Traveling together makes the whole trip more enjoyable. Watch the race in an area you don't normally visit and try something new in the neighborhood. Check out local shops in Chinatown, grab some grub in Pilsen, or try some Italian ice in Little Italy!
Tip #5: Pick a spot to watch.
My friends have told me that the best locations to watch are the Loop, Boystown, Pilsen, and Chinatown. Each location has high energy and local flare. You will have fun watching the runners and the festivities going on.
As a runner, the place where I want my friends is from mile 16 to the finish. This is where things start getting tough for most runners. There are typically less people along the course which makes it easier to spot each other and the cheering goes a long way! So my recommendations are Little Italy, Pilsen, and Michigan Ave from 35th street to the finish.
Athletico will also have a cheer zone along the course, where they have materials for signs, noisemakers, and giveaways. There will be a big blue tent which can help your runner pinpoint you along the way!  It will be located near the 9th mile marker at the corner of Diversey and Clark in the Lakeview/Lincoln Park neighborhood. Stop by!
Tip #6: Cheer for everyone!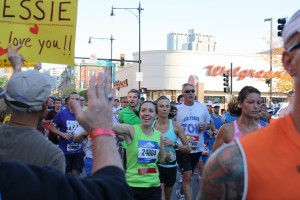 Cheer as the elite runner's race by. Yell while the wheelchair racers fly past. Scream your heads off as your friend or family member runs by.  And encourage and support the rest of the runners/walkers as they accomplish a huge goal and 26.2 miles! Lots of people will have their names on the shirts. Give them a personal shout out – it will make their day!
Tip #7: Have a post-race plan.
If you want to meet up and celebrate with your runner after the race make sure to have a plan. With so many spectators near the start and finish line and thousands of runners crossing every second, it may not be the ideal place to find your runner. Pick somewhere that you and your runner can meet away from the finish line and you will avoid the congestion. Security will be heightened near the start and finish. You can find all that information here.
Happy spectating and see you out there!