With the winter Olympics underway and all the amazing sporting events taking place, this is the perfect opportunity to provide our readers some coverage around the sport of skiing. Recently, I interviewed Jessica Bratko, who has been with Athletico for over six years and is currently an Athletic Trainer at Glenbard South High school. Jessica has an amazing base of knowledge around skiing since she grew up in the Northeast. As a native of Vermont, she grew up surrounded by a variety of different sports including hockey and skiing. She was a hockey player growing up, but being engrossed in the Vermont culture and having attended the University of Vermont, she fell in love with skiing as well.
M: How did you fall in love with the sport and how long have you been interested in it?
J: Growing up in Vermont I was offered many different opportunities to learn about sports that didn't carry the national coverage of others. During my senior year studying Sports Therapy at the University of Vermont, I had the opportunity to work with one of the best ski programs in the nation. During that time I got to work with an athlete who tore his ACL, PCL, both lateral and medial meniscus, and patella tendon. I was able to help him every step of the way through his rehab. From there, I was hooked on the sport and culture. Many of the best skiers come out of Northern California, Rocky Mountain area, or the Northeast, and I love to talk about my experiences with this sport.
M: What is a common way a skier gets injured?
J: Skiing injuries can happen to the novice skier as well as the professional or Olympic athlete. The most common way skiers get injured is from losing an edge while skiing – having their ski slip out from under them. Particularly with the elite athletes, the speed at which they are going causes a lot of torque on their bodies. Elite athletes can end up traveling down the hill close to 80+ miles an hour. The extreme angles and impact skiing can have on your body is very taxing. Most of the injuries occur to the lower extremity, particularly the knees and hips. Occasionally, there are rotator cuff or labrum injuries but most are lower extremity due to the torque on the body.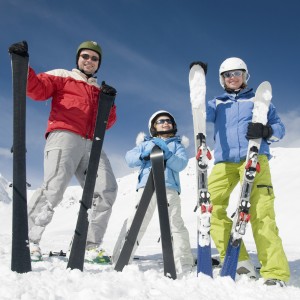 M: What type of impact can skiing have on the body long term?
J: An elite type of skier's usual career is into the late 30's, but it is a great recreational sport for people of all ages. It is a very fitness driven sport and can lead you to feel very accomplished by the end of the day through the many runs and the mastering of successful courses.
M: What are some things that skiers/snowboarders can do to help prevent injuries?
J:1) Take a lesson– Whether it is your first time out or maybe you haven't skied in a year or two, it is always recommended to take a lesson. This is where an instructor will teach you the safety mechanisms of your equipment and teach you necessary skills in order to ensure safety when out on the hill. During your lesson, your instructor should show you positions of your skis such as stopping "pizza", go "French fry", and "C" motions of how to turn your skis appropriately so that you can maneuver efficiently.
2) Proper fitting of equipment– Too many people just grab equipment off the shelves without being properly fitted. This is an essential step in making sure that your skis, eye wear, boots, all correspond with your appropriate weight and height. This is another easy step in order to be safe out on the mountain/hill.
3) Start slow and work your way up– Many people want to test the waters and go for the biggest and hardest hill. Remember, if you are a novice skier, start with the easier courses and work your way up. You can gain confidence and comfort level as you advance. The harder the courses, such as double black diamond, does not just mean it is steeper, it is also less groomed (more bumps and uneven terrain) and can cause more injuries if you are not up to skill level yet. On the easier courses at the ski resort, the staff make sure that the trail is more groomed, where the snow is softer (sometimes they make more snow) to help cushion the fall of some of the beginners. As you gain more skills and become more confident there is less cushion of soft snow.
FUN FACT: With Alpine skier's courses, the staff actually ices down the course to make it more slippery, they do this to go faster down the hill. They also have different skis that can cut or grip the ice better and allow for increased speed down the hill during the event.
4) Practice makes perfect– Remember to have fun and that you want a successful day at the ski resort. So continue to practice and build confidence as you become more comfortable with how your skis and your body work together. Start small and work your way up. You want to have less falls to make sure that you can move around the next day without feeling too sore.
5) Be mindful of others– Skiing is a fun sport, but if you do not respect the course and the safety, you are increasing your chances of getting hurt. Use common sense and have body awareness of where you are when others are on the hill. If you are a slower skier, stick to the side and if you are faster, then move to the middle.
6) Dress appropriately and have well-insulated coat and gloves– One of the most important lessons is to protect yourself from the elements. Wearing tinted goggles is not just a fashion statement, it is to prevent "snow blindness" from the harmful UV rays bouncing off the snow. Also, remember to wear sunscreen as well. Even though it is winter, you still need to protect yourself.
M: Which do you think is safer- skiing or snowboarding and why?
J: I think Nordic skiing is the safest. It is more of an endurance sport and is similar to cross country skiing. It has a flatter terrain. Alpine skiing is more dangerous from a terrain and injury standpoint. Bode Miller is a perfect illustration of an Olympic Alpine skier, moving down the terrains quickly. The impact that his body can take and the ease at which he moves, illustrates the skill and precision it takes to compete at such a high level. Snowboarding is also a great sport, which only started in 1998 when it became a recognized Olympic sport. Since skiing and snowboarding are so different, it is hard to compare them.
M: What are you most excited about for the Winter Olympics?
J: I am most excited for the Vermont representation in the Olympics. I love that those individuals are representing where I grew up. In addition, I am looking forward to the hockey that will be taking place. When I was playing in college, I played against some of the ladies that will be participating in the Olympics!