Arthritis is a disease that most are familiar with since it affects a large multitude of people. As a physical therapist there are two types of arthritis, Osteoarthritis (OA) and Rheumatoid Arthritis (RA), commonly seen in a clinical setting.  The chart below summarizes the differences and similarities between the two types.
As a physical therapist, when it comes to arthritis, my focus and expertise is mostly on any of the following:
Maintaining movement/flexibility
Doing weight bearing and resisted exercise for muscle strength and bone health
Cardiovascular exercise for conditioning, heart health and as an aid in weight control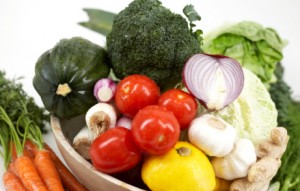 Individually and cumulatively, all these things help but alone they do not prevent or reverse arthritis. Research shows us that the key to optimal health including bone health is nutrition. The body is an amazing and complex thing with an innate ability to heal itself when given the right tools. We have all heard the saying, "we are what we eat" and the right food is the key to good health and disease prevention, including arthritis. So, hopefully you are wondering what the right food is? The truth is it depends because we all have different needs, issues, likes and sensitivities that must be considered, but here are some general guidelines that can help:
Eat real food, which means minimizing processed and refined products from a box, can, or drive through. Eat whole grains when able, avoiding/minimizing the white flours and white sugars.
Choose healthy fats like those from seeds, nuts, and avocados. Avoid trans fats, hydrogenated fats, saturated fat from red meat/cheese/butter, and deep fried foods.
Maximize vegetables and fruits in a rainbow of different colors for necessary vitamins, minerals, antioxidants, phytochemicals and nutrients.
Focus on lean meats, chicken, fish, and beans/legumes for protein avoiding excessive amounts of red meat.
Drink plenty of water and avoid excessive soda drinking, which has been linked to increased osteoporosis.
Don't smoke as it affects blood oxygenation, slowing bone healing and fracture repair, and has also been linked to increased risk for RA and degenerative disc disease.
Some research states that food has nothing to do with causing arthritis. We encourage you to work closely with your medical professional, but some things that relate to RA specifically include:
A diet high in plant protein and low in animal protein maximizing fruits, vegetables, beans, nuts, seeds and legumes
EPA/DHA/Fish oil supplements (omega 3 Fatty acids)- salmon, tuna
Vitamin D supplementation
Assessing food sensitivities and often times limiting animal products, wheat/gluten, dairy, or citrus based on individualized need
Therapeutic fasting properly supervised by a physician
We are fortunate to have science, technology, and ongoing research, which aid our physicians in better diagnosis, treatment, and medical procedures. In addition to utilizing these tools, using food as a first line of defense, may have benefit as well. You can also request an appointment today for a complimentary injury screening and have an Athletico clinician assess your arthritis pain. Please enjoy the links below to further educate yourself on this manner and discuss with your physician if some of this may be right for you in combating arthritis.
http://www.arthritis.org/
http://www.drfuhrman.com/disease/arthritis.aspx
http://www.drfuhrman.com/disease/Osteoporosis.aspx
http://www.drfuhrman.com/disease/Other.aspx
http://www.webmd.com/rheumatoid-arthritis/features/diet-ra-inflammation
http://www.webmd.com/rheumatoid-arthritis/guide/can-your-diet-help-relieve-rheumatoid-arthritis?page=2&spon=99990001_0
http://www.webmd.com/rheumatoid-arthritis/biologics-13/vitamins-ra
Athletico partners with the Arthritis Foundation to provide community outreach and education on the benefits of physical and occupational therapy and preventative fitness solutions for those suffering from arthritis. From our health information articles regarding the effects of arthritis to our expert advice on how to cope with it, Athletico's team of physical and occupational therapists are committed to helping the Arthritis Foundation in all of their initiatives

About the Arthritis Foundation
The Arthritis Foundation is the only national not-for-profit organization that supports the more than 100 types of arthritis and related conditions.  The largest private, not-for-profit contributor to arthritis research in the world, the organization has funded more than $380 million in research grants since 1948. Arthritis is one of the most prevalent chronic health problems and the nation's most common cause of disability among Americans over age 15.
The Arthritis Foundation offers information and tools to help people live a better life with arthritis.  Whether it's advice from medical experts to specialized arthritis self-management or exercise classes, the Arthritis Foundation has your solution.