Strains and sprains can occur in any sport, but why are certain ones more common with particular sports? With the World Cup right around the corner, an athlete in soccer is more prone to injuring things like his/her hamstrings, adductors, quadriceps, or hip flexors. There are risk factors that also unfortunately make one more apt to developing these injuries, but with the proper guidance and persistence, it is the hope that you stay injury free.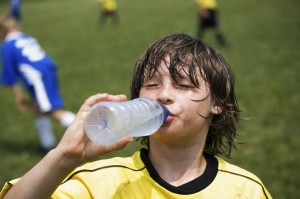 Soccer players put a lot of stress on their body when practicing and playing. The constant change of direction, the powerfulness of the shots, and the contact they take when playing defense makes this game fun and rewarding at times, but can also take a toll on the body.
Some of the risk factors of these types of injuries are:
1)    Previous history – for example, having a previous history of a hamstring injury , unfortunately puts you at a higher risk for a re-injury. This can be due by not having the proper rehabilitation on your injury as well as when you strain a muscle, fibers of the muscle break down – causing damage to the overall integrity of the muscle.
2)    Flexibility
3)    Not properly warming up
4)    Age
5)    Strength imbalances
6)    Muscle fatigue
7)    Overuse
8)    Poor conditioning
Strains of the hamstring, groins, quadriceps, and hip flexors are caused by a sudden increase in force causing muscle fibers to tear. The amount of fibers that are torn reflect how bad the strain.  When this force occurs particularly to the muscle, the initial treatment is usually the same.
First, you want to control the swelling and bleeding of the muscles through rest and ice. This step is important because if you do not let the muscle fibers calm down, more injuries can occur. Also, over-the-counter medications such as Advil/Ibuprofen also help reduce swelling and pain.
Second, light stretching exercises are initiated, followed by gentle strengthening exercises.
If you are trying this conservative treatment and are not feeling better in about a week after the injury occurred and/or if you want a qualified medical person to look at it, schedule a complementary injury screen today!