Editor's Note: Athletico has been a partner of U.S. Soccer for more than 10  years. As the Official Provider of Physical Therapy and Athletic Training to the organization, Athletico provides athletic training support for all of the men's and women's soccer teams, which includes traveling with the teams both domestically and internationally. This special blog post will chronicle our athletic trainers' experiences both on and off the field traveling with these teams.
Road to the World Cup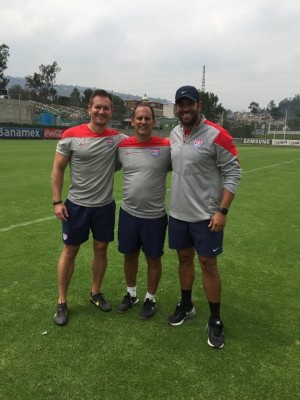 In the last six weeks the U-17 Men's National Soccer Team Athletic Trainers comprised of Athletico's very own Matt Zalewski and Constantine Demetriadis have logged 26,805 airlines miles, covered games in 4 different countries, completed 3 transcontinental round trips and covered two different age groups all in preparation for the U-17 FIFA World Cup.  The afore mentioned World Cup takes place in Chile, seeing several cities as host for several games during the four week tournament.
The first trip up was a four game tournament set in Pardubice, Czech Republic.  This tournament pitted the US MNT against Russia, Slovenia, and Slovakia in a round robin style set of matches.  In the first game Russia took advantage of less than ideal field conditions that saw the US slip and slide to a 4-2 defeat.  Next up was a match against Slovenia with the field still water logged the stars and stripes were able to finish with a tie salvaging a needed point.  In the final match in group play the U-17's took on Slovakia, but once again had to settle for a tie.  In the final match they played Ukraine and managed to earn a hard fought 2-1 victory.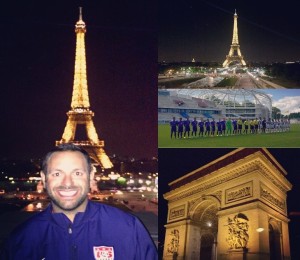 A short 4 days after returning from the Czech Republic Matt was once again on a plane this time to Manchester, England to take part in a training camp with the U-23 Men's National team which was the last camp for this group prior to starting qualification for next summer's Olympics.  During the trip the team played two friendly matches one against England that saw the team defeated 1 to 0 in front of 11,000 English faithful.  The second match was a completely different scenario played out in front of less than 500 fans the US were able to defeat Qatar 2-0.  Shortly after that trip began Constantine took flight with the U-17's to Limoges, France for a 4 team Friendly Tournament involving host nation France, Australia and French League team Stade Renne. The US took on Australia in the first game pulling out a late goal to earn a draw. In game two the US took on France, recent winners of the European Qualifiers for the World Cup and managed to fight 90 minutes and earn a well-deserved draw. Stade Renne was the final opponent on Sunday but did not manage to put up much of a fight as the US MNT walked away with a 4-0 victory.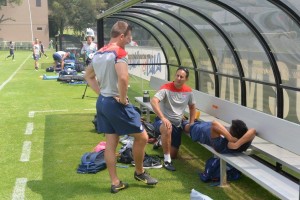 In the final leg of the preparation the boys were off to Mexico City for a six day two match set of friendlies against Mexico.  The first match of this rivalry saw the host nation take advantage of some costly miscues that resulted in a 5-1 defeat.  Two days later the US had their opportunity for revenge, and during a heated and physical match our boys were able to come away with a 1-0 victory that saw plenty of fireworks.
Over all the last six weeks were intense and exhausting, but provided a wealth of valuable experiences and learning opportunities both on and off the field for our employees.  Everything from injuries on the field to adapting to cultural and language differences challenged these two and made them better.
Caitlin Bender, ATC, Travels with U-15 Boys National Team in Carson, CA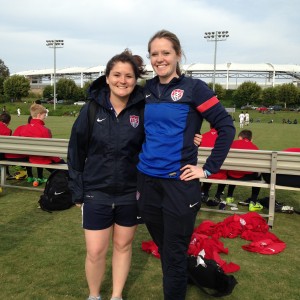 I recently had the opportunity to work with the US-15 Boys National Team as one of their athletic trainers at a domestic training camp in Carson, CA. We trained at the Stub Hub Center in Carson, which is home to the LA Galaxy. Coach Hugo Perez brought in 32 athletes from all over the United States and World to train throughout the week and at the end of the week, the coaching staff chose 18 athletes to travel to Italy at the end of the month for games. We had multiple training sessions and then four games throughout the week. The US-14 Boys National Team was also in camp with us the same week. Fellow Athletico employee, Meghan Scotty, was working with the 14's so it was neat to work alongside her and get to know their staff as well.
Working US Soccer was an incredible opportunity as an athletic trainer. From daily treatments, to training twice a day, and then games, you get the opportunity to spend a lot of time with the athletes. I got to learn a lot about where they come from and their plans for the future. The athlet
es have experienced a lot at the young age of 15, so I felt that they taught me just as much, if not more, than I taught them. I also had the privilege of working with another athletic trainer. He works in San Diego and has worked a variety of US Soccer camps in the past as well. This provided me a great learning opportunity. Every athletic trainer works a bit differently and comes from various backgrounds, so it was neat to be able to share stories and skills. I also had the opportunity to interact with Dr. David Wallis in Torrance, CA. Dr. Wallis saw one of our athletes while we were at camp and this provided me the opportunity to interact with him and get to understand what he does. Dr. Wallis is the team physician for Chivas USA, the LA Galaxy, All American Heavyweights, and the US National Soccer Team. Dr. Wallis was great to work with and very helpful in evaluating the athlete.
Overall, the opportunity to work with US Soccer was an incredible experience! It was really neat to work with elite level athletes and an experienced coaching staff. We went 3-1 during our four matches throughout the week beating the US 14 Boys National Team 2-0, FC Golden State 2-0, and ODP S. Cal 2-1 with a last minute goal to win the game. We lost to the LA Galaxy U16 3-1 on our first night of games. It was a hard fought battle against older players and one of the top teams in the country, but we learned a lot from the game and were able to bounce back with 2 wins on our final night in Carson to end the camp on a positive note. I really enjoyed working with the 15 Boys National Team as well as Coach Hugo Perez and his staff. I look forward to future opportunities with US Soccer and continuing to grow and learn as an athletic trainer. What an incredible opportunity Athletico gives to its employees to work with such an outstanding program like US Soccer!
James Spinale, ATC, Travels with U-17 Men's National Team for Mercedes-Benz Aegean Cup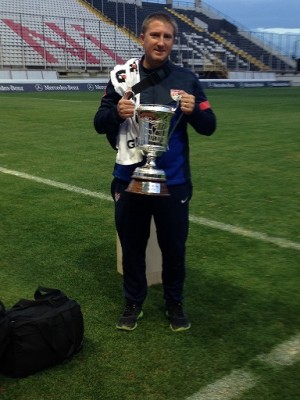 The U-17 Men's National team had a wonderful run onto winning the Mercedes Benz Aegean Cup recently held in Manisa, Turkey. The squad, fresh off their Nike Friendlies win in December, took on the likes of world power France and the host country Turkey. The team started off the tournament in style with a late goal on a PK to defeat 5 time defending champion France 2-1. The Norwegians, off a win of their own in the opener, took on the US in game two. The US came out slow in the first half, but after a spirited pep talk, brought a 2nd half barrage of goals onto a convincing 5-2 win. A tough Scotland team awaited in the final game of pool play with players from the likes of Celtic and Rangers. The US ended up with 1-1 tie for the final. The United States with its wins and goal differential advanced to the final to take on host country Turkey. The US, showed its fight and will with a grinder of a victory over Turkey, 2-1 to bring home the trophy for the US. This is very promising for this group as this is the 2nd international tournament victory in as many months. The USA is on the radar around the world as it's players are getting looks from the top clubs in Europe.
Lindsey Otte, MS, ATC, Travels with US Women's National Team to Atlanta
On a recent trip with the US Women's National Soccer Team, I was able to experience all the grandiose moments that come with these trips as well as the not so grandiose moments…the good thing is that statement only pertains to the weather.We started out in sunny Fort Lauderdale, Florida for a nine day stint and a match versus Russia. The team had just arrived after spending a week in Texas, playing Canada (another win). The days flew by as we ate breakfast, prepped the players, taped ankles, drove to training, ate lunch, performed treatments, taped more ankles, drove to training #2 and back to the hotel for dinner and treatments. The best part is that it never gets old! There are always new injuries occurring and treatments to be done. The support staff for the Women's National Team is made up of massage therapists, athletic trainers and a fitness coach. In a team effort, we make sure to have all players ready to perform at their highest potential each day.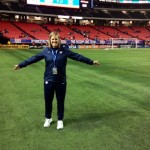 The team left Florida with a strong win over Russia, defeating the team 7-0. We headed to Atlanta, Georgia where we began to hear rumors of a nasty ice storm blowing in. Of course being from Chicago I pretty much laughed it off… unfortunately these rumors were no joke. Our match versus Russia at the Georgia Dome was postponed to the following day, including all of our flights. What do you do in Atlanta when the whole city shuts down? Even the mall next door?… We spent the WHOLE day in the hotel, moving our training session downstairs to the fitness room. Outside of training that day, there was A LOT of Olympic watching. The team went a little stir crazy but managed to pull off another win against Russia, this time with a score of 8-0. So while the Winter Olympics are going on at home, the Russian soccer team is enjoying an ice storm in Atlanta.
Each player on the women's national team has their own story on how they got to the highest level. With the time spent in the training room, I have learned so much about each athlete which helps me to communicate with them and get to know them on a personal level. To see the fans interact with these high caliber athletes is unbelievable. It makes your day when you see a small child's face light up at the sight of Abby Wambach or Hope Solo. I am lucky to have been able to travel with this team a few times and look forward to the future opportunities with them. What's the next big event for this team outside of friendlies? Algarve Cup in Portugal in March and World Cup Qualifying set for October…Go USA!
Joseph Kaufmann, ATC, Travels with the U-18 Men's National Team for the Copa del Atlantico
I recently had the privilege of traveling with the U-18 Men's National Team for the Copa del Atlantico Tournament in Las Palmas, Spain. The trip began with various training sessions and a scrimmage against a local club team that resulted in a 4-0 victory!
Our first match of the tournament was against Spain, in a hard fought battle where we surrendered the lone goal of the match in the 88th minute. Less than 24 hours after this gut wrenching loss, we took on the U-20 Argentinian National Team. This match also had the same result with a 1-0 final score. Despite not being able to tally a goal, the U.S. team did have several chances each game. Alas! We finally found the back of the net in our final game of the tournament against the Canary Islands! We scored twice in the second half but fell short again on a late goal for a 3-2 final.
Outside of the matches, I was busy with different responsibilities throughout the week. The medical staff is responsible for pre/post session weigh-ins, body fat testing, hydration and treatment sessions. Treatment sessions included ultrasound, e-stim, massage, stretching, cyrotherapy and heat.  During the day, between our last two matches, I was also responsible for taking the players through an aquatic recovery session.
Erica Hedges, ATC/L, PES Spends Thanksgiving with U20 Women's National Team in California

The average American consumes 4,000 calories on Thanksgiving, spending the day with family and football. For my 26th Thanksgiving, I had the opportunity to see how the US Soccer family spends the day. The U20 Women's National Soccer team included athletes from colleges all around the country. The training camp in November was the beginning of their training in the cycle to prepare for the World Cup. The week long camp had two intersquad matches and seven training sessions.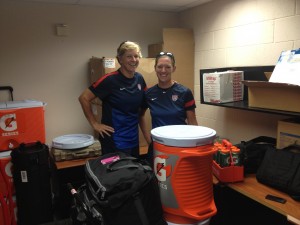 We started Thanksgiving day out with the routine weight, height, and hydration tests. As the athletic trainer, I had the responsibility to ensure hydrated and healthy players were showing up for each session at their highest potential. I did routine treatments including ankle taping and stretching. Then we loaded into the vans and headed over to the National Training Center.
The team had a warm up session run by an exercise physiologist. Then two previous Olympian coaches sharing their knowledge during practice, and training with a current national team member. The athletes were competing for a spot on the U20 roster, so competitive spirits ran high throughout the week. Ice baths are a regular part of the post-practice routine, even though the athletes are not big fans of sitting in ice after being outside in the sunshine. The recovery benefits from just seven minutes in a 55 degree tub far outweigh the complaints of the team, so they realized a couple minutes of discomfort was worth not feeling quite so sore!
At team dinner, the hotel staff brought out their best turkey, mashed potatoes, and avocados (a Californian must). Even a thousand miles away from home, the Thanksgiving tradition of mentioning what we are thankful for continued at the coach and staff table. Athletico was my highlight for 2013 and heading into the holiday season, I am so thankful to be able to work for Athletico and have the chance to travel with US Soccer. The trip reminded me to be thankful for every opportunity and to step out of my comfort zone to experience life.
Jessica Blum, ATC Travels with Paralympic National Soccer Team to Chula Visa, CA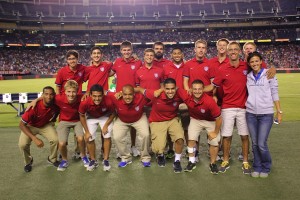 I recently had the opportunity to travel with the Paralympic National Soccer Team for the second time this year to Chula Vista, California. In addition to the always beautiful weather, the Olympic Training Center has unbelievable views. Coming from Chicago, the mountains are a welcomed change. This is my second trip with the Paralympic team, and unfortunately was a much shorter trip. I spent 4 weeks over this past summer with them at the Olympic Training Center. In addition to two-a-day trainings, we spent a lot of time doing things together as a team off campus, like paint balling (which is a lot of fun with ex-military!) and going to see the Men's National Team train, and also play. The Paralympic Team was announced and brought onto the field during half time during the Men's game, and the support the fans showed was truly amazing.
Both trips with the Paralympic Team were unforgettable. Not only did I enjoy working with the team and coaches, the Training Center Staff were so friendly and truly made my experience there even better. It was amazing to be surrounded by such great people for an entire month. I have to admit I wasn't ready to come home! I got used to having someone cook me 3 meals a day (their cafeteria is great!).
I can honestly say I cannot wait for my next opportunity to work with this great group of guys. They are amazing people and are a blast to work with. 
Mike Overturf, ATC and Tony Rill, ATC Provide Coverage for the US Soccer Development Academy U13/U14 Midwest Fall Showcase in Carmel, IN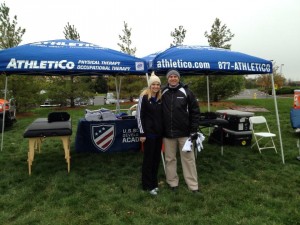 Tony Rill and I had the opportunity recently to head across the (state) border to the community of our newest Indiana facility in Carmel, IN to provide coverage for the US Soccer Development Academy U13/U14 Midwest Fall Showcase. 26 teams from the states of Colorado, Kansas, Minnesota, Texas, Ohio, Missouri, Wisconsin, Indiana, and Illinois participated in this event.  The event took place at the Shelbourne Fields, home fields for the Carmel United Soccer Club.
The community of Carmel is a warm, welcoming community. We had the opportunity to catch up with Ara Knepp, facility manager of the Carmel facility as she stopped out at the fields prior to providing coverage for a local race that day as well. It was amazing to see the amount of development going on in the area. We also found ourselves becoming quickly acclimated to round-a-bouts when commuting between the clinic, fields, and hotel.
Rory Blevins, MAT, ATC Travels with U-17 Men's National Team to Madrid, Spain

My most recent travel with U.S. Soccer took me to Madrid, Spain for ten days of training, matches, and immersion into one of the most beautiful cities in the world. The defending FIFA World Cup champions hosted us on the grounds of their national training facility, and the attention to detail and hospitality was world-class. Our Under-17 Men's National Team played three friendly matches against quality opponents and produced a good showing. The players and staff were treated to some of Spain's finest club soccer via Real Madrid, including a 4-0 Champions League victory.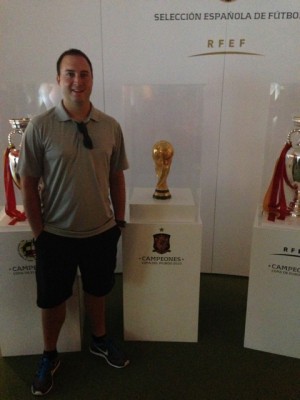 In addition to witnessing Spain's current brand of soccer dominance, we were able to take in some of their rich history as well. Touring the Spanish Federation Museum took us through halls of artifacts and memorabilia, including jerseys, game balls, and the highly coveted 2010 FIFA World Cup trophy.  I can remember them hoisting it after their battle in the final with the Netherlands in South Africa, and to see it with my own eyes up close was very special. We also had the opportunity to tour the Estadio Santiago Bernabeu, the home of Real Madrid, and got to take in the sights from the bench, players tunnel, and locker room.
The next major involvement for the U-17 MNT comes in December, for the Nike International Friendlies held in Lakewood Ranch, FL. We will be facing off against the national teams of England, Portugal, and Brazil. It cannot be overstated how much I appreciate working for such a great company as Athletico, which has afforded me the opportunities to help people and do what I love while touring the world in the process. I look forward to where the road with U.S. Soccer takes me next!
Rory Blevins, MAT, ATC Travels with U-15 Boy's National Team to Mexico City
I recently had the opportunity to travel with the U-15 Boy's National Team to Mexico City, Mexico for the Copa Mexico de Naciones. This group will become the Under-17 Men's National Team when the Residency program resumes for the fall semester on September 2nd. It was an extremely valuable trip for me from the standpoint that I was able to spend twelve days with these kids and get to know them before they move down to Bradenton. I feel like I have a good grasp on their personalities now, and that will be very beneficial information for Jimmy and I in the first few weeks of Residency.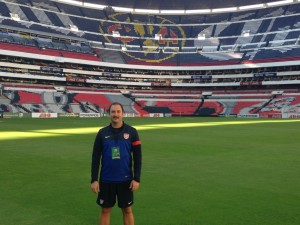 In regards to competition, we finished 4-2 and 3rd place in a very competitive and well-run tournament.  We played Brazil, Panama, Uruguay (2x), Costa Rica, and Paraguay. The consolation match was held in the infamous Estadio Azteca, and I feel extremely proud to be one of the few Americans to leave those walls with a victory in hand. This stadium was a major soccer bucket list item for me.
We had two doctors cover this trip, and they were both extremely professional and valuable members of our staff. The first doctor had worked on numerous U.S. Soccer trips in the past. His experience with the 2011 Women's World Cup and 2012 Summer Olympics speaks for his high level of skill and expertise with elite soccer. This was the second doctor's first trip with U.S. Soccer. He truly impressed me with his work ethic and desire to get to know and care for our players. I look forward to working with them both sometime in the future.
Our next trip is scheduled for Spain from September 25th-October 6th.  I will be traveling for that one, as Jimmy Spinale, my Athletico teammate in Bradenton, has been to this tournament the previous two years and is giving me an opportunity to experience it.
Check back for more entries in the near future!